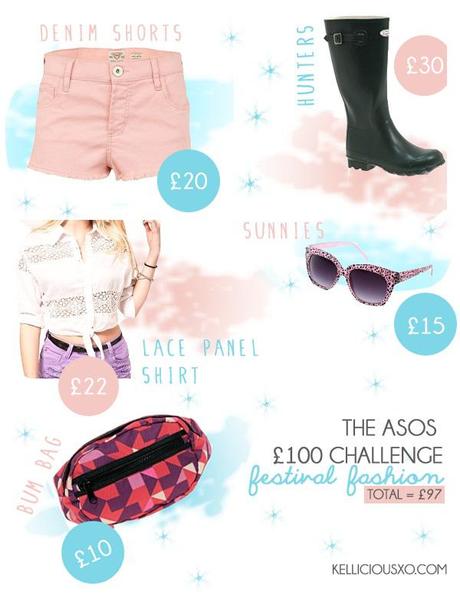 Denim shorts - Lace Panel Shirt - Hunters - Sunnies - Bag
If you haven't already come across a post about this challenge, it goes like this - you have to style an outfit on ASOS with a £100 budget, with no discount codes allowed. The winner then gets a £100 voucher to buy their choices. Sounds easy, right? I discovered that it's a little harder than I expected, so was thankful for a lot of helpful sales prices that are currently active on the site!
As I've mentioned about a gazillion times, I
love
festival season and the whole fashion crowd that follows with it. One of my festival fashion queens will always be the effortlessly cool Alexa Chung and the likes of Daisy Lowe, but I decided to go down a different route with my choices for this post.
I am currently loving the resurgence of 80's/90's vibes on the catwalks, especially the grunge inspired vibes and double denim/neon trends that are on the high street, which I've hopefully chanelled through my choices.
I think denim shorts are a festival staple as you can team them up with anything and they look cute when paired up with some wellies (one day, I
will
have studded Hunters, kthx) A tie shirt adds another dimension to the outfit, and a little bit of lace is always a winner in my opinion. I love this lace panel shirt as it covers everything you'd want it to and can be dressed up or down, making it a versatile piece in your wardrobe that will have a longer life than a weekend festival. I can only wear prescription sunnies, but these cheetah print beauties would look super cool if you have much better vision than me, adding a retro vibe to the outfit.
Keeping your stuff safe at a festival is a must, and this snazzy geometric print bum bag will keep your essentials close to you whilst adding another color pop to your outfit...who said bum bags were stuck in the 80's? I would also throw in a flower headband (c'mon, every girl ends up wearing one) and pastel nails, but I only had £3 left to play with!
I had great fun putting together this outfit for the competition, which you can enter here if you have some awesome ideas brewing in your head!