SERP (Search Engine Ranking Page or Search Engine Ranking Page) relates to the first page of results that Google gives you in return for your search for keywords. Online SERP checker tools allow you to track your position in Google SERP. If you want to check a larger number of keywords then online SERP checker tools give very effective results.
An online SERP checker will monitor the progress of your overall SEO campaign. With this, you'll be able to identify specific strategies that exceedingly improve your site's website ranking position. Online SERP checker gives you a heads up when your website ranking drops, and helps you to respond accordingly by eliminating the negative elements, and prioritizing on the proven tactics.
Read my review of SERPRobot, another awesome SERP checker tool.
Here are our picks for the top 10 online SERP checker tools:
1. SEMrush's Online SERP Checker
SEMrush is a complete solution for keyword checking. It is a professional online SERP checker tool that is easy to use. SEMrush reveals keyword rankings that progress in paid and organic searches over time. You can use it for a couple of weeks for free before deciding whether you want to subscribe. With this, you will get accurate results for that simply add your domain name in the URL field, and it will show you all the keywords that you are currently ranking for.
Exciting Features
Provides you with daily updated data.
SEMrush allows you to view and compare your positions on different devices in one graph.
A complete workflow for any SEO professional.
SEMrush will not only help you identify competitors, but also new keyword opportunities.
Over time, it provides keyword rankings that progress in paid and organic searches.
2. AccuRanker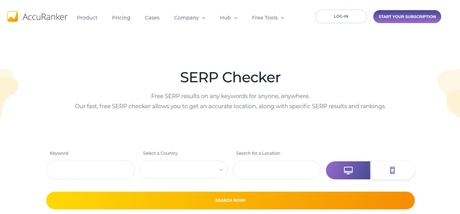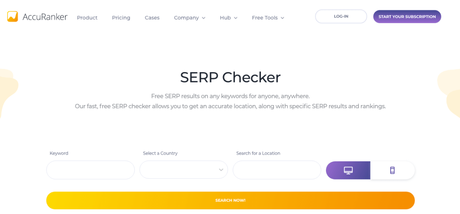 The AccuRanker SERP checker is known for its speed. It is one of the fastest and most accurate online SERP checker tools in the world. AccuRanker possesses a set of solid features powering the rank tracking. If you are looking for a dedicated paid and organized SERP checker then this one is a good option. As it provides all ranking details in a straightforward manner. AccuRanker offers you a free trial for 14 days.
Features
3. Mangools SERPWatcher


The SERPWatcher by Mangools is the latest addition which lets you track keyword positions for any domain. Mangools SERPWatcher allows you to track keyword positions based on Geolocation & devices. With this, you'll be able to view your site's dominance index, which is basically a chart showing the organic traffic share generated courtesy of your site's ranking. Mangools SERPWatcher has simplified everything to display all the critical details on one screen.
Features
With this, you'll be able to compare your website against its competitors to identify possible SEO strengths and weaknesses.
SERPWatcher keeps an eye on various keywords and keyword ranks throughout the day and then continues to provide updates on a regular basis.
It displays complicated information in a simple manner.
This allows you to follow up on multiple keywords at a time.
SERPWatcher allows you to track rankings on both PCs and mobile devices.
4. Ahrefs Rank Tracker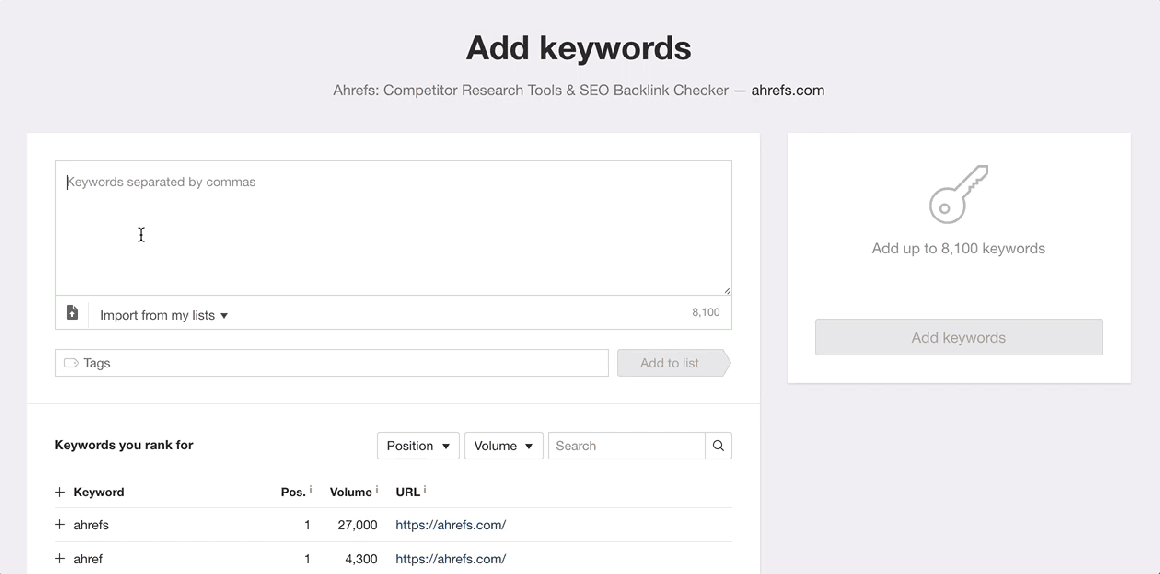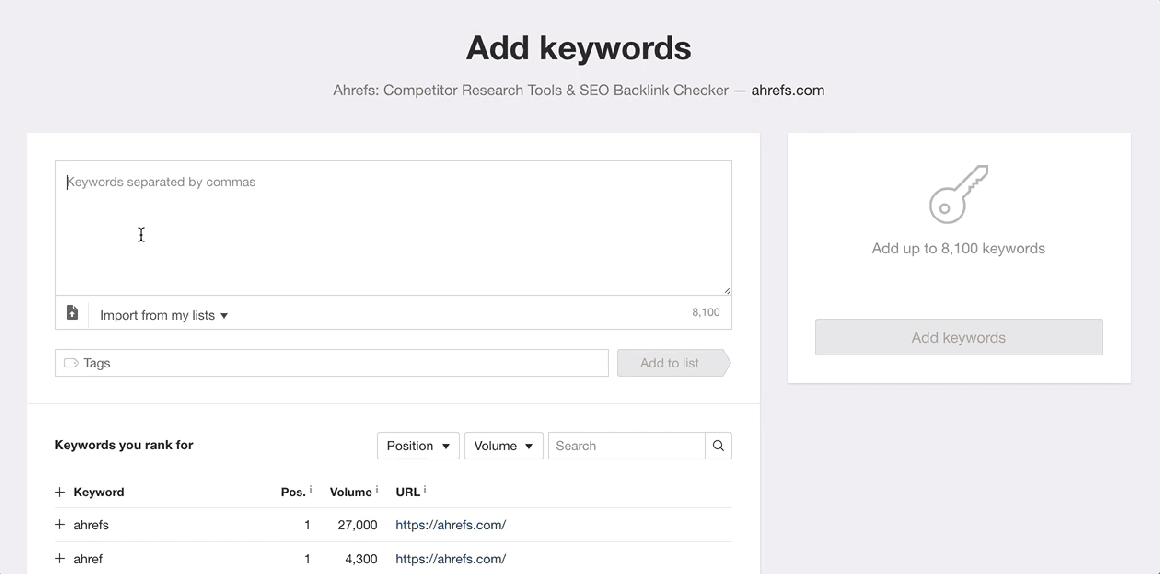 This online SERP checker has tons of features that automatically detect what keywords your website is ranking for. You can specify ranking based on country. It allows you to track the rank of your website as well as your competitor website. Like many other SERP tools, it also offers organic search reports to its users. This tool can crawl across the web amidst tons of data to boost your search engine rankings. It offers seven days trial for just $7 before subscription.
Features
It helps to generate numerous keywords.
Ahref's primary functions include competitive analysis, URL ranking, Keyword research, backlink audits.
It helps you to create a content strategy and get a clear backlink analysis report.
Ahref tool possesses one of the best user interfaces in the industry.
It provides detailed and in-depth data that we need to make strategic decisions.
5. The HOTH's Google Rank Checker
This is an excellent free online SERP checker tool that helps users track keyword positioning in Google search engine results. To use this service, simply put in the keyword you want to search along with the domain name, and it will show you the position of that specific keyword in Google. If you need a specific location SERP check or to check rankings from a number of different locations then a free live SERP tool is the perfect solution.
Features
6. Advanced Web Ranking
It is a powerful rank checking tool that contains an array of useful features. This Advanced Web Ranking tool has accurate rankings in various countries and 22 search engines. This online SERP checking tool offers the users to compare their ranking performance with that of their competitors. When it comes to rank checking and fetch an exhaustive amount of data from Google Search Console and Google Analytics.
Features
7. Seobility
It is an SEO/Rank checking tool that allows the users to undertake SEO optimization to improve their search engine rankings and helps to monitor the performance of their websites. This online SERP checker tool allows entrepreneurs with features like daily updates and link building tools to improve their standing on the search engine rankings. Furthermore, it can crawl on all the linked pages of a website to find issues such as duplicate and broken content problems also, provide solutions to them.
Features:
8. Authority Labs' Rank Tracker
With this, you will track computer domains, product ranking on various sites, and offer in-depth analytical reports. Authority lab is another great rank checking tool that is very user-friendly. Also, it helps in laser targeting your audience by using location-specific rank tracking.
Features:
9. Moz Rank Tracker
Moz has the best SEO tools for boosting website traffic, keyword research, and on-page optimization. You can do everything from backlink analysis to rank tracking and keyword research. Moz Rank Tracker offers you advanced page optimization suggestions and mixed industry-standard metrics. You can use it for free for 30 days.
Features
10. SE Ranking
SE Ranking is an all in one SERP checker tool that offers in-depth website audit. This is what makes it a standout tool and its powerful module has been designed to push website rankings into the top 10 search results by finding on and off-page issues and suggesting ways of resolving them. It ensures an accurate ranking position of your website's keywords across various search engines.
Features
SE Ranking discover, monitor, and control all of your backlinks.
SE Ranking is an all in one SERP checker tool that offers in-depth website audits.
It provides excellent agency analytics and tracking keyword rankings across major brands.
It offers flexible pricing tiers for rank tracking.
So, we have lots of online SERP checker options in the market and each tool has its own set of features. Online SERP checking tools will help you to get the results you seek and you will see the results of your efforts in the form of high rankings.