3 Flares
3 Flares
×
New to little Indiana? Subscribe for free to my RSS feed. Thanks for stopping by!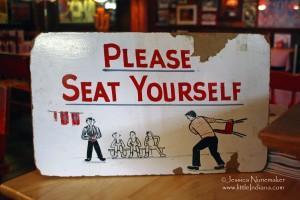 That Sandwich Place: Nashville, Indiana
There are places where you go to eat breakfast and then there are places where you go to really enjoy breakfast like That Sandwich Place in Nashville, Indiana.
As you approach the entrance, the old Abe Martin sign warns, "where the Bob Knight legacy lives forever."
Nashville, Indiana: That Sandwich Place
Even with the warning, that didn't prepare little Indiana and family for what they would find! Every nook, cranny, and bit of wall is coated in Bob Knight and Indiana University memorabilia. I am pretty sure that each and every one of us said, "Whoa!"
It is really something to see. Basketballs with autographs are dotted here and there, pictures and posters and newspaper clippings line the walls, and Bob Knight and the chair, which he was famous for throwing, makes an appearance in more than one way.
But as much fun as the inside of That Sandwich Place may be, it's what's on the menu that had our attention! If we have learned one thing, it's that the shorter the menu, the better the food. Or, perhaps, we got that from one of those reality TV chef shows. Either way: it holds true.
This Bobby Knight shrine had a nice and short menu. You won't find anything fancy in this small Indiana town restaurant, just down home cooking!
That Sandwich Place Menu and Food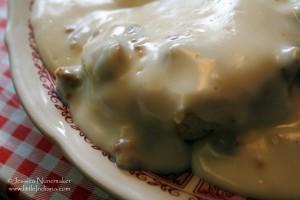 That Sandwich Place: Nashville, Indiana Biscuits and Gravy
Still–I had trouble deciding. Hubs claimed and ordered the Biscuits and Gravy. I was tempted to try the Extra Elegant Eggs: two eggs, hot fried ham, on an English Muffin with cheese. I haven't seen that before and it sounds good!
But Kid #1 and I ended up with the All American: two eggs over medium, toast, bacon (me) and sausage (him), and a plate of homefries. Kid #1 got a  pancake.
Everything was absolutely delicious! Hubs couldn't stay out of my homefries and Kid #1 sure enjoyed his plate of 'em too. Crispy and golden, they are certainly memorable. So much so that I am sitting here wishing I had a plate of them right now!
I think that word kind of sums up That Sandwich Place: memorable. From the friendly server to the Bobby Knight stuff all over the place to the simple and fun menu (it does have a way with words), everything about this Brown County restaurant is great and worth checking out.
Go There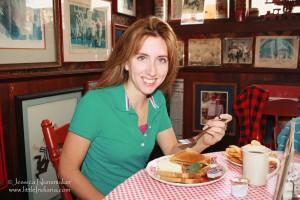 That Sandwich Place: Nashville, Indiana All American Breakfast
I have yet to mention the interesting lunch options like The Upper Income Baloney Sandwich that comes complete with a a deviled egg or a Peanut Butter and Jelly Sandwich "made just like mom does."
This Indiana mom and pop restaurant is a yummy breakfast option right in downtown Nashville, Indiana. This is little Indiana.
Find pictures in Indiana on my Flickr photostream or on the new little Indiana Tumblr blog.
Just don't forget to tell 'em that  little Indiana sent you!
That Sandwich Place
15 South Van Buren Street
Nashville, Indiana 47448
812.988.2355

View Larger Map
Don't miss a moment. Subscribe to little Indiana and receive instant updates to stay on top of everything "little."
little Indiana: Where to Stay, Play, and Eat in Small Towns in Indiana. Discovering Indiana's best small towns! Now get little Indiana on your Kindle.
Targeted. Relevant. Affordable! little Indiana advertising.