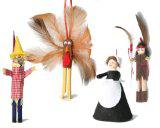 Thanksgiving is a great time for kids to try out new crafts and projects. Not only will they learn how to do many new and fun crafts, but the crafts can also be used as decorations at home or in the classroom. Try out some of these fun Thanksgiving projects for preschool aged children this Thanksgiving.
Paper Corn
Provide each child with a construction paper cutout shaped like an ear of corn. Give each child several Q-Tips and fall colored paints such as orange, yellow and brown. Have the children dip the Q-Tip end into one color paint and then dot the corn shaped cut-out with the Q-Tip. Repeat with different paint colors to create a colorful ear of corn.
Wreath of Thanks
Provide each child with a paper plate that has a small circle cut out of the middle. Have the children either draw pictures of things that they are thankful for, or provide them magazine cutouts of items they may be thankful for (pictures of families, food, toys, animals, nature, etc) for them to glue to the paper plate wreath. After the plate is decorated, tape or glue fall-colored tissue paper or construction paper squares around the outside of the paper plate. Add a festive bow to complete the wreath.
Thanksgiving Placemats
C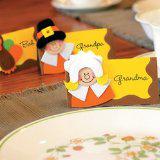 hildren can create Thanksgiving themed placemats to use during snack time or take home. Provide each child with a piece of construction paper or butcher's paper. Use dried corncobs and feathers as painting tools to have children create interesting painted designs on the paper. Have the children glue on construction paper cut outs of leaves, turkeys and other Thanksgiving themed designs.
Turkey Hand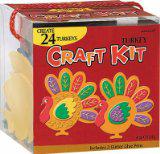 Make this classic craft by having each child trace the shape of his or her hand onto a piece of construction paper.  Then paint each finger a different fall color such as red, orange, green, brown and yellow. Help the children cut out the shape of his or her hand with scissors. Add eyes, a gizzard and a beak. Alternatively, you can help each child paint his or her hand with fall colored, washable paint and then press their hand on construction paper to make a print of a hand turkey. Cut out the print and add eyes and a beak.
Thanksgiving Cards
Have each child create a card for a member of his or her family before Thanksgiving. Simply fold a piece of construction paper in half and have the children decorate the outside of the card with Thanksgiving themed illustrations such as a turkey, corn, pumpkin pie or family. On the inside of the card, help the child to write a message to a member of his or her family about what he or she is thankful for. Allow each child to sign his or her card to take home.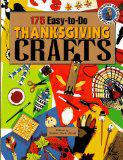 Pilgrim Hat Craft
Cut a 1-inch wide of paper to use as a headband for each child. Cut a hat shape out of black construction paper. Allow children to help decorate the hat shape with a white band and a buckle. Fasten the hat shape to the headband with glue or tape. Place the headband on the child.