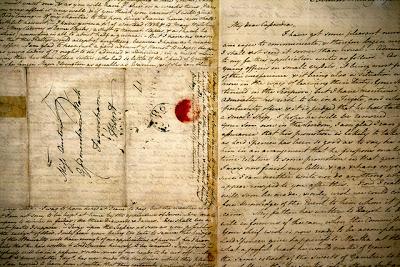 In February of 1813 Miss Jane Austen wrote a letter to her sister Cassandra. Pride & Prejudice had just been published and Miss Austen took the time to express her thoughts on the novel. On the whole she was pleased, although she did not care for her mother's audible presentation of the novel to their friends. Near the beginning of the letter Jane stated that the work was a little too bright and needed shade, perhaps a mention of Napoleon.
 It has now been 200 years since this wonderful novel has been printed and the letters of Miss Austen bring a sense of reality to her work and her character. She was not wholly pleased, but then again, are any of us ever satisfied with our work. A novel, which had taken the better part of two decades to get into print, was found to still contain an editing mistake, and while the reviews were favorable, Miss Austen had sold the copyright to a Mr. Egerton and signed away her rights for future financial gain. While Miss Austen may not have greatly profited from her novel, she did achieve a much more sought after goal. She is now known the world over and will continue to influence men and women in a positive way; Miss Austen achieved immortality. Whether Jane wanted this immortality we may not know, but it is hers and I wish to thank her for her influence.
 At the age of twelve my youngest daughter wished to become an author, a task I have also desired over the years. With business sense in one hand and a desire to encourage my daughter in the other, we met with authors to discuss their novels. We also shared a great day in a coffee house (we live in Seattle, the unofficial coffee capital of the world) and sat with other writers as we chatted and critiqued each others' work. These activities were followed by Youtube videos, family discussions, and disciplined writing to complete such tasks as the 'write a novel in a month' contest. These tasks were completed for one purpose above all, to become more achieved. It is to Miss Austen that I owe part of this desire and to her wonderful character, Mr. Darcy. This proud and reserved man had an interesting opinion on an accomplished lady, and he described the traits of that lady, to which he added the following.
 "All this she must possess," added Darcy, "and to all this she must yet add something more substantial, in the improvement of her mind by extensive reading."
 Fitting words for all of us, men and women. And not for just our minds, or by actions of reading alone, but words which will help us to be better in many aspects of our lives.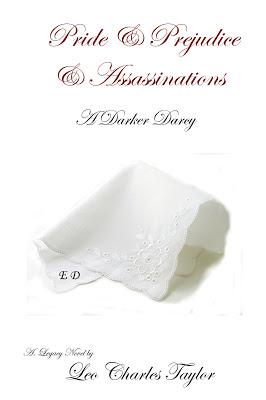 My newest novel is an homage to Miss Austen and her thoughts of a darker story. I introduce the dangers of the 1800's while attempting to uphold the honor and integrity of the society of the time. The writing of the book was fun, and a fine compliment was paid to me by my writing group. I had tried to match Miss Austen's style and even used some of her original work (something not all fans appreciate, but it was well intentioned) The compliment was when the editing group could not discern Jane's writing from mine.
Pride & Prejudice & Assassinations
is now published, and
two Free companion shorts
are available as well. The reviews have been mixed, mostly 3 and 4 star, but those reviews allowed me to adjust the next novel, as well as writing style, all in line with the goal of being better, both as an individual and an author.
'PPA: A Darker Darcy'
is written and being edited. It should be release by August 1st. A good description of the series storyline came from a reviewer.
'It's Pride & Prejudice meets Mi-5'
Tagline for Darker Darcy: 'House Darcy was built on a foundation of honor and integrity. It has stood for generations as a symbol of the best ideals in England. Now, during a time of war, murder, spies, and intrigue, House Darcy will rise, and it will do so upon the shoulders of a remarkable woman. But before the house can rise, she must rise. And before she will rise, she will fall.' Miss Jane Austen, thank you for your beneficial influence on myself and my family.
Leo Charles Taylor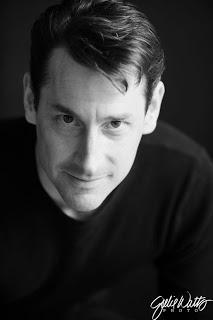 About the author
Leo Charles Taylor is a philosopher, artist, author, and  entrepreneur living in Seattle, Washington,  along with his wife, Eveanna, and two daughters, Jolene and Kathryn.   His  current works include 'It happened to the Wuzzlebees', a scathing indictment on the world's last economic crash all told in a humorous tale of fuzzy creatures called Wuzzlebees.  His newest series is a Pride & Prejudice variation; 'Pride & Prejudice & Assassinations'. This series adds drama to Jane Austen's original tale by adding the background of the Napoleonic wars, which were occurring across Europe at the time Miss Austen first published her fantastic novel.
About Pride and Prejudice Assassinations
It is the beginning of the 19th Century and England is at war with Napoleon. The Gentry and Nobility of England are under attack by changes in the worlds economy and uprisings, which have led to the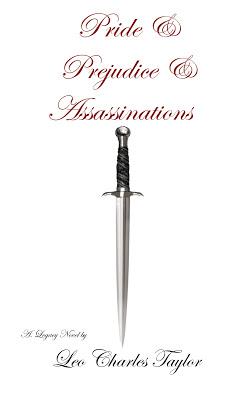 decimation of the French aristocracies. Determined not to see this happen in England, the British nobility have tasked several families to uphold the honor and duty of the highest orders within society. It has fallen to the Darcy family to work in the shadows and preserve those ideals.
While performing those tasks Mr. Fitzwilliam Darcy is to encounter an intriguing and alluring young lady, Miss Elizabeth Bennet, who will capture his mind, confuse his thoughts, hinder his work, and sorely misjudge his covert actions.  Darcy must decide between his heart and his duties, while at the same time deal with an internal threat the likes the English Aristocracy have never seen. While Miss Bennet loathes his actions, the British Elite learn to admire a man who is about to display his talent for the subtle art of politics, espionage, and war.
BOOK TRAILER