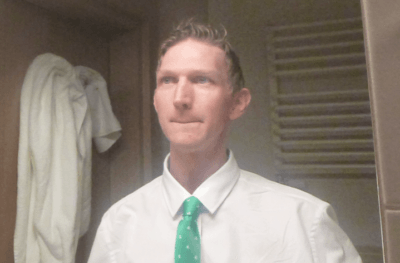 Thank You For Following Don't Stop Living: What is This Website About From Now On?
Dzień Dobry, Bout Ye, Hello, Buenos Dias, Welcome to dontstopliving.net!

"Don't Stop Living" – Jonny Blair (via High School Graffiti in Toronto, 2001).
It might seem odd to do an introduction post NOW, but this is the right time for it. I have new readers and I have a lot of readers who followed my travels down the years but never really got a detailed explanation about this website, my journey and my aims. This article, in English, aims to make everything clear about "Don't Stop Living", moving forward, what this website will be from now on. #dontstopliving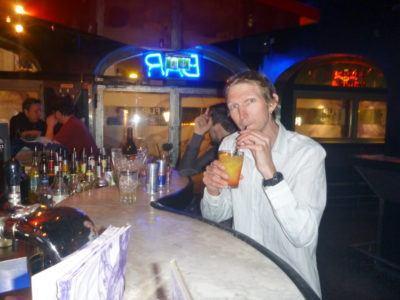 "It's another tequila sunrise and this old world still looks the same" – The Eagles.
Who or What is Don't Stop Living?
Don't Stop Living is a website on my life and also as a phrase it is my personal lifestyle motto to live a good life, each day should be fulfilled, enjoy yourself to the maximum. I try to be a happy go lucky guy (life is not always so kind to us though). Don't Stop Living is controlled by one person – me. My name is Jonny Blair. I am 36 years old. I grew up in the seaside town of Bangor in Northern Ireland. Since leaving Bangor in 2003, I have visited 135 countries, working along the way in about 50 jobs, learning some languages, studying and gaining qualifications, and experiencing as much as I could around the world. This is nothing particularly special – it is just what I did with my life so far.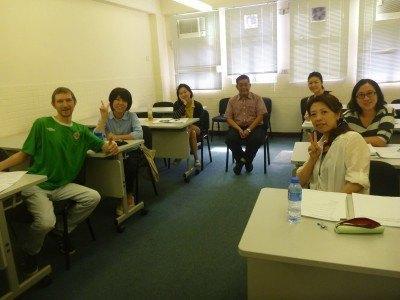 Learning Cantonese at the Chinese University of Hong Kong
In 2007, I started this blog initially just to share my stories. Then by 2012, the blog became a business, then I stopped working for other companies and became my own boss. I became a professional travel blogger , made some money and later became a bit disillusioned by it all. Now I am stopping my travels for a while to settle down, work on new business and try to be a cool guy. I want to be your friend, I want you to be my friend. I smile, laugh and cry. I don't bite and I want peace and love over hate and war. Always. If you give good love to people, it should come back to you. I try not to tell lies, and I don't expect lies in return. I try to be a good man and I want to have good people around me. If you do bad things to other people and act dishonest in life, they will come back to haunt you. I try to be as honest and good willed as I can be. I try.
"What goes around, comes around" – Anon.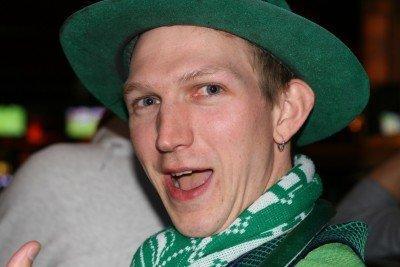 This is me – Jonny Blair from Bangor, Northern Ireland
"Don't Stop Living" is a whopping NINE years old this week (here's the first post from August 2007 – I can't believe that was 9 years ago).
So a BIG thank you to everyone for following my crazy journey around the world. And a huge thank you to the masses of NEW FANS who have joined in the last 6 weeks. I'm talking about lots of my new fans in Poland and those that joined recently, realising I am just a positive Northern Irish guy sharing my story of the world. Nothing more or nothing less. Don't Stop Living is my website, my story but I want it to be a story that can inspire YOU and help YOU to focus on your dreams. If you read my articles of travel and like them, that's great – it means you can use them to help your own travels too. And I want to help you. I hope this website can help others to travel the world, even in a small way.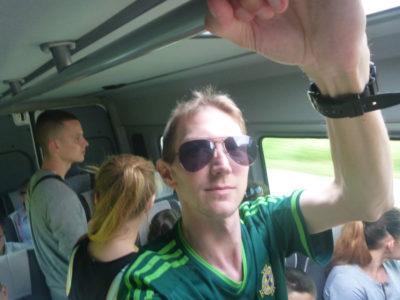 Leaving Pelplin by mini-bus for the town of Tczew in POLAND.
Most of my stories, I wrote them to help others, I did NOT write them for myself. I don't need the information as I have already done it – I wrote all this to help others. I concentrated on getting visas, crossing borders, touring sights, doing crazy things and visiting places you have never heard of and in many cases, don't care about!!! Let me split them into those five parts for you so you can check some of my old stories…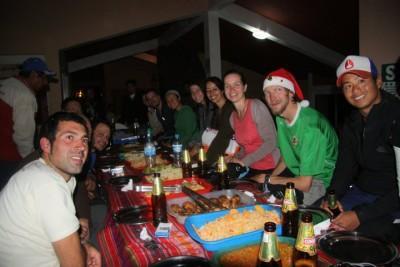 Our Christmas Eve Feast at Winaywayna, PERU
1.Getting Visas
In the last 13 years, I have filled 3 passports and have 2 currently half full. I have secured visas for lots of countries but I didn't write all these articles to help myself! I did the work myself to get these visas, and then afterwards I wrote these articles – so my information is to help YOU!
How to get a North Korea visa
How to get a Bahrain visa at Muharraq Island
How to get a Suriname visa in Venezuela
How to get a Suriname visa in French Guyana
How to get an Ethiopia visa at Addis Ababa Airport
How to get an Iraq visa at Erbil Airport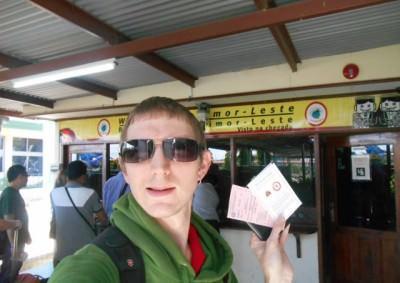 Getting my visa in East Timor.
How to get an East Timor visa at Dili Airport
How to get a Jordan visa at Amman International Airport
How to get a Kuwait visa at Kuwait International Airport
How to get an Iran visa in Trabzon, Turkey
How to get an authorisation code for an Iran visa
How to get a China visa in Hong Kong
How to get a China visa at Beijing Airport
How to get a Myanmar visa in Hong Kong
How to get a Vietnam visa in Hong Kong
How to get a Bangladesh visa in Hong Kong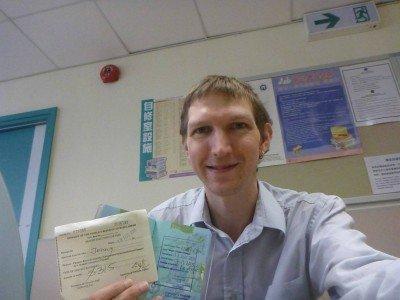 Success – my visa for Bangladesh
How to get an Azerbaijan visa in Georgia
How to get a visa for Nagorno Karabakh
How to get a Qatar visa at Doha Airport
How to get an Indonesia visa at Denpasar Airport
How to get an Indonesia visa at Jakarta Airport
How to get a Hong Kong Working Holiday Visa
How to get a Hong Kong Working Visa
How to Get an Australian Working Holiday Visa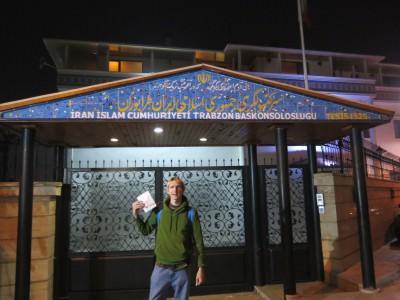 Outside the Iran Consulate in Trabzon with my Iran Visa ready to backpack across the border in 2013.
How to get an Indian Visa in Bishkek
How to get a permit for Chernobyl Exclusion Zone
How to get a permit to visit Andaman Islands in India
How to get a Kaliningrad Visa while based in Gdansk, Poland
How to get an online Alcohol Permit for Gujarat in India
How to get an Alcohol Permit in Ahmedabad, Gujarat, India
How to Get a Second Australian Working Holiday Visa
How to get a Visa for Gorno Badakhshan in Bishkek
How to get a Visa for Tajikistan in Bishkek
How to get a Tanzania visa on arrival in Kilimanjaro
How to get a Sri Lanka visa online
How to get an Afghanistan visa in Bishkek
How to get a Letter of Invitation for Uzbekistan
How to get an Uzbekistan Visa in Bishkek
(Old post – not necessarily true any more – How to get a Turkish visa on arrival at Istanbul airport)
How to get an Antarctica visa (tongue firmly in cheek)
There are more articles than that on visas and permits on the site, and the facts can change all the time – they were true when I wrote them and I did all those visa applications myself.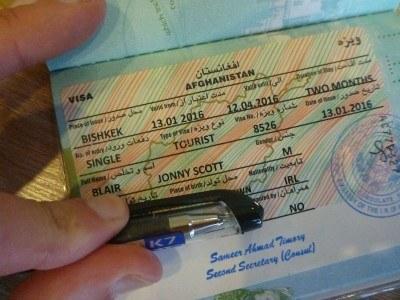 Getting an Afghanistan Visa in Bishkek, Kyrgyzstan
2. Crossing Borders
On my travels, I have crossed lots of borders (probably around 70 – 80) so these stories are to help YOU cross the same borders that I did, please note that things change:
Crossing from Uzbekistan to Afghanistan
Crossing from Andorra to Catalonia
Crossing from Poland to Kaliningrad
Crossing from Guyana to Suriname
Crossing from Belize into Honduras
Crossing from Sweden into Norway
Crossing from Gibraltar into Spain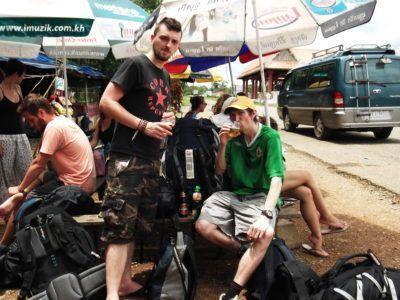 Anthony and I crossing the Laos to Cambodia border some years back.
Crossing from Spain to Gibraltar
Crossing from Italy to the Vatican City State
Crossing from Sweden to Ladonia
Visiting the Bahrain to Saudi Arabia Border
Crossing from Northern Ireland to Podjistan
Crossing from England to Lagoan Isles
Crossing from England to Adammia
Crossing from England to Jersey
Crossing from Kazakhstan to Kyrgyzstan
Crossing from Uzbekistan into Karakalpakstan
Crossing from Poland to Ukraine
Crossing from Uzbekistan to Kazakhstan
Crossing from Senegal to Gambia
Crossing from England to Austenasia
Crossing from Macedonia to Kosovo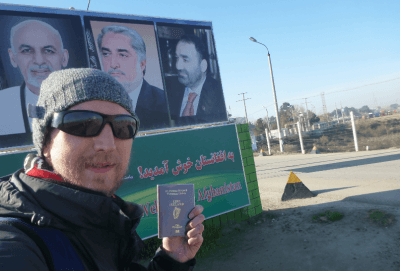 Arrival into Afghanistan at Hayratan
Crossing from Israel to Palestine
Crossing from Guernsey to Herm
Crossing from Botswana to South Africa
Crossing from North Korea to China
Crossing from Mexico to Guatemala
Crossing from Moldova to Transnistria
Again, I have written about 30 more border crossing articles than these ones. Check them on my World Borders pages.
3.Touring Obvious Cities, Towns, Villages, Anywhere You Have Heard Of
I toured all the major touristic spots I wanted to. These are mostly cool places you've heard of. I wrote about them in detail and hope these tips help you to travel the world. After a while though, the mega touristic sites started to bore me and so I headed more off the wall.
Backpacking in Moscow, RUSSIA
Backpacking in Donostia, BASQUE COUNTRY
Backpacking in Christchurch, ENGLAND
Backpacking in Edinburgh, SCOTLAND
Backpacking in Guangzhou, CHINA
Backpacking in Tallinn, ESTONIA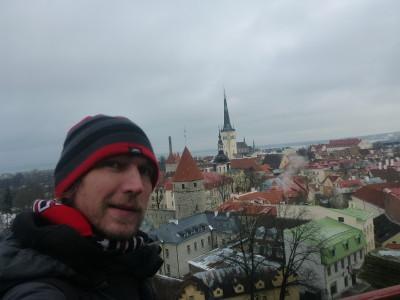 Admiring Tallinn from Kohtu Viewpoint
Backpacking in Helsinki, FINLAND
Backpacking in Salzburg, AUSTRIA
Backpacking in Oaxaca, MEXICO
Backpacking in Tegucigalpa, HONDURAS
Backpacking in Sydney, AUSTRALIA
Backpacking in Chongqing, CHINA
Backpacking in Tehran, IRAN
Backpacking in Ankara, TURKEY
There are many more obvious cities I have toured including Buenos Aires, Rome, London, Paris, New York, Los Angeles, Auckland etc. I didn't actually write about all of them, as my niche was more on the crazy and obscure side of things. But yes, most obvious cities, I backpacked through them.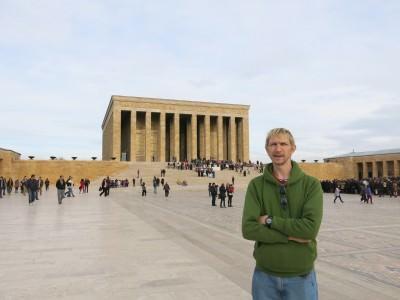 Inside Ataturk's Mausoleum complex in Ankara, Turkey.
4.Crazy, Cool and Scary Adventures
Along the way I have been feeding hyenas in Ethiopia, stripping naked in Antarctica, sky diving in New Zealand, throwing fireballs in El Salvador and toured Saddam Hussein's House of Horrors in Iraq. I shared these adventures to tell my stories, have a good online record of what I did and to hope that they can help you do the same. Here are some of my crazy, cool and scary adventures.
Fireball Fight in Nejapa, El Salvador
Feeding Hyenas in Harar, Ethiopia
Riding camels in IRAN
Stroking Crocodiles in Kachikally, Gambia
Showing my Willy in Jarvenpaa, Finland
Getting Naked in ANTARCTICA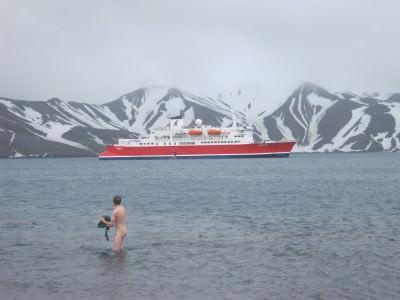 Antarctica Highlights – Getting naked in the waters at Whaler's Bay
Getting Naked in Munich, Bavaria
Skydiving in New Zealand
Bungy Jumping in New Zealand
Zorbing in New Zealand
Paragliding in New Zealand
Ziplining in HONDURAS
Visiting Kaieteur Falls in GUYANA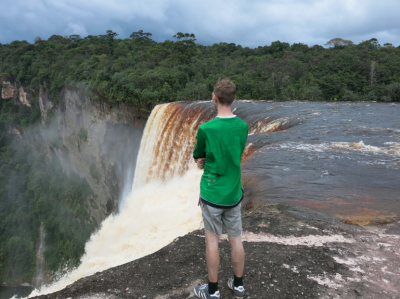 Standing on the edge at the top of Kaieteur Falls, Guyana
Touring Actun Tunichil Muknal caves in BELIZE
Kissing the Blarney Stone in REPUBLIC OF IRELAND
Hiking Mount Kinabalu in MALAYSIA
Holifest in Vrindavan, INDIA
Hiking the Upper Trail in Yunnan, CHINA
Touring Amna Suraka (Saddam Hussein's House of Horrors) in Sulimaniyeh, IRAQ
Playing football in AFGHANISTAN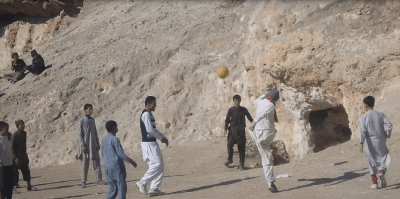 The Day I…Lobbed the Goalkeeper From 30 Yards in Afghanistan
5.Touring and Writing About Places You've Never Heard of
Part of my backpacking niche was visiting places that other tourists had never heard of and writing about them in detail. When I mention these places to people, some of them still look at me like I'm making them up. I kind of wrote these to prove that I was bored of mainstream travel and wanted to investigate new places but also because I got fed up reading other boring travel blogs on Thailand, New York and Rome. I'd rather backpack through Podjistan! As I said recently on an interview for Belfast89 FM:
"If it exists as a place, I'll go to it" – Jonny Blair (2016)
Backpacking in Wrythe, AUSTENASIA
Backpacking in Balkh, AFGHANISTAN
Touring Four Gables in PODJISTAN
Backpacking to Sucevita, ROMANIA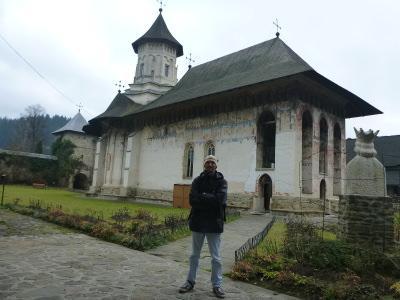 Touring the amazing colourful painted monasteries in the Southern Bucovina region. This place is Sucevita.
Touring the Republic of UZUPIS
Touring the Driftwood Structures in Nimis, LADONIA
Backpacking in Ordino, ANDORRA
Backpacking in Starogard Gdański, POLAND
Backpacking in Portbraddon, NORTHERN IRELAND
Backpacking in Duhok, IRAQ
Backpacking in Shahr e Kord, IRAN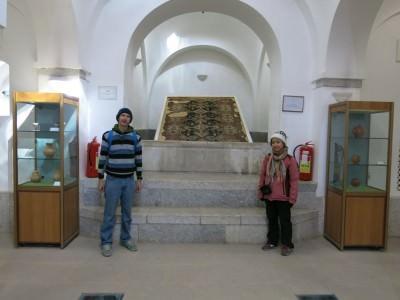 Inside the small museum in Shahr-e Kord, Iran.
Backpacking in Kourou, FRENCH GUYANA
Backpacking in Tytannia Province, ADAMMIA
Backpacking in LAGOAN ISLES
Backpacking in SARK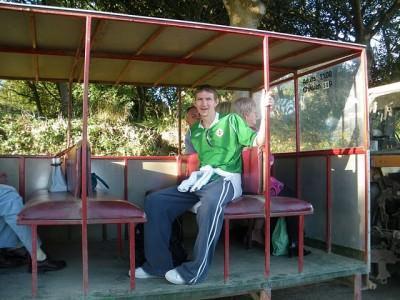 On the back of the tractor and carriage on Sark.
Backpacking in HERM ISLAND
Touring the Kingdom of LOVELY
Backpacking in the former republic of FRESTONIA
My homestay at Balka in Tiraspol, TRANSNISTRIA
Backpacking in Pelplin, POLAND
Touring Isfiya DRUZE village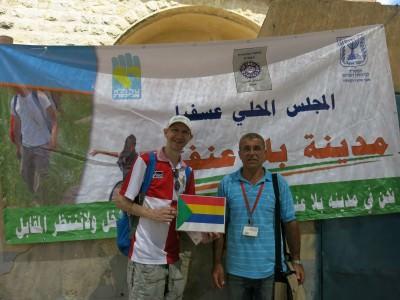 Posing in Isfiya, Israel with the Druze flag and our tour guide Badeea Mansour, a member of the Druze religion.
A Night in Termiz, UZBEKISTAN
Backpacking in Bobruisk, BELARUS
Backpacking in Parnu, ESTONIA
Visiting Lac Rose in SENEGAL
Visiting Agdam in NAGORNO KARABAKH
Touring Khorog in GORNO BADAKHSHAN
Touring Nukus in KARAKALPAKSTAN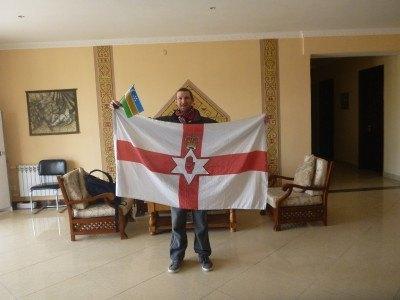 Whackpacking my way through Nukus, Karakalpakstan
During this crazy journey, loads of other things have happened. I have had ups and downs. Life has not been a smooth journey for me and it won't be for you either. Since this website began, I have had three girlfriends, one of whom I was with for five years and engaged to, Panny. I have worked in ice cream kiosks, schools, bars, theatres and farms. I have fallen in and out of love three times, having my heart broken by a Hungarian dancer in 2009. I have been on sponsored trips to over 20 countries and I have reviewed over 300 hotels or hostels. I have stayed in five stars and dingy hostels. There have been lots of perks – free flights, free beds, free tours, free backpacks and clothes etc. But towards the end of last year, the journey became lonely and I wrote about this a few times in my Sunday's Inspiration feature.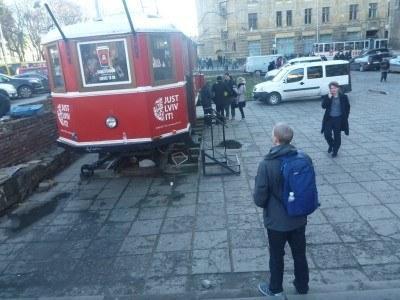 It's a Lonely World After All
So that is the gist of my story folks. Again, thank you for joining my story and I really hope you can all get out there and see the world and have the time of your life. I have now officially stopped backpacking full time – I am not long term travelling any more. The backpacking stops, but the writing continues. I need to settle for a while, so I now have a base in Gdańsk in Poland!! If any of you are passing through this part of Poland, or indeed any local people want to meet up, PLEASE do it. You can connect with me via email or in the following ways:
jonny (at) dontstopliving (dot) net
– Like Don't Stop Living on Facebook
– Subscribe to Don't Stop Living videos on YouTube
– StumbleUpon Don't Stop Living
– Follow Don't Stop Living on Instagram
– Follow Don't Stop Living on Twitter
– Get me on GooglePlus
I still have some short trips coming up in the next few months – to Kashubia parts of Poland, to Warszawa, Szczechin, Lodz and back to Starogard Gdanski. But mostly, I'll be enjoying my new flat, learning Polish and I won't be leaving this country for a while! I will be buying new clothes and I won't be looking too scruffy or backpackery any more. Life starts afresh for me.
See you around!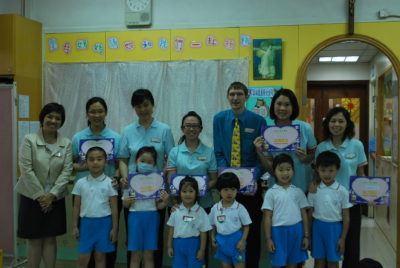 Teaching English in Hong Kong back in 2013
Join 15,017 Monthly Readers! If you enjoyed this article and LOVE travel and SAVING money, get e-mail updates from Don't Stop Living – a lifestyle of travel! (It's Free) 😉 Jonny