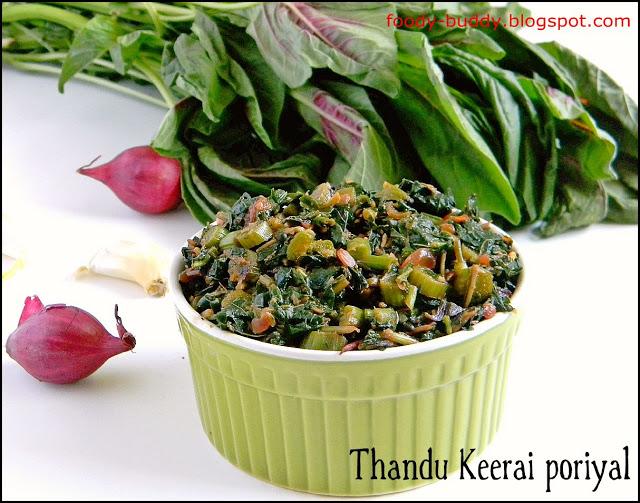 Thandu keerai are also known as Red Amaranthus in English. This tasty green consumed extensively in Tamilnadu, southern part of India. I am big fan of all Greens because

m

y mom used to make keerai(greens) twice or thrice a week as it was very good for our health. This particular green is very rich in vitamins and minerals. Apart from that, it cools and energizes the body, also very good blood cleanser. Try this healthy dish and enjoy your day.
   Ingredients
   1 Bunch of Thandu Keerai / Red Amaranthus
       1/4 Cup of Chopped Red Onion
       2 Garlic Cloves, Chopped
       1 Tbsp of Dry Coconut Flakes
       1/4 Tsp of Turmeric Powder
       Salt to taste
    To Temper
       

2

Tsp of Oil
   1/2 Tsp of Mustard Seeds
   1/2 Tsp of Urad Dal
   1/2 Tsp of Cumin
   2 Red Chillies
   Pinch of Asafoetida
Few Curry Leaves
   Method
Wash the greens and chop i

t

finely

along with stems.

Heat a pan with oil, add mustard, urad dal, cumin, asafoetida, curry leaves and broken red chillies, after they splutter, add chopped onion and turmeric powder, fry for 2 mins till golden brown.

Add

c

hopped garlic, fry for a min.

Add chopped greens( keerai) and salt to it, saute well . Sprinkle little water and cover the pan with a lid and cook it for 3-5 mins.

Add coconut flakes, Again mix well, check the salt and turn off the stove.

Serve hot and enjoy.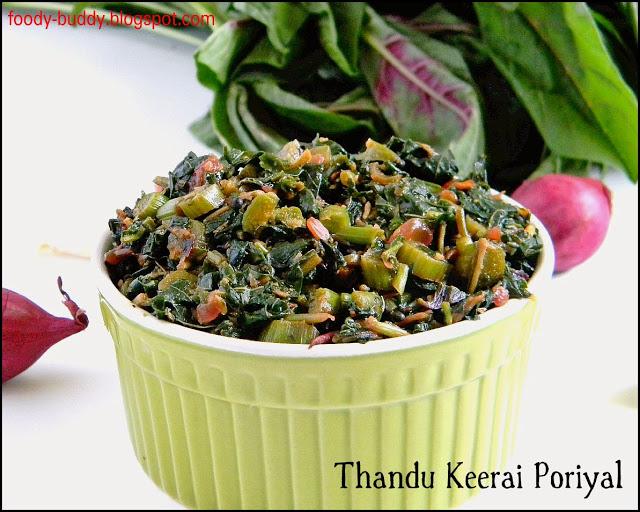 Tips
While Making this dish, don't add too much of water because the green itself has water content in it.
You can also make this without onion and garlic.

         
 

 

Health Benefits of Thandu Keerai ( Red Amaranthus)
Rich in dietary fiber, so it enhances digestion.

Good source of Vitamin A, B1, B2, B6, C, Iron and potassium

Lowers the cholesterol.

High in protein content.

Rich source of folic acid, good for pregnant ladies.

Good for patients with cardiovascular disease.

Boost the immune system. 

Prevents the premature gray hair.

Prevent women from ovarian cancer and miscarriages