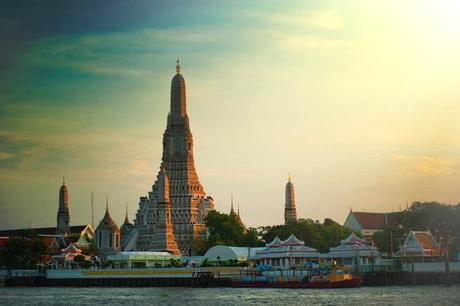 Thailand is a beautiful country in Far East Asia. Although it is known to take its admirers out of their comfort zone, which Asian country doesn't? Traveling in Asia always require some adrenaline rush,
which isn't the part of traveling in Europe or at any white sand beach in the Caribbean. But it is always a good thing to push yourself to the limits.
Each year, millions of tourists visit the Kingdom of Thailand, and their number is always on the rise.
Traveling to a foreign country requires some advanced planning, and in the case of Thailand, you need to know a few details that can help you get acquainted with the local people and their customs. It will enhance your traveling experience and you may earn the respect of the locals.
But before you start your planning, we will like to offer an unbeatable tip to save money when traveling.
Always book your cheap flights to Bangkok from the UK or any other country with the help of a renowned travel agency. They can offer you deals and promotions on flight tickets and accommodation, which can help you enhance your savings. It is also a good choice to make your plans with a travel agent as they can guide you better about any place.
So with that stated, let's start with things to know before you go for your most awaited Thailand trip. Barter Sensibly
Bargaining can be fun sometimes. It helps you to get unexpected rebates on certain items. In Thailand, when you are shopping at any local market, you need to bargain on every purchase as sometimes shopkeepers tend to tell you prices of products a little higher as you are a foreigner.
There is always a perfect time and place for you to fight for some discount, and local markets are the best place for that. Always suggest the merchant go lower with the price and try as hard as you can to insist them.
Evade tourism that involves animals
Taking a picture with an Asian Elephant, a tiger or a monkey is always appealing to tourists. You can trek on elephant backs, visit tiger temples and take snaps with monkeys quite easily in Thailand. However, we don't want to encourage you to do all these things with endangered wildlife in Thailand, as these animals are mostly mistreated. Make sure to do some research about these animals and how their handlers treat them. There are numerous blogs on the internet and you can easily determine which temple is practicing brutal methods. However, you can always visit animal reserves and national parks to see these beautiful creatures of nature and take some pictures.
Avoid feeding local animals
There are lots of animals in the streets and forests of Thailand. From the stray dogs and cats to the tigers and elephants in national parks. We recommend you to avoid feeding the local animals in any case as it can hamper their diet. By feeding local dogs, you can expose yourself to dangerous diseases that they are carrying around such as fleas, rashes, and lesions. For the sake of your own health, avoid feeding them.
Tuk-tuk during the daytime, taxis at night
Although you can take taxis between two destinations at any time, and they are quite comfortable too, but we recommend you to take tuk-tuk during the daytime. They provide you with a better view of the city and you can sightsee better in them. They are also a cheaper way to travel. However, for your own convenience, we vouch for taxis at night. You can always ask a taxi to come back at a specific time to pick you up at night, as traveling in a single vehicle with the same driver can help you safely travel.
Avoid talking about the King
Thailand is one of the few active Monarchies in the world. There is a lot of debate going on regarding the Kingdom and the Coup de 'tat that took place in the past, and talking about their King is not advisable under any circumstance. Disrespecting their King or Royal family can result in a minimum of 15 years prison sentence. So tread carefully in the Kingdom of Thailand and avoid any inconvenience.
Specific days for gambling
By the order of King Maha Vajiralongkorn, gambling is only permitted on specific days. So be extra careful now when thinking about gambling in the Kingdom of Thailand.
Don't trust your taxi driver
When you ask your taxi driver to drop you at a specific significant site and he refuses, don't trust him at all as this is a tactic which they use to earn a commission. Always give some tip to your driver and ask him to take you to your desired destination.
Nice and polite people
People of Thailand are always nice and polite with others. So if you talk to someone and they are nice to you, don't freak out or get surprised. Just act normally and be polite yourself.
Thinking in to travel to an exotic place? Here you can found information about Suriname a small country in South America. Too you can look for amazing Iguazu Falls Tours with this Argentina Travel Agency.
Thanks for to visit us.