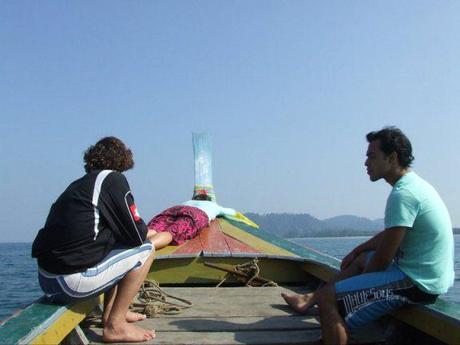 Imagine yourself on Thailand, on an island in the southern part of Thailand. In this island you won't have electricity 24/7, won't have internet connection 24/7, won't have all of the things you are used to, like chocolate bars, or ice cream. Picture yourself in this scenery, yes it sounds kind of a hard place to be, but now rethink it, you won't have all those distractions that are surrounding you each and every day at your home, you will be able to feel completely disconnected from it, you will have the opportunity of a life time to actually connect with nature, the animals, the people, the way of living trust me you will miss it once you leave that dream place.
I only spent 2 weeks on the project, but those weeks were the most beautiful weeks I have ever experienced.
I had to wake up every day at 5:15 am, then we walked to the pier and got into a little fisherman's boat that took us for a 10 minutes to a 40 minute ride skirting the island allowing us to see the sunrise each morning, then it left us on the beach and we had to walk back. These walks were of 5K or 10K, which seems hard, but actually is very fun to do. Then we had our breakfast at the beach, prepared by Lamion, the village chef, the good thing is that she doesn't like us to feel hungry so every meal was so big that you will never feel hungry. Then we relaxed on the beach, swim, snorkel, see turtles and a whole bunch of incredible fish. After that we have to climb a little hill called hornbill hill, from there we did our behavioral observation, actually watching turtles eating out at sea.
Around 12pm the boat arrives and takes us back to the village. At lunch time we all eat together the amazing and exquisite dishes that Lamion makes, and that are different each day, they're never the same, really! In the afternoon we have to either do the behavioral observation again, or do a turtle survey, looking for fresh water turtles that are near ponds around the village. This is the time were you can relax, take a walk around the island, go for long swim at the beach, take a bicycle and move around the island, sleep, do nothing, do a lot of things or whatever you fell like. If you are careful and lucky you will be able to see incredible birds, and insects, and of course animals. Later at around 7pm we have dinner, again amazing dishes.
The life on the island is unique, special, and wonderful. I lived in a family's house; they received me so well, I had a very nice room for myself, a very good bed and the best of all, awesome hospitality. You will have a lot of opportunities to talk and be with the local village people, and be able to work and help them in their daily jobs. This way of living helps you to understand the culture and teaches you how to respect and be in harmony with it.
You will also learn a lot about the turtles, especially about the 4 species that nest on the island. You will see incredible sightings, beautiful places, and amazing things.
This project has everything and more you can expect, all from wildlife and mangrove forests, to community life and experience.
I really recommend this project, it is unique and a once in a life time experience.