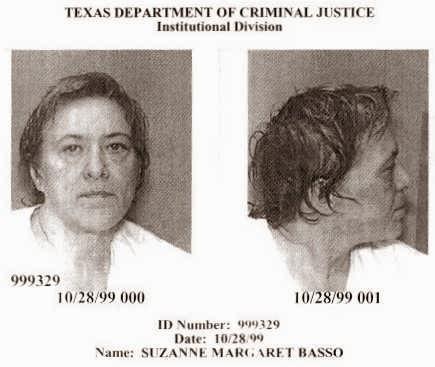 The blood-thirstiest state in the Union, Texas, added another killing to its body count at 6:26pm yesterday. The state of Texas executed it's second person this year, and the first woman (Suzanne Basso) since last year. Ms. Basso was the fifth woman to be put to death in Texas since the death penalty was restored in the state in 1976, and the 510th person overall.
I'm not going to tell you Ms. Basso shouldn't have been executed because she's a woman. The crime she did was a particularly violent one, and some women can be just as vicious as men can be. And if you must execute people, there's no reason to distinguish between criminals on the basis of sex.
I do wonder why the state finds it necessary to execute any human being at all though. It doesn't have a deterrent effect on violent crime, it is much more expensive to do than giving life w/o parole, it is more about revenge than justice and brings the state down to the level of the criminal, and it is certain that some innocent people have been executed. Put bluntly, it just makes no sense. Maybe someday Texas will become a bit more civilized.