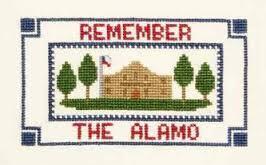 The Battle of the Alamo in Texas in the spring of 1836 lasted 11 days, following a 13 day siege of the fort.  The Battle was ultimately lost, not even a Pyrrhic victory, but it became a famous and unifying loss.
The modern opposition, no matter how vehement those who are in opposition CLAIM to be, lasted less than 24 hours, not even the 24 days of the Alamo conflict.
Raw Story notes:
Texas county clerk reverses course, starts issuing same-sex marriage licenses
Texas county clerk said on Tuesday her office will issue marriage licenses to same-sex couples, reversing a previous decision that was based on religious objections.




Some counties in other socially conservative states such as Kentucky have declined to issue such licenses since the U.S. Supreme Court said on Friday the U.S. Constitution provides same-sex couples the right to marry. The controversy could result in a new round of lawsuits over gay marriage.

Katie Lang, clerk of Hood County, southwest of Fort Worth, said staffers will issue the licenses although she will not do so based on her Christian beliefs, which she believes are protected under the Constitution.

Texas Attorney General Ken Paxton has said county clerks who object to gay marriage can refuse to issue marriage licenses to same-sex couples.




Paxton, a Republican, said those officials could expect to be sued but would have ample legal support.

"Several groups have publicly expressed their willingness to help government employees who feel their religious rights have been violated," a spokeswoman for the attorney general's office said.

Legal experts said same-sex couples could seek injunctions compelling clerks to issue licenses and easily win, based on the Supreme Court decision. They also could file civil suits seeking damages from counties that are largely rural and short on funds for a prolonged legal fight.

But clerks could try to request pre-emptively an injunction or judgment that says they do not have to issue the licenses because of religious liberty, said Texas A&M University law professor Meg Penrose.

Counties in the most populous areas of Texas began issuing marriage licenses to same-sex couples shortly after the Supreme Court ruling.

Out of 254 counties in Texas, 114 are ready and willing to issue same-sex marriage licenses, according to the Dallas Morning News. Nearly 100 other counties said they were waiting for software upgrades and gender-neutral application forms.
So we have 214 counties out of 254 that are cooperating with the recent gay marriage SCOTUS decision.
From the Dallas News earlier this week:
Benefits to be extended to spouses of Texas' gay state workers

 

AUSTIN — The state bureaucracy is moving forward to comply with the U.S. Supreme Court's gay marriage decision, even as statewide elected leaders, including Gov. Greg Abbott, have lambasted the landmark ruling.

Starting Wednesday — less than a week after the decision — the Employees Retirement System of Texas, the University of Texas System and the Texas A&M University System will extend benefits to spouses of gay and lesbian employees.

That means the list of employers providing same-sex partner benefits will include the state's largest: the state itself.
I expect that the remaining pockets of opposition are going to crumble.  But if they do not, I expect not only action by the DOJ, but from individuals like those who brought suits that rose to the level of the SCOTUS decision.
The Advocate
notes:
WATCH: Now's the Time to Defend the Marriage Victory

By all means, let's celebrate this milestone achievement. But don't think for a second that the work is done.
...But there are some pockets of resistance where the lingering opponents of equality will do everything they can to block marriage. For example, Texas Attorney General Ken Paxton said that clerks may be able to turn same-sex couples away. He also noted that clerks will open themselves up to possible litigation if they refuse LGBT couples. Essentially, he's inviting clerks to prompt a lawsuit so that his office can step in and fight for their right to discriminate.
Conflicts like that will probably keep popping up, at least for a while. Missouri's looking at getting out of the marriage business altogether. North Carolina just passed a bill that lets officials refuse to issue licenses to all couples — gay and straight. Florida clerks have done the same, without waiting for a law making it legal for them to do so. The Constitution may guarantee equal protection, but we'll still have to fight for that protection being recognized across the whole country.
The conflict is essentially a throwback to the 1950s, when the Supreme Court ordered an end to segregated schools. Some places just closed their schools altogether, rather than integrate them. Kids literally had nowhere to go, because officials preferred to deprive everyone of their rights rather than extend those rights to a minority.
We will see more fighting, but given recent widespread court failures and the high cost of such legal actions to conservatives, as well as the increasing number of Christian churches and other religious entities that DO perform those gay marriages, I am betting that most of them will cave too, rather than fight.
If these hold outs do NOT cave, I think we can expect law suits like those in North Carolina brought by the United Church of Christ and Jewish congregations that the refusal to issue marriage licenses violates THEIR freedom of religion.  It is entirely possible that the laws enacted by conservatives solely to obstruct gay marriage could be the very statutes that defeat that obstruction, much like the United Church of Christ law suit in North Carolina that was joined by Baptists, and Jews.  It would not surprise me to see other religious denominations join such suits going forward.  The premise of religious freedom isn't gong to fly, the premise that only those who oppose gay marriage are genuinely or sincerely religious in their beliefs will fail.  It is extremely unwise to put the courts in the position of deciding a civil right by making it a conflict between competing religious groups and their sincerity.  No court is going to reward the hold outs to gay marriage in such a suit.
From the United Church of Christ web site, in June 2014:
The United Church of Christ welcomed new allies in its quest for religious freedom, as three religious organizations joined the UCC's First Amendment lawsuit against the state of North Carolina. The Rev. J. Bennett Guess, a national officer of the church, stood with the additional plaintiffs during a news conference in Durham, N.C. on Thursday, and applauded their stance as people of faith committed to preserving equality.
The Alliance of Baptists, the Central Conference of American Rabbis and the Association of Welcoming & Affirming Baptists are the newest co-plaintiffs seeking to eradicate North Carolina's marriage laws. The organizations, now part General Synod of the United Church of Christ v. Cooper,  claim that state laws wrongly criminalize clergy for performing same-gender marriages and unconstitutionally deny LGBT couples the freedom to marry.
My prediction is that in spite of the noisy histrionics, this will never be a 'Remember the Alamo' moment. The loss will not be celebrated like the Alamo. This will end with a barely audible sulky whimper, not a roar, not embroidery, and then become just another embarrassment in our history.