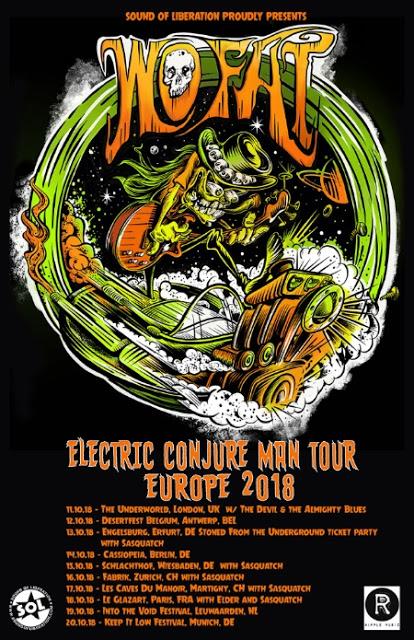 "An immersive experience in which stoner grooves and metal riffs jostle for air in a churning tide of psychedelic juju [...] the looming spectre of apocalypse, its message is as heavy as the music."
"Wo Fat have cemented their status among stoner metal's prismatic visionaries."
"They're the intersection of Kyuss' anthemic Sky Valley-era stuff, Clutch's doom rock boogie, Electric Wizard's Sabbath-on-cough-syrup apocalyptic mist, and, duh, Sabbath itself."
"They have something for everybody: a massive, juicy guitar tone sure to pelase metalheads, lots of fuzz, blues licks, hints of psychedelia and some smokimg jams."
"The band's chemistry bleeds into every corner of the album [...] Ripple is home to Leaf Hound and JPT Scare Band, so it's only fitting that a future legend is now in their ranks."
Having already secured their legendary status within the stoner rock community over a sonic odyssey of six studio albums, Wo Fat has stayed true to the deep, dark blues that wail from within. Following on from the critical success of their last album, Midnight Cometh, and continuing their partnership with the equally formidable California-based record label Ripple Music, European fans that have yet to experience the full force of the Wo Fat experience will be able to get a taste of what they've been missing this October.
"Playing in Europe is always an amazing experience for us and it's been a couple years since we last made the trip, so we're really excited to be coming back," explains Wo Fat's vocalist/guitarist, Kent Stump.
"We are particularly stoked to be able to play three different festivals, all killer, on this run; Desertfest Belgium, Into the Void and Keep It Low. We'll also be playing some new places as well as returning to some favourites, like The Underworld in London and Le Glazart in Paris. And even better, about half the shows will be with the mighty Sasquatch along with shows with Elder and The Devil and the Almighty Blues. We'll be rolling out some new songs on this tour and it will be our first European trip with Zack playing bass so I think our fans in Europe will really dig the heavy groove he brings."
Brought to you by Ripple Music and Sound of Liberation, Wo Fat's "Electric Conjure Man European Tour 2018" will kick off on 11th October 2018 at The Underworld, London. For a complete list of dates, see below.
To purchase tickets for available dates, please click HERE
Wo Fat "Electric Conjure Man European Tour 2018"
11/10/18 - The Underworld, London, UK [w. The Devil & the Almighty Blues]
12/10/18 - Desertfest Belgium, Antwerp, BEL
13/10/18 - Engelsburg, Erfurt, DE Stoned From the Underground [w. Sasquatch]
14/10/18 - Cassiopeia, Berlin, DE
15/10/18 - Schlachthof, Wiesbaden, DE [w. Sasquatch]
16/10/18 - Fabrik, Zurich, CH [w. Sasquatch]
17/10/18 - Les Caves Du Manoir, Martigny, CH [w. Sasquatch]
18/10/18 - Le Glazart, Paris, FRA [w. Elder and Sasquatch]
19/10/18 - Into the Void Festival, Leuwaarden, NL
20/10/18 - Keep It Low Festival, Munich, DE