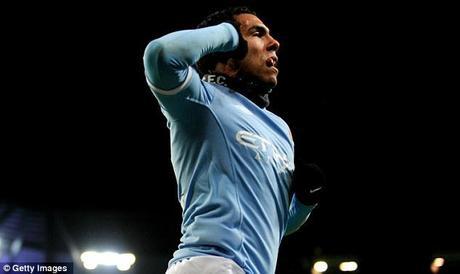 There were differing reports swirling about the impending departure of Carlos Tevez yesterday. Early in the morning it was reported that City have agreed on adeal to send Tevez to Brazilian giants Corinthians.

City manager, Roberto Mancini stated that an agreement had been reached for Tevez but that as of now he was still a City player. I'm not sure what that even means but in any case Corinthians later refuted those statements and said that the deal had not yet been finalized and that City had offered a counter offer to Corinthians and that the Brazilian club was in the process of looking that over.. Whatever the case may be, it looks as if Tevez is headed back Corinthians where he spent 2 seasons prior to his move to West Ham in 2006. I am personally saddened to see Carlos leave England. Even though I don't particularly like City, I actually enjoy watching this guy play. His work rate and passion for the game is phenomenal to watch. He seems to be made for the English game. It is such a waste of talent to have a guy in the prime of his career leave and go back to play in the Brazilian league. I understand that Tevez wants to move closer to his young daughters but this is a time that he needs to put his career ambitions first. He should find a way to move his family to Manchester and let them adapt to life in England. Many other professional athletes are forced to deal with moving their families around, so why can't Tevez do the same. Hopefully, Carlos realizes his mistake and will look to move back to Europe after next season.


---------------------------------------------

A few weeks ago I wrote about Soulemayne Coulibaly and his dominance in the U-17 World Cup. Today it was announced that Spurs have signed him away from his club in Italy. This totally came out of the blue for me as I had no idea Spurs were even looking at him. Now I will be interested to see how Redknapp will handle this youngster. I am sure he will spend a few seasons in the reserves and then maybe out on loan afterwards. For Soulemayne's sake, hopefully Spurs don't mishandle his career and stunt his growth as a player. Spurs don't really seem to have that great of a track record with bringing in and developing youngsters lately. Here are his highlights from the U-17 World Cup again. Hopefully FIFA will let these stay up.