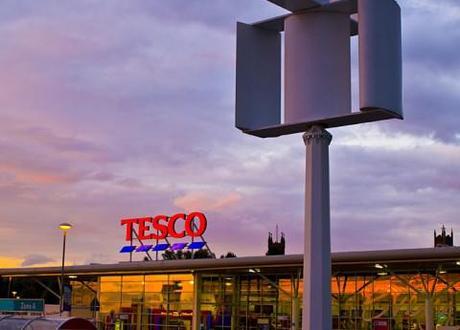 Tesco tanking? Photo credit: Purple Matt Fish
Britain's largest supermarket chain, Tesco, issued its first ever profit warning on Thursday after losing £5 billion off its value after its disastrous Big Price Drop campaign during the Christmas season.
Tesco attempted to put a positive spin on the news, noting that profits will still be "broadly in line with market consensus forecasts", but investors aren't buying it: Shares slumped 16 percent on the news, the worst fall for the retailer since a 12 percent drop on 1987's Black Monday. Hester Plumbridge, writing for The Wall Street Journal, suggested that may prove an "overreaction", "but investor confidence could be hard to regain."
Tesco head Philip Clarke denied the grocer was "in crisis", but admitted to the press that the company pursued the wrong strategy this Christmas season, The Mirror reported. "We chose in those critical six weeks not to hit customers with a blizzard of coupons but to invest mainly in cutting prices. I have got to acknowledge that we backed off a bit on some of our promotional and couponing activity just as everybody else upped it."
Clarke, who has been at the helm less than a year, vowed to take the company "back to basics" and become a "leader" once again; but analysts warn that Tesco's situation may actually be worse than it appears, The Mirror reported.
So what happened? And can Tesco get its mojo back?
How did this happen? Harry Wallop, retail editor for The Telegraph, explained that Tesco's market share has been slipping gradually since 2008; its recent Big Price Drop campaign, which saw the company focusing on slashing prices, hastened its fall. "It would appear that though Tesco shoppers took advantage of the lower prices, they did not feel they were getting a bargain and failed to return for another shop, or to place another box of chocolates in their Christmas shopping basket." This at a crucial time, when other retailers were noisily and successfully, judging by Sainsbury's and Morrison's profits, attempting to convince shoppers that their deals were the best and to make those shoppers feels as if they were getting something special.
What can Tesco do? Clarke has already admitted he made mistakes and now, he's got to fix them: The company is investing millions of pounds to "improve staffing levels and training, tailor product ranges more to local tastes and make better use of customer insight gleaned from store loyalty cards. In the future, it will open fewer big hypermarkets and focus more on small stores, lowering future capital expenditures," The Wall Street Journal reported. Wallop, at The Telegraph, noted that the situation isn't entirely bleak for Tesco, which still maintains 30 percent of the market share, over the 17 percent of its nearest competitor, and has been in this position before. For those snapping up cheap Tesco shares, hopes are high that Tesco can pull itself together.
Tesco COO Noel "Bob" Robbins sold off 50,000 shares of Tesco stock eight days before the big announcement. Sound shady? A Tesco spokesman thinks not: ""We are confident that Bob was not in possession of any price-sensitive information at the time the sale was approved." He might be right – Robbins sold shares represented only about 5 percent of his holdings in the company, The Telegraph reported.
What's the bigger picture? Tesco's slump is indicative of a shopping revolution, declared Clarissa Tan at The Spectator: See, there's this thing called the internet. While Tan may be a bit behind the curve here, her point is that as consumers buy more and more online, they seek a "pleasant experience as opposed to a purely pragmatic one" in a bricks-and-mortar store. "Tesco forged ahead in the 1980s and 1990s, based on the unarguable premise that people like to view an array of goods all in one place. People still do, but unfortunately for the hypermarket chain this place may now be the internet."
What's this say about the UK retail reality? Nothing good, said Edward Hadas at Reuters. Tempting though it may be to blame Clarke for Tesco's decline, especially after he inherited a seemingly healthy company from Sir Terry Leahy in March 2011, but he can "hardly be blamed for a weak UK economy or competitors who have been strengthened by learning from Tesco". Final judgment on Clarke's performance should wait until the after he conducts his revival programme, and it should bear in mind that Tesco "is so big in the UK that profitable market share gains are increasingly hard won".
Or is this just a 'gigantic fuss about nothing'? The market hysteria over Tesco's single percentage point profit dip is either an overreaction or proof that the shares were massively overvalued in the first place, or both, declared David Thomas at The Daily Mail. "[W]hat's deeply worrying, and symptomatic of our nation's economic woes is not that shoppers spent a little less in a particular shop at a certain time of year. It's that we care about it so much." Britain needs to stop spending money – especially money that it doesn't really have – and get back to making things.