If you're in any kind of online business then it's really very important to create the necessary legal agreements and policies for your online business. Legal Agreements is like the privacy policy, terms & conditions, EULA, Return & Refund, Cookies policy, and disclaimer.
Many online business owners collect personal data from users and some of them use cookies right on their websites. And in such cases it's really important to have a privacy policy, cookie policy, and disclaimer.
Now the questions arise here, how you can create legal agreements for your website? We know that your website and app is unique so it's important to have the unique legal agreements and policies.
No clue don't worry we have a solution for you, now you don't have to be confused while creating legal agreements for your website or online business.
Here comes TermsFeed - It's a reliable platform that generally creates customized legal agreements and policies right for your website or app based on your business needs and requirements.
In this post, we have featured TermsFeed Review 2019 that includes all the detailed insights about its pricing, features, functionality and more. Let's get started here.
TermsFeed Review 2019: Create Legal Agreements For Your Online Business
About TermsFeed
TermsFeeds is a platform that generally creates necessary legal agreements and policies for your online business. It can help you in creating legal agreements and policies for your website or application easily.
With the help of this platform, you can just create the legal agreements created for the website, mobile apps, facebooks apps, desktop apps, SaaS apps and everywhere you actually need the legal agreements.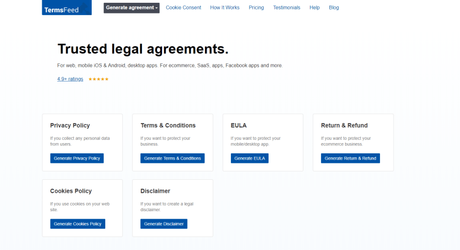 The best part is that their agreements are suitable for a wide range of needs that includes of collecting email address, use geolocations (GPS), sell products or services, creating an account, publishing the content, copyright notices and many more as well.
This platform also offers free templates for creating legal agreements. You will get free templates for privacy policies, GDPR Privacy Policies, Cookies Policy, Terms and Conditions, Terms of Services, Terms of Use, EULA, Disclaimer, Return, and refund.
Here this platform is extremely easy to use and it will also save your time and money as well. You can easily make high-quality legal agreements quick and effortlessly. And it's not really based right on recurring fees, unlike most of its kinds.
How Does TermsFeed Works?
The working of this platform is very simple and straightforward so that anyone can easily get started with it. Here the creation of legal documents on TermsFeed is very easy and quick. The TermsFeed document generators go offers one of the most intuitive and effective interfaces.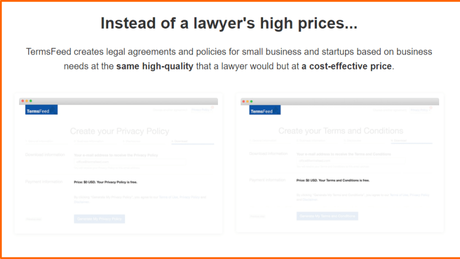 For creating the first legal documents you need to just go to TermsFeed Homepage and from there you need to just select the type of the legal agreements that you wanted to write.
As I have already mentioned earlier using TermsFeed you can create legal documents like Privacy Policy, Terms & Conditions, EULA, Returns & Refunds Policy Generators, Cookies Policy Generator, Disclaimer and more.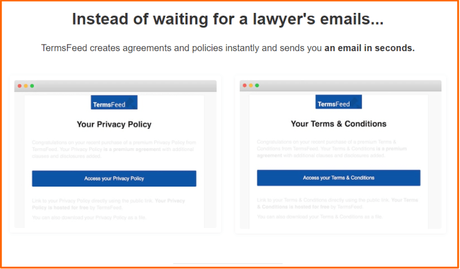 Make sure you just use one of them that you actually need for your business. As here the policies themselves are very different from each other but here the TermsFeed Generators works in a very similar manner.
Just to inform that creating legal documents has never been easier as here we all need to do tick boxes that match our company services. Like if use Google Analytics then just tick a box for that. If you also use Google AdWords then also tick the box for that. It's really very simple to create legal documents for your website and online business.
You need to just fill your company-specific information that will enable you to create personalized legal agreements. And after that, you need to just pay for the services through your credit card or your PayPal account. After that, you'll receive the final documents on your email address.
Or you can also download your policy document right in one of the following formats: PDF, DOCX, HTML, and Text. Once you download your newly created document you can simply post it right to your website or application in any manner.

You can simply copy and paste all of the text to your appropriate pages. Let's just few of the policies so that you just get familiar to it.
How To Generate Policies With TermsFeed?
Privacy Policy Generation
Here the creation of the Privacy Policy right on TermsFeed is very simple and quick. It will only take a few minutes to create a privacy policy right on TermsFeed. The privacy policies are GDPR and CalOPPA complaint and personalized right according to the services of your website or application.
And if you somehow collect any kind of personal data right from your users then its very important to have an accessible privacy policy. The privacy policy that you will create here should be very clear and understandable along with easily reachable too.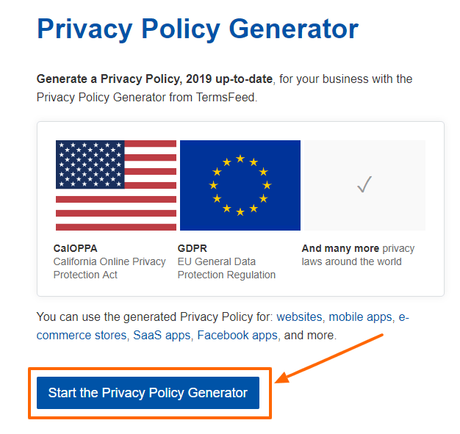 In order to create a Privacy Policy, you need to go on the homepage and just click on Generate Privacy Policy. And from there you can just create the privacy policy for your website, mobile apps, e-commerce stores, SaaS Apps and Facebook Apps as well.
Cookie Policy Generation
The process of cookie policy generation is very easy and straightforward. Here you should know that the cookie policy is not as personalised as compared to other platforms. But for now, it's okay and can do the trick for you. This privacy policy generator still worth recommendations because of its price and free consent solution.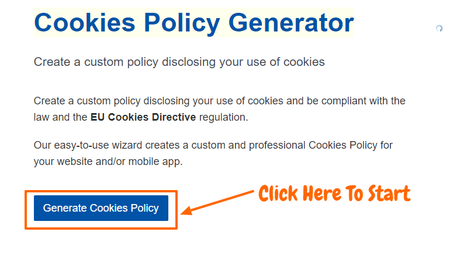 In order to create a Cookie Policy, you need to go on the homepage and just click on Generate Cookie Policy. And from there you can just create the cookie policy for your website, mobile apps, e-commerce stores, SaaS Apps and Facebook Apps as well.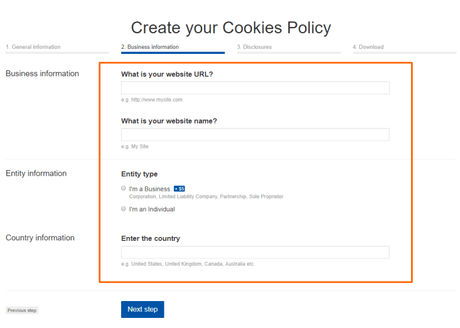 Here the cookie policy of a website should show the user how, why and where the cookies are active right on their website. And also here the cookie policy needs to clarify that user can request to remove his/her personal data right from the database.
According to the latest trends of GDPR all the website just needs to have an updates cookie policy.
Terms & Condition Generators
Here the terms and conditions generator is very intuitive and effective and one can easily do that. It mainly highlights all of the most crucial aspects right with a terms and conditions agreement needs to have.
TermsFeed generator is no doubt one of the best terms and condition generator of its kind.
Right with the terms & condition agreement you can simply protect yourself from various legal issues like the stolen content, liability and more such issues. For creating the Terms & Conditions for your website you need to simply click on the Generate Terms & Condition and then you will be redirected to another screen.
You can simply use this agreement right for Websites, e-commerce stores, mobile apps, SaaS apps, Facebook Apps and many more as well. And now for creating your first terms and condition you need to just give the General Information, Business Information, Disclosures and then you can simply generate your terms and condition.
Disclaimer Generator
We are so glad to tell that TermsFeed is outstanding at generating disclaimers right through automation. It also supports dozens of different disclaimer formats. And also have generated disclaimers with the help of TermsFeed Disclaimer Generator.
For creating the Disclaimer you need to just move to TermsFeed homepage and then you need to click on Generate Disclaimer. With the help of this platform, you can simply create a custom professional Disclaimer and they have actually Legal Disclaimer Generator and it can also generate a legal disclaimer right for your business.
The disclaimer that you can generate here can be suitable for a wide range of needs that includes of website disclaimer, fitness or health disclaimers, copyright disclaimer and many more in a row.
EULA Generator
No doubt I would like to say TermsFeed EULA (End-User License Agreements) is one of the best of its kind. You can simply create a custom and professional EULA Agreements and here the EULA Generator can really help you in creating a custom and professional EULA right for your desktop or your mobile application.

For the creation of EULA you need to just go over TermsFeed homepage and from there you need to click on Generate EULA and there just fill out all of the required information and EULA for your website or mobile will be created easily.
TermsFeed Pricing Plans
The pricing plans offered by TermsFeed is very simple and affordable. And the best thing that I like most about this platform is that here you only pay for what you need. There will be one time payments and no recurring fees will be there.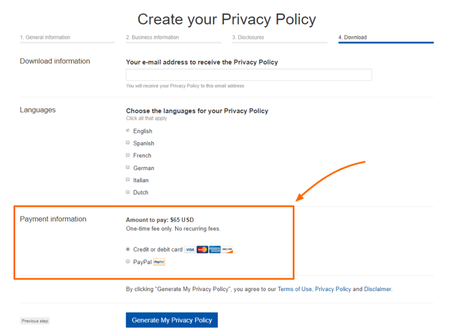 Free Agreements
And here TermsFeed also offers free agreements and policies as well. TermsFeed generally sells optimal and premium policies that can help you in protecting your business interests better.
The Premium Agreements
Here the prices that you pay for a premium agreements truly depends right on your business needs.
The prices that generally offered by TermsFeed are one-time pay only. And the best part is that there will be no recurring fees for using the TermsFeed.
Quick Links:
Conclusion: TermsFeed Review 2019
TermsFeed can really help you in simply generating all of the necessary legal agreements and policies right for your online business. And the best of all here TermsFeed can create customize legal agreements right for your website or application based right on your application requirements.
TermsFeed also offers free templates that you can use to create legal agreements and policies like the Privacy Policy, Terms & Condition, EULA, Cookies Policy and more.
We hope this TermsFeed Review suits your purpose well. Feel free to tell us which method you use to generate legal agreements for your online business. And if you like the post then kindly share this post on all trending social media channels like Facebook, LinkedIn and Twitter.