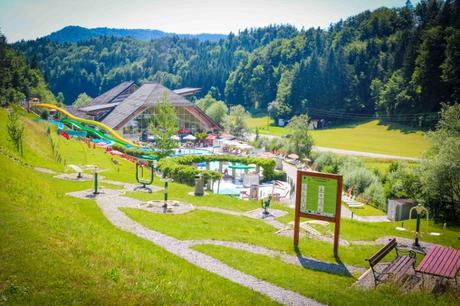 While in Ljubljana we were hosted by Terme Snovik Thermal Pools and Spa. Some parts of Europe including Slovenia were suffering from a heat wave so we were excited to be getting in some water time.
Terme Snovik is located roughly 30 minutes out of Ljubljana by car next to Kamnik and in a lush green valley. We have been to many different water parks but we have never before been to such a picturesque location.
Terme Snovik is much more than just a thermal wonderland, it also offers a range of wellness packages and even accommodations. The destination is also popular year round as it is close to the Kamnik Alps and the warm thermal water very soothing after a day on the slopes.
The Pools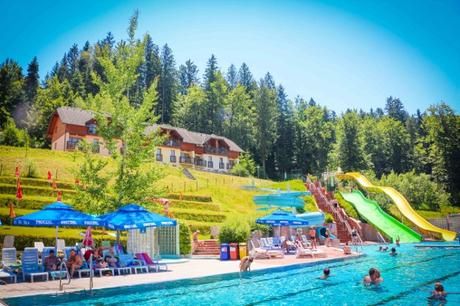 There are indoor and outdoor pools at this thermal resort so if you prefer to stay out of the sun that is an option. (Or stay out of the cold in winter.) The thermal water in the area was discovered in the 50's and it was turned into bathing pools. Today it is much more modern but the same therapeutic thermal water is pumped up from the ground into the pools.
The thermal water found at Terme Snovik is said to have many health benefits and in 2008 the water was officially declared to be a natural healing agent.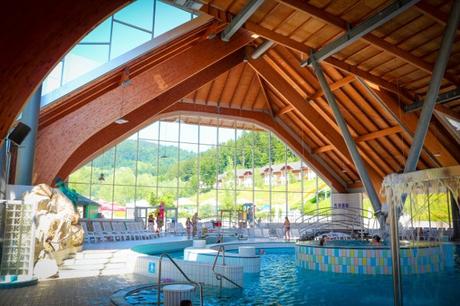 The indoor pools stay at a temperature between 89-96 degrees, which is nice and toasty especially in winter. The indoor pools also feature a spa pool which is only recommended for those over 5 years old, a sauna, a kids pool and the Potocka Restaurant. The day we visited the sauna was not operating so we didn't get to have a look, however with the weather a hot 95 degrees we didn't need it.
Being such a hot day we spent the majority of our time in the outdoor thermal pools. The temperature of the outdoor pools stays at between 77-82 degrees.
As Terme Snovik is located in a valley the lush green mountains towered over us as we swam in the warm thermal water. Even though the water was not freezing cold it was still very refreshing.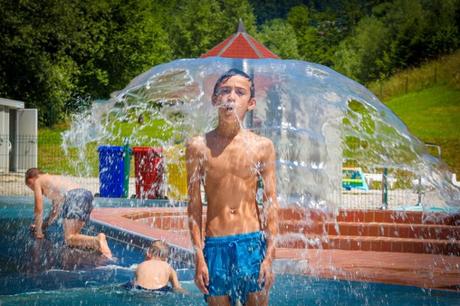 The outdoor area was also so much fun for the kids as it had a couple of big slides and a special small children's area with a water feature and slide.
The outdoor area has ample sun lounges with shade and umbrellas. We spent most of the day going from the outdoor thermal pool to the sun loungers and back again.
I can't say for sure if the water was healing as we didn't have any ailments but we all felt really good after our day lounging in the thermal water at Terme Snovik.
Potocka: The Restaurant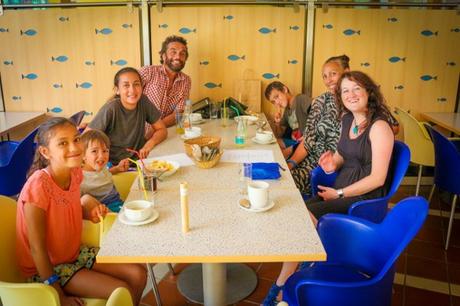 As part of our day at Terme Snovik we were spoiled with a 3 course lunch at the restaurant called Potocka. First course was a soup with bread and the choices were tomato or beef broth. Both choices were delicious and I was full from the first course.
Second course or main was a choice of a few different dishes including chicken with a mushroom sauce and veggies, or a buckwheat porridge with cheese. The girls opted for the chicken dish while J and I decided to go with the Slovenian dish of trout.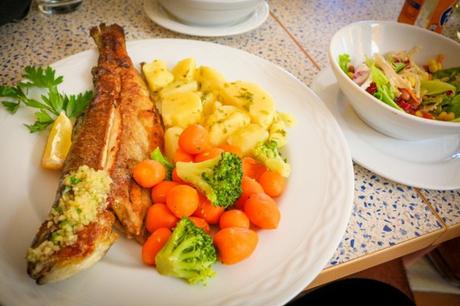 Our trout dishes were divine. The fish was served with garlic and herb butter, veggies and a side of salad.
The last course was a traditional Slovenian dessert of a sponge cake with a chocolate mouse topping. There were many locals also dining at the restaurant and we were pleased to see that it was very reasonably priced. ($10 Euros for 3 courses.)
Accommodation and Grounds
While we did not stay in the apartments we walked up to the top of the resort hill that looks over the pools. There are 15 different accommodation houses that you can stay in at the resort and they include double and studio rooms as well as 1, 2 and 3 bedroom apartments. The grounds also include an outdoor exercise park and a walking track that goes through the forest located behind the apartments.
We would have loved to stay here for a few days and relaxed in this idyllic location however as time was not permitting this trip we would love to return one day.
Spa
As part of the wellness goal at Terme Snovik they also have a spa that offers services such as classic massages, Chinese massage, lymphatic drainage and also anti-cellulite massage.
Other services include facials, manicures, pedicures and more.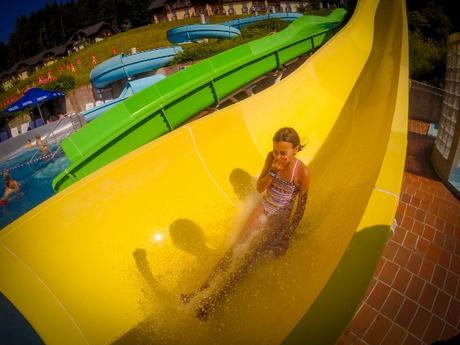 We had a very relaxing day Terme Snovik and felt rejuvenated and refreshed after the soothing thermal water, while the kids were satisfied with the fun slides and spa pool. Terme Snovik was truly an ecoworld of thermal delights.
We'd like to thank our friends at Ljubljana's tourist board for hosting us at Terme Snovik. As always, all opinions are our own.