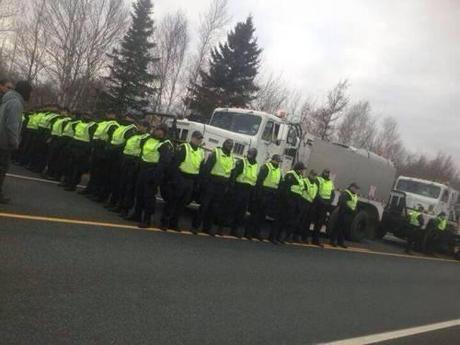 from Warrior Publications
Tensions are high north of Elsipogtog First Nation as a line of RCMP officers is now confronting Mi'kmaq gathering in an attempt to stop thumper trucks operated by SWN Resources Canada.
RCMP surround "thumper" seismic testing vehicles contracted by SWN Resources, Nov 14, 2013.
APTN National News reporter Ossie Michelin said RCMP officers have formed a line in front of the trucks and are confronting increasingly angry Elsipogtog residents.
A woman from Elsipogtog First Nation was arrested Thursday morning as SWN Resources resumed its controversial shale gas exploration north of the community.
RCMP officers arrested Lorraine Clair, a high-profile Elsipogtog resident who has consistently opposed SWN's exploration work.
New Brunswick RCMP spokeswoman Jullie Rogers-Marsh confirmed one person was arrested for "causing a disturbance." Rogers-Marsh said no charges have yet been laid.
"Things are continuing to be peaceful other then the arrest," said Rogers-Marsh. "We are going to continue to stay in the area and monitor the situation. We are going to continue to ensure public safety."
SWN's thumper trucks returned to an area about 46 km north of Elsipogtog. The thumper trucks work with geophones, which were strung along Hwy 11 by SWN Wednesday, to capture images of shale gas deposits underground.
RCMP officers were videotaped loading riot gear earlier in the day in Moncton, NB, which sits about 100 km away from SWN's current exploration area.
Heavily armed RCMP tactical units raided a Mi'kmaq-led anti-fracking camp on Oct. 17 to free SWN exploration vehicles which were trapped inside a compound owned by JD Irving Ltd.
More to come
http://aptn.ca/pages/news/2013/11/14/rcmp-officers-arrest-elsipogtog-woman-swns-thumper-trucks-return/
Update: initial reports state that SWN vehicles have turned around and will return possibly tomorrow (Nov 15).
Video of RCMP preparing riot gear in Moncton, NB, early morning of Nov 14, 2013: