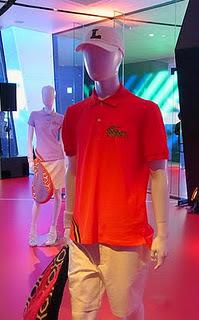 Talk about being a tennis fashion detective! I just saw the cutest tennis racquet cover in the November 2011 issue of Marie Claire magazine. Since Marie Claire doesn't usually focus on tennis fashion, this thing caught my eye and I decided to track it down.
So it turns out that Lacoste, which as you know sponsors Adny Roddick, has teamed up with super-trendy designer Jonathan Adler to produce some very, very limited edition polos for this holiday season.  These things are so special that they are being produced as part of Lacoste's "Holiday Collector's" series (I didn't know that existed) and I can't even figure out where to buy them. Supposedly Nordstrom's and Neiman Marcus carry them but neither of their web sites turn up any of this stuff. Neither does Lacoste's website. So for now, I haven't bought anything.
But . . . because I really wanted you to see this stuff, I kept digging and Voila! - I found a blogger who apparently not only attended the Tokyo launch party for this collection, but took tons of great photos. 
The blog is called Just Another Typical Night in Tokyo and if this is what a typical Tokyo night looks like, I'm going.  All of the images I'm showing here are from this blog.  The first one, above, gives you an idea about the racquet covers I first noticed in Marie Claire. These are needlepoint covers showing the iconic Lacoste crocodile with a graphic Adler print in the background. They're kind of hard to see in the photo because, here's the best part, you can't buy the racquet covers. You buy the polo shirt, I think for $250, and it comes in the racquet cover! So the focus is on the shirt, not the cover. It's so hip and exclusive that I'm kind of not getting it.
This is a photo showing what I believe is the super, highest-level-of-exclusivity total needlepoint polo shirt: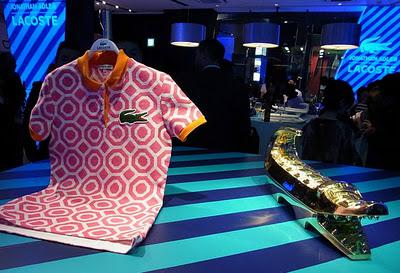 Are you understanding this shirt? Completely in needlepoint? I think it comes in the ceramic crocodile shown on the right (because of course you'll want that to display at home). According to different sources I saw on-line (and I'm not claiming any of them are reputable), these needlepoint shirts are made by French nuns and take 400 hours per shirt to make. Not even I can make this kind of stuff up. I think maybe you don't wear a shirt like this. Or at least you don't wear it to play tennis in.
The Typical Night blog has several other fabulous photos from this party so if you want to check those out just click on this link: Just Another Typical Night in Tokyo.
And don't even ask how much time I spent looking for this stuff on-line - it's all just part of the job.


© Kim Selzman 2011 All Rights Reserved