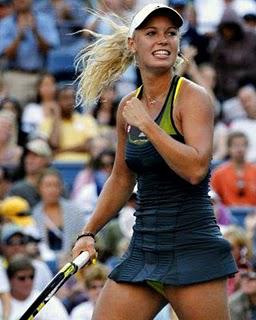 This might be too short.
In the wonderful world of tennis fashion, how short is too short? This was the question recently posed by Katie, one of my fabulous
Tennis Fixation
followers. Katie states the issue very eloquently:
I'm just getting back into tennis after a 6 year lull, and it feels great! Though - I'm obviously a little behind the times now ... I've been buying new tennis outfits, and I'm having an issue with skirt length. I'm 28, and usually dress pretty conservatively, and while I think the skirts are super-cute, once I have them on, I'm not used to how short they are. I normally wear knee-length skirts when out and about, though they'd look pretty silly on the courts. So here's my question -- I have a new skirt that comes about 1" above mid-thigh. Is this too short? Am I just being paranoid? How short is too short when it comes to a tennis skirt?
Good question. To answer it, I naturally did some very intense tennis fashion research. In other words, I talked to my tennis buddies to see what they thought. (
Tennis Fixation
is all about the intense research.)
After much thought, deliberation and recollection of tennis matches with some incredibly tennis-fashion-challenged opponents, here are the
Tennis Fixation Do's and Don't's
for tennis skirts:
1. Do wear a skirt that you're comfortable in.
This is the number one most important rule. Your skirt length has got to be one that YOU think is appropriate. Having said that, mistakes can be made. Which brings us to . . .
2. Don't wear a skirt that might also work as a shirt.
As an example, let's take a look at the photo above, of Caroline Wozniacki at the 2010 U.S. Open. She obviously thought this skirt (dress actually) was not too short. But if you took maybe one more inch off of it, I'm pretty sure it would qualify as a racer back tank. And if you remember anything at all about Wozniacki's performance at the 2010 U.S. Open, what you remember is how short her skirt was. Not how well she played (at least that's how I remember it). While Wozniacki was apparently not too uncomfortable to wear this, I can tell you one thing - she did not win the 2010 U.S. Open wearing this short skirt. Just saying.
2. Don't wear a skirt that you have to keep pulling and tugging at.
This rule is also known as the Venus Williams rule. Remember the dresses that Venus wore at the 2010 U.S. Open? No? Here's a photo montage reminder:

While Venus made it into Week 2 in these outfits, every time she played, she just looked so darn uncomfortable! I was uncomfortable watching her! She was
constantly
pulling and tugging on the hem of these outfits, trying to cover herself. Needless to say, she did not win the U.S. Open that year. If Venus can't win in a skirt that is riding up on her, do you really think that you can?
3. Do wear a skirt that is shorter than what you would wear to work.
Or to the PTA meeting. Or to any other event where you're not playing a sport. Your tennis skirt is for playing tennis in, not for standing around the water cooler or impressing your boss or the other PTA moms, so it's going to be shorter than what you usually wear. You need to be able to move around in it freely. You don't want anything that hampers your footwork or on-court movement. Because if you play like me, you've got enough problems out there without becoming tangled up in your skirt.
4. Do try your skirt on before you buy it.
Seems like such an obvious thing, right? Then how come I own at least three tennis skirts that are too short? Because I either did not try them on at all (stupid mistake) or I tried them on but did not do anything tennis-like in the dressing room (not so obvious of a stupid mistake). Just because you think you know your size, doesn't mean you can just pick a tennis skirt up off the rack and expect it to fit appropriately. I've found that even the same manufacturer can have sizes that vary wildly depending on the style of the skirt or the season. And beware of the tennis skirt that looks so cute as you're standing in the dressing room, lazily staring into the mirror. It can suddenly become a lot more revealing when you're squatting down for a volley or bending over in your ready position.
5. Do look to see what other players are wearing.
I'm not saying be a copycat. But, if you're concerned about what others think, take a look around at what passes for appropriate in your neighborhood. It's a good starting place.
6. Do consider wearing shorts.
For some reason, shorts can be shorter than skirts but not seem as revealing. And there are lots of cute tennis shorts out there, many with built-in shorties underneath for holding tennis balls.
7. Do wear "boy shorts" underneath.
You know what I mean, right? Those shorts that you wear under your skirt, like compression shorts or bike shorts or volleyball shorts. They provide some extra coverage of your thighs and are perfect for holding tennis balls.
8. Don't wear tennis panties.
You know what I mean here? Those panties that are sort of like underpants? If you don't know what I mean, consider yourself lucky. While I have actually seen these on the court, I am still shocked when I do. And I've never seen anyone wearing them that I wished to emulate tennis-fashion-wise or tennis-skill-wise. My advice - avoid tennis panties at all costs.
Who knew there were so many Do's and Don'ts? Really, there aren't. The ultimate rule on tennis skirts is to wear what you're comfortable in. If you feel great in it, you'll play better - I promise you.
And I loved Katie's follow-up e-mail. When I told her I wanted to do a post about her question, she wrote:
My husband thinks I'm being paranoid about it and the shorter the better! Though, coming from a man, maybe that's my cue NOT to wear the super short skirts - lol!
LOL indeed!

© Kim Selzman 2011 All Rights Reserved