Undeniably, Tita Fannies Liempo and Chicken Haus is one of the taste you shouldn't forget when visiting Iligan City. During the presentation and open forum, I learned that the business has been serving for about twelve long years since 1999 and yet, the business is still doing very well. In fact, their business are now open to franchising. 
Along with Tita Fannies flagship offerings, Crispy Liempo and their Lechon Manok, in the next days expect a new ice cold flavorful Halo-Halo sa Buko to be served in their dining table and their new taste of Tender Fried Chicken. Yes! you read it right! Just this afternoon I was invited for their first product presentation at their branch at Consunji  St. Iligan City.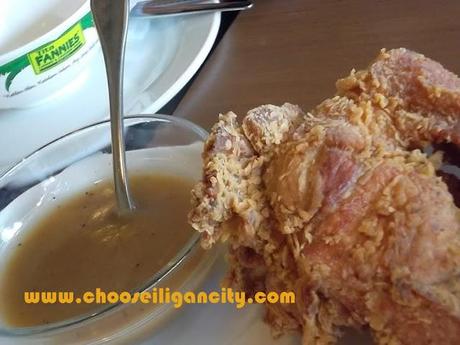 Tita Fannies New Tender Fried Chicken
New Tita Fannies Tender Fried Chicken---per se, is very tender, juicy and tasty. Crispy on the outside and yet juicy in the inside. By looking at it, its really looks like an ordinary chicken, but the moment you bite it then you will experience a taste that only Tita Fannies can give justice. On the other hand it has a pair mushroom sauce or gravy, but for me the chicken is what makes it a chicken. The gravy is just an additional flavor of it. Judging from what I tasted even without the gravy the chicken itself is already perfect. I just hope they will offer hot and spicy tender friend chicken. Well, Filipino as we are, we tend to like and love food that are serve with the taste of chili specially our Muslim brothers and sisters.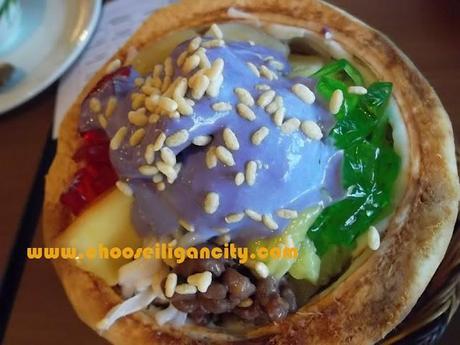 Tita Fannies New Halo-Halo sa Buko
On the other hand, the Halo-Halo sa Buko is a worth to wait cooler. The taste is just enough, not so sweet. I just hope, next time they will try to be more careful when scraping the white meat of the buko, not to include the shell because the food taste and texture will change. As you have noticed, when scraping the milk of a young  coconut, it should be not so deep to avoid penetrating the soft coconut shell. The soft coconut shell taste bitter and the coconut milk will have a brown color, then as you eat you will find it disturbing in your mouth as you have to choose the part where the color is brown. Another is the ice, I happen to eat halo-halo so many times and the problem is the same---the ice! Halo-Halo supposed to have a ground ice which means it is broken down into smaller pieces, but most halo-halo, the ice are as hard as an iceberg. Its quite frustrating to eat with a disturbing iceberg floating. The iceberg will prevent that other flavors will be mixed.
In conclusion, the product presentation was successful. Now, I am looking forward and waiting the new product line to be served soon...
This is not a paid post.
&appId;
&appId;