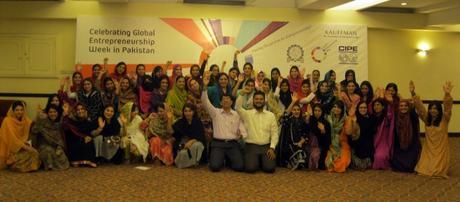 Women entrepreneurs celebrating Global Entrepreneurship Week in Pakistan.
How far has Pakistan come? And how much further is there to go? This month, we mark the 10th anniversary of CIPE's office in Pakistan by asking these questions.
At the time that CIPE opened its Karachi office, then-President Pervez Musharraf had installed a technocratic government and had liberalized the media, setting the scene for change in Pakistan. CIPE recognized the opportunity for deep change, and made a commitment to supporting that reform process through a major new program working with the business community, civil society and media. CIPE sought to open space for the private sector and civil society to have a greater say in policymaking, and to hold the government accountable for its promises.
As detailed in CIPE's new Economic Reform Feature Service article, "The Long Road of Economic and Democratic Reform: Marking Ten Years of CIPE in Pakistan." CIPE has seen, across the board, an evolving culture of change with strong, independent, reform-minded leaders in Pakistan's private sector and civil society. CIPE has worked with a wide range of partners in Pakistan to achieve a range of "wins":
Strengthened private sector associations;
New opportunities for women to participate in the economy and democratic process;
Increased access to economic information;
Greater private sector participation in policy advocacy;
Important economic reforms to unleash entrepreneurship; and
Stronger think tanks able to hold the government accountable;
The article tells this story in more detail, outlining how recent milestones in the country's democratic consolidation dovetail with CIPE's efforts. While the country's democracy remains fragile, Pakistan has vast economic potential: if it can get the policies right, and the government can implement a range of reforms, its economy is primed for growth.
By taking an agile and dynamic approach, CIPE has been able to address a wide range of challenges. In 2016, moving into the second decade of its work in Pakistan, CIPE seeks to build on this momentum for reform by continuing its engagement with the local partners.
Read the full article here.
Rachel Grossman is Assistant Program Officer for Eurasia & South Asia at CIPE.