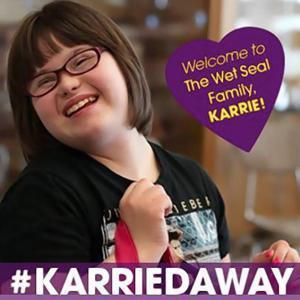 NY Post: A determined teen with Down syndrome has landed her dream job: a modeling gig  with the fashion brand Wet Seal.
Seventeen-year-old Karrie Brown, who describes her style as "biker chick,"  caught the retailer's attention last month after her mom launched an online  campaign called "Karried Away." Sue Brown posted daily photos of her daughter in  her most fashionable outfits on Facebook, urging the retailer to give Karrie a  chance.
It worked. "People started texting and tweeting at Wet Seal and leaving voicemails for  them that they should check out Karrie, that she wants to be a model," Sue told  Today.com. "On their website, they say they believe in  diversity and inclusion, and it was just a perfect fit."
The brand flew Karrie and her mom from their home in Collinsville, Ill., to  California and booked a photo shoot. In front of the camera, Karrie was a  natural.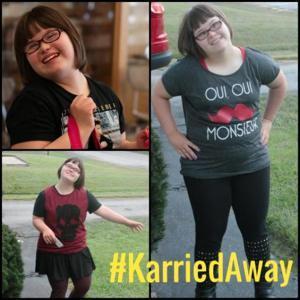 "She was hilarious," Sue said. "They had her in the first outfit and she's  standing there with this white screen behind her and everybody's looking at her,  and I thought she was going to be upset because she didn't know what to do, and  she's never had a professional photo shoot before.
"All she said was, 'Can I have some Justin Bieber music please?' So they  played some Justin Bieber, and she just took off."
On Facebook, Wet Seal posted some behind-the-scenes sneak peeks at the ads,  writing, "Welcome to the Wet Seal family! xo."
Now the mom and daughter are focused on their nonprofit, Karried Away, which  is dedicated to helping people with disabilities find work they love — whatever  it is.
"On some days [Karrie] says she wants to model more clothes for Wet Seal,"  Sue told Today.com. "Other times, she wants to be a librarian."
Just wanted to post this good story, much needed during the days when the politics becomes too much.
DCG