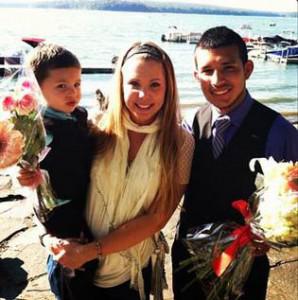 Spreading like a wildfire, rumours were out that TeenMom2's Kailyn Lowry got engaged to beau Javi Marroguin on September 1 during a romantic scavenger hunt proposal.
Javi allegedly proposed to Kailyn on their courtship's first anniversary in her home town. Javi had himself and Isaac dressed up and waiting for her to find them. When she did he was down on one knee and Isaac was holding a bouquet of flowers for her! It was extremely romantic and adorable.
Though initially Kailyn remained quiet about the issue tweeting, "Rumor has a lot of things — but it's all just speculation… Or is it?" on September 13. But the star of "Teen Mom 2″ is indeed engaged — and she's already showing off her new engagement ring.
On Saturday Lowry finally announced on her Twitter page, "It's true! We're engaged!" "Thank you all for being so supportive! No concrete wedding plans yet, but hopefully in the near future."
Along with the post she shared a pic of her elegant engagement ring gifted by Javi. It's a Trinity Diamond engagement ring with additional three round sidestones on either side. And it seems the engagement ring is worth two carats.
Lowry has always been one of the most sensible and practical girls from the Teen Mom series and it were no surprise that Javi Marroguin gifted her with a simple, yet sophisticated engagement ring that she would surely love.
Javi is eager to start a family of his own with Kailyn. "I love my fiancé @KailLowry," he tweeted. "Couldn't even dream about the way my life is turning out to be!"
Fellow Teen Mom 2 star Chelsea Houska, 21, also shared some words via Twitter. "Congrats you two!" she wrote. "So happy for you guys."
Kailyn, 20, and Javi, 19, met at the Buckle store where she worked and he was a customer. The pair has been dating for about a year. In May, the couple celebrated their commitment with matching infinity tattoos. Though a year may not feel like quite a while together, but the couple have been through a lot and it seems there is very little crisis in their romantic connection.
This will be the first marriage for Lowry, who has a toddler son, Isaac, with ex Jo Rivera.
Kailyn initially appeared in the MTV show 16 And Pregnant before featuring in the sequel programme Teen Mom 2. The show follows her and three other mothers as they attempt to cope with raising their children and getting their life back on track.
Congratulations, Kailyn and Javi!
Let know, what do YOU think of Kailyn's engagement ring?
Also Reed :  The Significance of Bridal Diamond Jewelry