Drone technology is growing by leaps and bounds.
Drones are also becoming a public nuisance and danger.
Last Friday, July 17, 2015, private drones hampered firefighters battling a raging wildfire in California which swept over an interstate and torched 20 vehicles.
Five drones were flying over the wildfire and their presence caused firefighting aircraft to leave the area for about 20 minutes. Three of the five drones left the area right away, but two drones interfered with firefighting operations, U.S. Forest Service spokesman John Miller said.
California Department of Forestry and Fire Protection spokeswoman Janet Upton said, "We do believe that this affects our firefighting operations. It was very windy yesterday, and any time air operations are halted that affects our ability to put out these fires."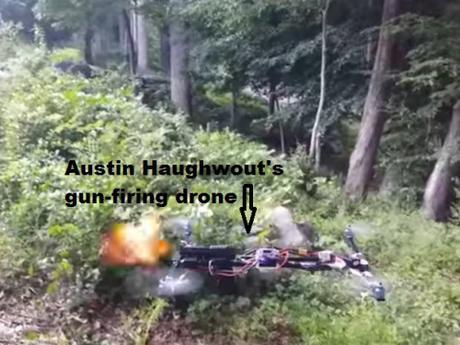 The latest: An 18-year-old in Clinton, Connecticut, Austin Haughwout, has mounted a handgun on a drone, turning it into a remote-controlled firing weapon.
There is at present no law against his homemade gun-firing drone, but the FAA is investigating.
Can you imagine gun-firing drones in the wrong hands? God help us.
~Éowyn