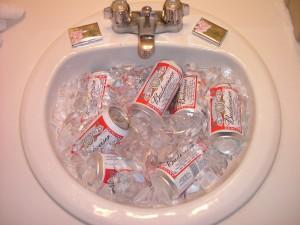 According to the Center for Disease Control and Prevention, there is a 54% drop in teens in high school who drink and drive since 1991.  While that is great and we should celebrate, one in ten teens in high school continues to drink and drive.
Young drivers (ages 16-20) are 17 times more likely to die in an auto crash when they have a blood alcohol concentration level of .08% than when they have NOT been drinking.  What do these percentages mean?  While the percentage has dropped, it still translates into high school teens still driving after drinking about 2.4 million times a month.
Eighty-five percent of high school teens who report drinking and driving in the past month also say they binge drank.  Binge drinking on the survey was defined as having five or more alcoholic drinks within a couple of hours
One in five teen drivers involved in fatal crashes had some alcohol in their system in 2010 and most of these drivers (81%) had BAC's higher than the legal limit for adults.
BAC of .08% or higher is Illegal for Adults, however, it is illegal for anyone under the age of 21 to drive after drinking ANY alcohol in the U.S.
Prevention
According to the CDC, there are prevention techniques that work to reduce teen drunk driving:
Minimum legal drinking age–laws in every state make it illegal to sell alcohol to anyone under the age of 21.  Research has shown that when enforced, these laws using alcohol retailer compliance checks has reduced retail sales of alcohol to those under the legal drinking age.
Zero tolerance- laws in every state make it illegal for those under 21 years of age to drive after drinking Any alcohol.  Research has shown that these laws have reduced the drinking and driving crashes involving teens
Graduate driver licensing- these graduated systems help new drivers get more experience under less risky conditions.  As teens move through stages, or graduate, they gain privilages  such as driving at night or driving with passengers.  While every state has a form of graduated driver licensing, they vary by specific rules.
Parental involvement.  Research has shown that when parents establish and enforce the "rules of the road", new drivers report lower rates of risky driving, traffic violations and crashes.  Parental involvement with a focus on monitor9ing and restricting what new drivers are allowed to do is effective and helps keep new drivers safer as they learn to drive.  Parents can consider creating and signing parent-teen driving agreements with their teens.
Statistics
According to teens surveyed, certain groups reported more drinking and driving than others.  Eighteen and older males reported the most drinking and driving.  Overall, males regardless of race typically drink and drive more so than females.  The older teen is more likely to drink and drive than the 16 year old teen.
Percentages of teens in high school, aged 16 and older who engaged in drinking and driving reported out by state. While no numbers were available for Missouri, Illinois reported 9.2-11%. The lowest percentage was 4.6% as reported in some states such as Utah, Colorado, Kentucky and Georgia, with Illinois sitting in the middle.  State reporting higher percentages of 11.3-14.5% included Texas, New Mexico, Iowa and Wisconsin to name a few.
What Can You Do?
If you are a teen, you can choose to never drink and drive and encourage friends to never drink and drive.
If you are a parent, there are a number of things you can do:
Realize that most teens who drink do so to get drunk
Recognize the dangers of teen drinking and driving and that teen drivers are at an even greater risk than adults to crash after drinking
Provide teens with a safe way to get home such as picking them up or paying for a cab if their teen has been drinking
Model safe driving behavior
Consider parent-teen agreements to set and enforce "rules of the road" including: never drink and drive, obey speed limits, wear a seat belt, limit nighttime driving, limited number of passengers, never use cell phone or text
Pediatricians and other health professionals can:
Screen tests for risky behaviors such as alcohol, drugs and other substances, educate parents and teens about the risks of drinking and driving; encourage parents of new teen drivers to set and enforce "rules of the road" and consider parent-teen agreements and remind parents to lead by example.
Of course, alcohol-related crashes are not the only type of teen driver accidents. Unfortunately, statistically, inexperienced drivers are more likely to have a car accident than an experienced driver.  However, teen drivers like all drivers can be victims of car accidents where another driver was negligent and engaging in behaviors that made others unsafe on the roadways such as distracted driving and drinking and driving.
If you have been the victim of an accident or lost a loved one in an accident and you are not sure if you need legal representation, we can help you determine if you need help.  Generally, if you were not injured and the other party is not claiming it was your fault, then you do not need an attorney if insurance carriers honor the property damage claims. However, if you or a loved one was injured or the other party is claiming it was your fault, then you DO need an attorney.
At The Cagle Law Firm, we represent seriously injured victims of car accidents and we understand a car accident can be a life changing experience. Our expert personal injury attorneys are available seven days a week for free consultations (800) 685-3302 or (314) 276-1681