I was recently contacted to review the London Drugs PhotoLab Website and happily agreed.  The timing couldn't have been more fortuitous since I had just started building a gallery wall in my upstairs hallway!
I decided it was time to get the shot of my girls with the parrots in Punta Cana printed to add some awesome color to that wall!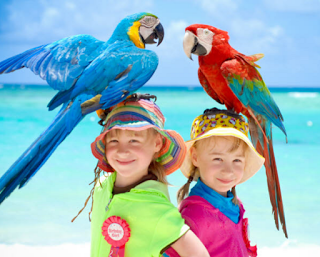 The website itself was incredibly easy to use.  Just like shopping anywhere online, really.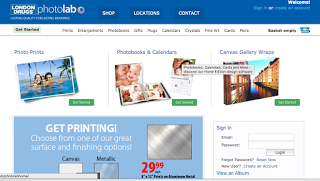 You just hit the Get Started button.
The website makes it incredibly easy to select the photos you want to print...you an even pick photos on Facebook, Instagram and Flickr!!!  That was incredibly helpful to me, because I couldn't find my original photo in my house but I knew where to find it on Flickr!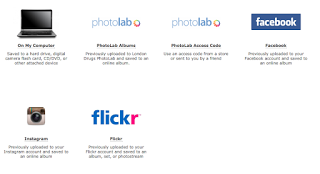 From there, you just pick your photo and it will ask you what products you want to print it on.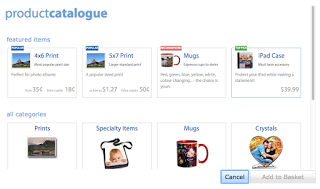 You then get to select from a list of options you have for that product.  Here is a sample from the 4x6 photo prints option: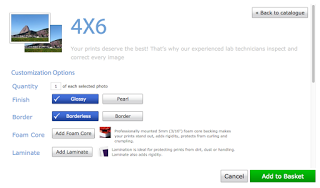 Add it to the basket and repeat as necessary until you have everything you want to order.
Checking out is super easy - just go to your cart and hit the Checkout button!
Here's where the beauty of working with a company that has bricks and mortar stores EVERYWHERE!
Sure - you can pay online and have it shipped to you just like every online photo printer.  BUT, if you live near a London Drugs - you can have it sent to the store for free and pay for your order in person when you pick it up.  I LOVE THAT!
As for what I ordered - I had a 16 x 20 CANVAS print done of the parrot picture.  I wanted a statement piece.  
later that same day, the store I arranged for pickup at called me to clarify my order and ask if I wanted it stretched or just flat.  Silly me.  I thought I would stretch it myself.  So I told them - nope - just what I ordered is fine.  They told me it would be ready in a day or two.
And it was - after I finished my half marathon, I popped on over to the London Drugs on 130th and there, in a lovely triangular box/tube, was my lovely canvas print.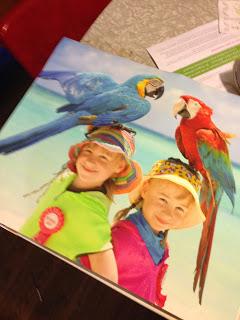 The colours are amazing and I couldn't be happier.  unfortunately - the image I chose isn't really conducive to stretching and the print is exactly 16x20 so there is no extra canvas to work with here - stretching it myself would cut off parrot heads.  I ended up simply framing it and I am perfectly pleased with that.   It is just a word of caution - if you want a canvas print stretched - get them to do it or choose an image with a border to it.
A canvas print this size would cost around $35.
And my gallery wall?  Looks fantastic with it up there...in my own humble opinion.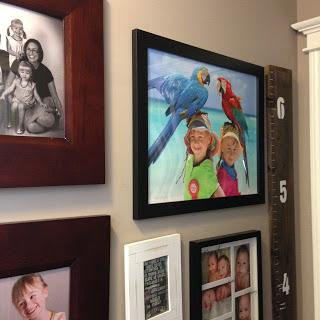 From what I could see - their pricing is fairly competitive with other sites I have used in the past.  The convenience of local pickup, however, is priceless to me.  I will be using this service for my photo printing going forward.  I am smitten with the fact that my photos won't be at the mercy of the postal system and that I can pick them up.
So - if you are looking for a place to print the photos for your Christmas cards, I encourage you to give the London Drugs PhotoLab website a try.  I think you'll find you are as happy with it as I have been.


Please note:  All prices are as of the time of publication and may increase or decrease over time.  I was provided with this product for review, free of charge, in exchange for my honest opinion.