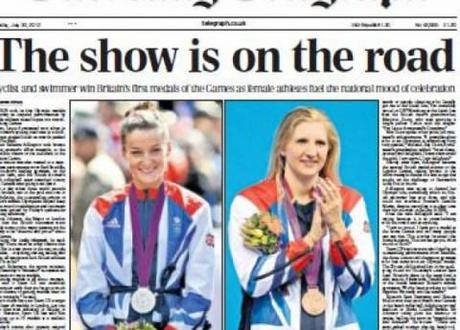 The Daily Telegraph front page, 30 July 2012
The background
There was a collective sigh of relief around Great Britain on Sunday as the much-hyped Team GB picked up their first medals.
After a disappointing day one, cyclist Lizzie Armitstead and swimmer Rebecca Adlington got the show on the road on day two. Armistead and Adlington picked up silver and bronze medals, respectively.
Team GB entered London 2012 with ambitious medal targets and there was some dismay when road race cyclist Mark Cavendish – a genuine gold medal contender – failed to even medal on the opening day of the games.
Lizzie Armitstead won silver in a fiercely fought cycling road race – clinched by Marianne Vos of the Netherlands. Rebecca Adlington then took bronze in the swimming 400 metres freestyle, which was won by Camille Muffat.
Armistead is the new "first lady" of British cycling
23-year-old Yorkshirewoman Armitstead only narrowly missed out on the gold, finishing a bike length behind Vos after 140 gruelling kilometres.  Matt Dickinson of The Times (£) said Armitstead's silver makes her the new "first lady" of British cycling: "After all that drama about which woman should be the team's leader, sparked by the row with (Nicole) Cooke at the World Championships last September, Armitstead proved herself incontrovertibly the queen of the road for Britain."
"My only regret is that I didn't try to jump her earlier in the sprint," Armitstead told reporters. "I was about to go when she went just ahead of me. I've replayed that sprint 15 times in my head already."
Armitstead, silver medalist and, er, vegetarian
William Fotheringham of The Guardian said there is "no ceiling" when it comes to what Armitstead can go on to achieve in the sport of cycling: "she has at least half a dozen years ahead of her in which to mature physically, but on Sunday she came up against the cycling equivalent of a wall. There was no way over, past, round or through Marianne Vos but there was no shame in that." Fotheringham noted that she is "that rare beast, a vegetarian cyclist, having given up meat as early as 10 due to a dislike of 'eating corpses,' as she put it on Sunday."
Becky's brave bronze from lane eight was no let-down
Adlington scooped two gold medals in the pool in Beijing four years ago but the sports commentariat mostly concur that her bronze in the 400 metres freestyle was no disappointment whatsoever. After all, Adlington swam a faster 400 metres to earn bronze on Sunday than she did to claim the gold at the last Olympics. At The Independent, James Lawton marvelled at her "spirit of resistance, her sheer physical and moral courage." Lawton rejected that her bronze was a "pale reprise" of her "stunning" gold in Beijing four years ago. He reminded that she qualified for the finals by the finest margin, taking the last place, "and her reward was lane eight, the one of doom from which even the great Michael Phelps failed to glean a medal 24 hours earlier."
"It wasn't the triumph the nation – and not least the watching organising committee leader, Lord Coe – craved but it was a performance of inspiring passion and grit," concluded James Lawton the The Independent.
More on the Olympics

Britons finally enjoying Olympics?
North Korean flag row opens Games
From pregnant shooters to moth attacks, the weird world of London 2012
Top five crazy Games stories