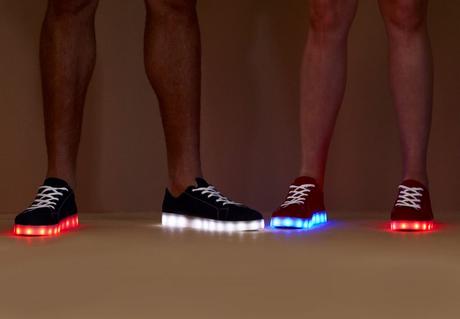 Team GB lit up the Olympic Games with their glittering performances and they will light up the closing ceremony - with their illuminated SHOES.
The 366 athletes, who have been representing their country in Rio during the past two weeks, will walk out Sunday night with red, white and blue lights built-in to the soles of their shoes.
Using the South American city's reputation for being the home of the carnival as its inspiration, Accrington-based Simon Jersey has created the sports stars' Closing Ceremony outfits to help them draw their most successful ever away Games to a close.
Athletes will be wearing a pair of shorts - red for women and blue for men - and a white jacket, both of which incorporate the Team GB emblem of a lion's head.
The jacket will also feature a 'thank you' to Brazil in Portuguese and a 'hello' to Tokyo, the host nation of the next Olympic Games in 2020.
But to finish the outfit off, every athlete will be wearing a pair of red or blue shoes, with built-in lights in the sole - complete with a USB charger.
A spokesman for Simon Jersey said: "Rio 2016 has been another great Games for the team and after the buzz of London 2012, we wanted to mark the Closing Ceremony with something a little different.
"Rio is known for its love of parties and carnivals and wearable tech is becoming more popular, so we thought the most fun and patriotic way to use this in the outfits is through lights.
"The athletes all loved the shoes and are looking forward to wearing them. We just hope they remember to charge them before the ceremony.
"Creating two outfits which suit such a diverse team - from petite gymnasts to Amazonian rowers, has been a challenge, but it's what we do for our customers every day - uniting teams of any size across the globe through our designs."
Designers from Simon Jersey worked with the Athletes' Commission - a group of current and former athletes - to come up with the idea for the garments.
Fashion students were also consulted on what they thought athletes should wear, while taking into account the Rio climate, current trends and technology.
The canvas pumps, blue for men and red for women, will have red, white and blue flashing soles- with the lights lasting for around four hours.
All athletes will also have a white jacket, featuring a lion's head design made up of 45,766 individual stitches.
Men will also have a red polo shirt, while women will wear a navy sleeveless blouse, both with the Team GB logo.
Bill Sweeney, British Olympic Association CEO, said: "The welcome that we've had from the people of Rio has been fantastic, as we knew it would be. Therefore it's very fitting that Simon Jersey have made an outfit with a dedicated nod to one of the most symbolic things about Rio, known throughout the world, its carnival.
"The outfits, and especially the shoes, will provide an exciting and colourful end to what will have been a magnificent Olympic Games."
ENDS