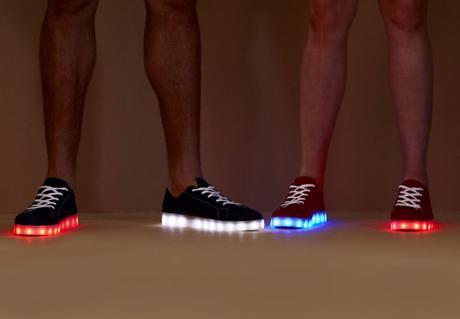 Brits can now follow in the footsteps of our Olympic heroes - by buying the illuminated shoes they wore during the closing ceremony.
After overwhelming demand from the UK and from as far afield as the USA, Brazil and Japan, Simon Jersey, who created the red, white and blue light up shoes are putting a limited number on sale.
Team GB's athletes wore the shoes during Sunday night's closing ceremony, later waving them in the air at the Maracana Stadium, to bring the country's most successful Olympic Games to a close.
Since then, uniform provider Simon Jersey has seen traffic to its website increase by about 400 per cent, with people desperate to get their hands on a pair.
And in the last 24 hours alone, the website has been visited by people from 114 different countries.
A spokesman for Simon Jersey said: "It was a proud moment for us to see Team GB in the parade and the reaction to the shoes overnight has been incredible.
"They've really captured the spirit of the Rio 2016 Games and were a great way to help the athletes celebrate their success.
"Demand has been so strong that we had to let people join in with the celebrations by having their own pair."
The shoes are available now for pre-order for a short time, priced at £35.99, exclusively from simonjersey.com, with delivery expected in four to six weeks.
To buy the shoes or for more information visit simonjersey.com or visit Twitter
ENDS