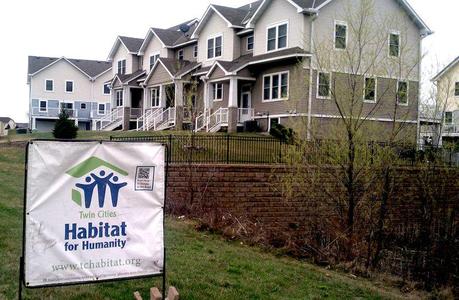 Twin Cities Habitat for Humanity has been building homes since 1985, building one, two or three houses a year in the early years. It has come a long way since then and in 2011 Habitat completed 60 homes ...plus about 140 projects helping homeowners with maintenance such as landscaping, painting and repairs!
Yesterday Twin Cities Habitat for Humanity dedicated 7 new homes in Woodbury, and welcomed its 900th family into a home. Senator Al Franken, Woodbury Mayor Mary Giuliani Stephens and other officials were on hand for the celebration.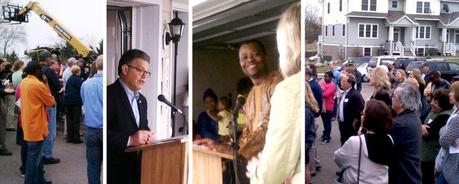 It is always a rewarding experience as people come together to dedicate a new home. Volunteer workers see the fruits of their labors and neighbors welcome a new family to their community. But what is perhaps the most moving is seeing the joy on the faces of the new homeowners... and seeing the jubliation in their children as they jump and yell and roll around on the floor of their new home.
Our family first participated in a Twin Cities Habitat build in the early years, about 20 years ago. When I became a Realtor, it didn't take long for me to realize that I wanted to give back to the community to help make affordable homeownership available for more people and I started making a contribution to Habitat for Humanity in honor of every home purchase or sale. This year those ongoing contributions will total more than $20,000 and the reach of Habitat for Humanity continues to grow. 
Want to get involved?  Click here to volunteer... they even have Women Build all-female crews!
Sharlene Hensrud, RE/MAX Results - Email - Twin Cities Habitat for Humanity Realtor
RELATED POSTS