For this TBT we head to Peru circa 2008. Miraflores to be exact. We were still living in Costa Rica at the time . . . in a very, very small town.  This was part of our Big City South American Adventure.  Buenos Aires, Mendoza, Miraflores and Montevideo. And guess what we learned most about Peru. . .the food!!
Of course that should be no surprise.  Follow us on this food fueled adventure.
* * * * * * * * * * * * * * * * * *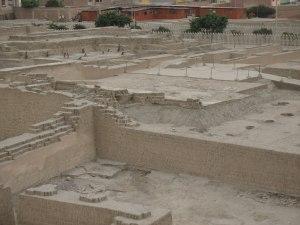 Huaca Pucllana in Miraflores
After a relatively good night's sleep, fueled with the hotel breakfast and armed with our trusty hotel map, we set out to see the ruins of Huaca Pucllana, the great ceremonial center built by the people of Lima in the 5th century. We learned a great deal about the Lima Culture which is the name given to the people who lived in the area which included the Chancay, Cillon, Rimac and Lurin valleys and whose people worshipped the sea.  Since 1981 the site has been under construction to restore it to its original state.  It is estimated that it will take another 15-20 years to complete.  And it was here we learned about The Peruvian Inca Orchid aka The Peruvian Hairless Dog.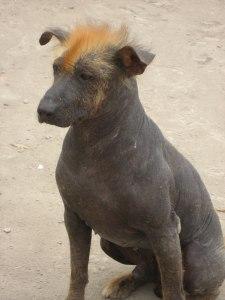 The Peruvian Inca Orchid a/k/a Peruvian Hairless Dog
After our thankfully English speaking tour, we resumed with our own walking tour of the Miraflores district of Lima.  Each and every turn brought us to more restaurants, stores, apartment buildings, individual homes, parks, and more.  While not the size of the city we are used to, it seems to pack in everything it needs to showcase and highlight the same feelings I get when back in NYC.  And best of all, it is right on the Pacific Ocean.
After zigzagging through the city, we made our way to Parque de Amor (Love Park) which is famous for its humongous sculpture of two lovers embracing.  It is set up high for all to see and is surrounded by mosaic tiled walls filled with different sayings, all relating to ""love"".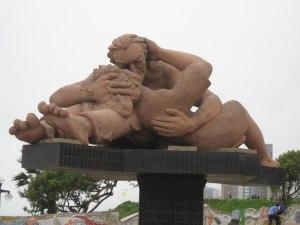 Parque de Amor
The park is right at the edge of the city and in the distance we saw what looked like people swimming in the ocean.  We couldn't believe people would be swimming as it was a bit chilly, but upon closer inspection, sure enough, it was dozens and dozens of people in wet suits surfing.  That sure is one thing that NYC doesn't have!!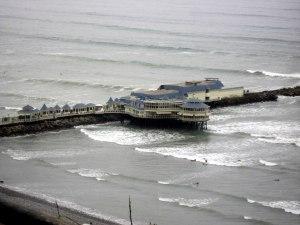 Rosa Nautica Restaurante
Further in the distance we saw what must be a restaurant on stilts in the ocean.  While we figured it MUST be something touristy, we figured it might be something that shouldn't be missed.  After finding the steps to the 500 meter descent, getting bombarded with surf board rentals, and watching locals throw rocks in the ocean (still not sure why they all got excited about that), we arrived at La Rosa Nautica.  It was now close to 1:00 so we figured it was time for another Pisco Sour and some snacks.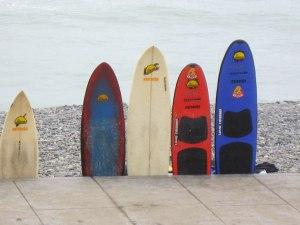 Unfortunately the skies were overcast, but the view was nonetheless amazing. We got a small table in the corner surrounded by couches and glass windows.  Our view from the table included the high rise buildings built atop the cliffs overlooking the ocean.  We saw dozens and dozens more surfers, in some cases expertly riding the waves.  Seagulls flying and waves crashing completed the scene for us.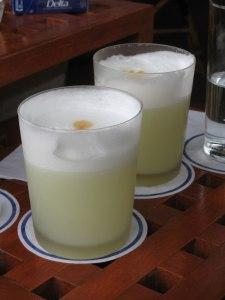 Pisco Sour
And then came the Pisco Sour.  We ordered the ""caterdral"" which in laymans terms means the larger size cocktail.  But even better than the super-sized cocktail, was the food.
Sitting at the bar you can order off the main menu but what they seem most famous for is their choice of tapas, bocas, or appetizers. Whatever language you say it in, it basically means small portions.  For approximately $10 per person you get your choice of 4 succulent sea food dishes which come served in large shells in a huge platter that sits in the middle of the table.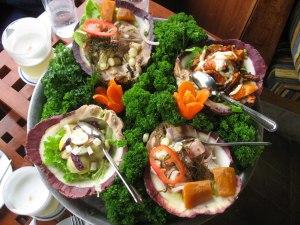 Tapas
Our first choice was the ceviche, followed by grilled octopus, then scallops in a tomato based sauce and finally seafood wontons.  Unfortunately the menu was in Spanish so I don't really know exactly what was in each sauce, but all I do know . . . they were amazing and perfectly paired.  And that ""caterdral"" Pisco Sour was really starting to "do its job".  But we weren't done yet.  This ceviche was one of the best we have ever tasted (we have said that a lot since arriving in Lima) so we ordered another dish of just the ceviche.  We were officially sated.
We wandered back to the hotel as we knew it was definitely time for a well needed nap. Two and a half hours later we woke up to a pitch black room with absolutely no idea of the time.  But one thing we did know was that we each were in desperate need of a shower.
Unfortunately our shower had other ideas.  Mike turned on the water and let it run for quite some time only to find freezing cold water emerging from the pipes.  A call down to the front desk quickly brought a handy man to the room.  After poking around in the shower and a check of the faucets, he tells Mike that basically this room has no hot water.  WHAT THE F*CK??!?!?!?!
We were offered two other rooms, both of which were in the front of the hotel right on a main road, and one whose bathroom was literally the size of a phone booth . . . I actually had trouble when I opened the door to fit myself in between the door and the toilet.  I was oh, sooo not happy.
After a bit more ingenuity, our handy man somehow realized how the hot water worked in our original room.  Even though our beds are not exactly next to each other, and I am now waking up each morning to the sound of pigeons, we were very happy we could shower WITHOUT having to change rooms.
Showered and dressed we decided to go to the world famous restaurant Astrid & Gaston for dinner.  We had called from the hotel and were told the first available reservation was at 10:30.  We have been out of NYC a bit too long to wait that late to eat dinner but we decided to see what they would do for walk-ins.  After a few unsettling minutes thinking we were going to be turned away, we were offered a small table in the bar.  Worked for us!!
The menus, both the bar and full restaurant menu, were a whirlwind of options and culinary treats.  Pisco Soured out from earlier, we decided to try something else (the wine will wait til Argentina!!) and ordered the Mojadito . . .  a mojito made with pisco instead of rum.  Quite delish!!  (I think we will definitely be bringing some pisco back home with us!!)
After much debate and discussion, we ordered our appetizers and a basket of bread (which included bread sticks, integral breads, french breads and even something along the lines of kugel!!)  The bread basket came with butter, HOT red pepper dip and very garlicky chimmichurri sauce for dipping.  I was in bread heaven!!!  For apps it was grilled octopus in a red pepper sauce for me and tuna tartar for Mike.
While waiting for our appetizers to arrive, we had decided on our main courses and proceeded to add to our order.  A few minutes later our apps arrived and we both wished we hadn't ordered entrees at all as plates with A LOT of food were beautifully presented to us.  I was a bit embarrassed to take pics in this restaurant so I never got any photo ops of the food, for which I am extremely sorry.
My plate was covered in succulent octopus (which was not a bit chewy) in a creamy and slightly spicy red pepper sauce  . . again, even Mike almost liked it.  But he was too engrossed in his tuna tartar to even care about mine.
Thankfully we had spaced our ordering which gave us some time to digest before our entrees arrived.  This of course gave us time to order another cocktail, eat some more bread and eagerly await our next dishes.  We were a bit relieved when the meals came out.  While a good size, neither of the dishes were going to pop any buttons on our pants!!
I dove into my black cod glazed with carob, miso and hot peppers served over mashed sweet potatoes and some baby bok choy.  While Mike once again ignored my plate, he dug into his boneless short ribs served over polenta.  Sorry, but I didn't pay nearly as much attention to his dish to know exactly what was on his plate other than to know that when I tasted it, it was DELICIOUS!!
I managed to polish off my entire dish and while Mike's was a bit heavier, he left some over so he could make room for dessert.
After a dessert sampler consisting of 3 types of sorbet, creamy chocolate filled tartufo'esqe things with ice cream and an apple crisp covered with apple and plum sauce with ice cream, we knew we were officially done . . . with both our meal and the evening.
We paid our bill and literally waddled back to the hotel as we both needed to be horizontal.
What culinary delights await us tomorrow?