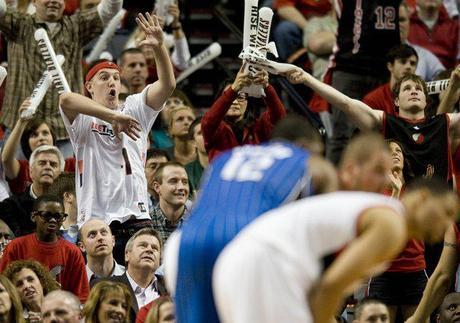 Meet Rob Ems, also known as Free Throw Guy, a 27-year-old stock trader and die-hard Portland Trailblazers fan.  He has been a season-ticket holder since 2006, when he graduated from Portland State with a political science degree.  Although he wanted to become a lobbyist, he has turned his obnoxious and incessant drive into something much more useful – becoming a full-time sixth man for the Blazers.  See, when another team is at the free-throw line, Em "rises from his seat six rows behind the basket, makes a kind of epileptic, 'wax-on, wax-off'-type motion, then shouts taunts in an attempt to distract the shooter." In fact, Amar'e Stoudemire once got so pissed off with Free Throw Guy's cheers that he told him off in the middle of a game and got called for a technical foul.  I mean, that is genuine power, folks.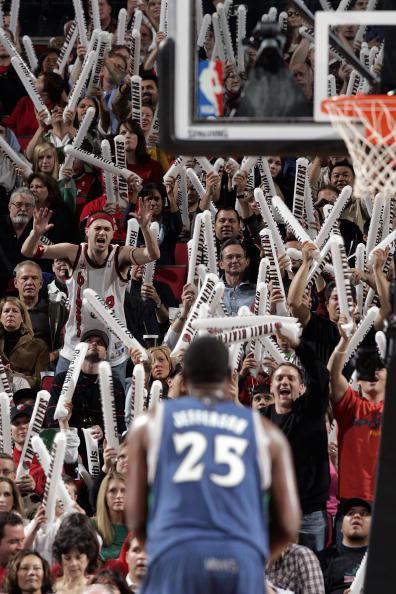 At the same time, his fellow Blazer fans despise him.  They think he is a "dork" and "crazy" and "horrible."  Free Throw Guy has only missed two free throws since 2006 – when he was making a report to security that other fans were threatening to assault him.  His girlfriend even broke up with him over his arena antics. They clearly do not get it.  Or, at the very least, they do not appreciate the sheer dedication, loyalty, and passion he has.  As a former Cameron Crazie, it is hard not to.  I mean, I think this guy is awesome.  For example, with Amar'e, Free Throw Guy wore a pair of goggles and kept yelling that "his ego writes checks his body can't cash."  He also belted "O Canada" when Steve Nash was on the line.  Is he sort of a tool? Sure.  After one fan called him "that free throw guy," Ems went and made personalized t-shirts with his new nickname, customized for each NBA team.  He spends over an hour getting ready for each game, when he focuses on "studying stat sheets, dreaming up disses, and rounding up props."  No one can accuse him of half-assing it.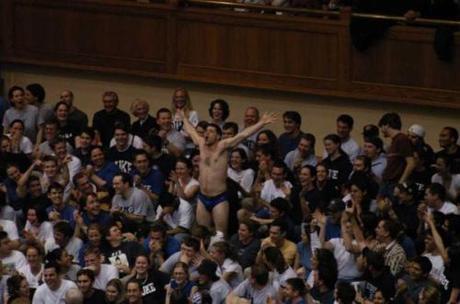 Well, the Amar'e comment sort of sealed the deal for me. This guy was MADE for Cameron Indoor.  And if Blazers' fans do not want him, we do.  Duke should hire him as our Director of Cheer-Sheet Coordination and Taunting or give him an honorary scholarship to study sports statistics and sinister screaming. If we can afford three Plumlees, we can find funding for a genius like Free Throw Guy. He reminds me, in particular, of a master better known as Speedo Guy.  In 2003, a Duke graduate student, Patrick King, orchestrated one of the best free-throw moments in Blue Devil history. I was there. With the Tar Heels in Cameron and Jackie Manuel on the line, King stripped down to just a speedo and started gyrating wildly.  As all of the other grad students sat quietly, in on the plan, Manuel was so distracted by the lone Cameron Crazie's air-hump dancing that he missed his first shot. And then his second. We all went nuts. Unfortunately, Speedo Guy only got to perform at one other game before the ever-classy Coach K suggested that such behavior was inappropriate.  Inappropriate or not, it was creative and hilarious and I loved every moment of it. 
But the craziest part? These taunts may actually work.  Matt Calkins, a reporter for The Columbian, did some research and contacted the Blazers' PR people.  He obtained statistics comparing opponents' FT-percentage in the first half at the Rose Garden – when they are not facing Rob Ems – with the second half.  Accounting for factors like second-half fatigue, Calkins discovered that "Blazers opponents shoot 78 percent from the line when not facing Free Throw Guy, and 72 percent when facing him."  Six percent! Still not convinced, he asked for previous years and found similar numbers.  Finally, Calkins asked for 2005-2006, the year before Free Throw Guy started his free-throw torture. What did he find out? Teams shot 76.0 percent in the first half, compared with…76.1 percent in the second half. How crazy is that?! I am not saying that he is swinging games, and I have no idea if the numbers are statistically significant, but it seems (at least to a non-mathematician like me) that he is having some sort of effect on opponents.  He is truly getting in their heads. So keep it up, Crazies.  And someone break out another damn speedo.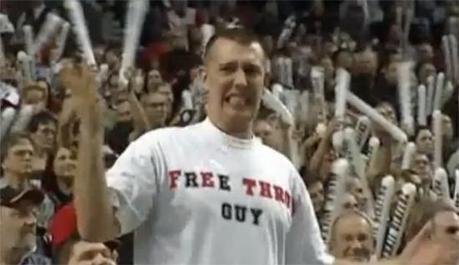 Instead of admonishing him for being inappropriate, Blazers general manager Rich Cho shook Free Throw Guy's hand and thanked him for his support.  Marcus Camby gives him an air high-five every time an opponent misses a free-throw.  Wesley Matthews wanted a photograph with him. I mean, he may be obnoxious, but lots of the players love what he brings to the arena every night.  And his only dream?  To win a championship.  Ems told The Columbian that "As soon as we win the championship, that will be the end of Free Throw Guy." And then someone needs to get this guy to Durham.