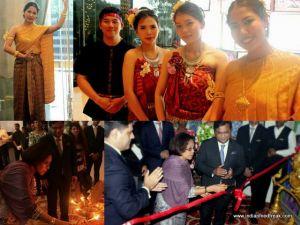 Apart from being a favorite holiday destination for us Indians, Thailand is a foodie's paradise too. And thanks to Sofitel Mumbai and So Bangkok who, in collaboration with the Tourism Authority of Thailand, have brought in the Thai Food festival right here in amchi Mumbai. This Thai food festival called "Tastes of Thailand" has started on 27 th May and will go on till 5 th June in the Pondichery Café at Sofitel BKC. Chefs Chitsanuphat Dungjampa and Chalermchai Tavornaroonrat from So Sofitel Bangkok have specially flown in to recreate their countries culinary magic here for us.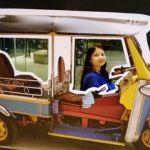 When we got an invite for this Festival, both P and I were looking forward to relive our short holiday in Bangkok together few years back. The festival was formally inaugurated by Ms. Sirin Surathin - Deputy Consul General Tourism Authority of Thailand, and Mr. Biswajit Chakraborty - General Manager Sofitel BKC. The guests were welcomed by Thai Dance performances by the Thai students of Pune university.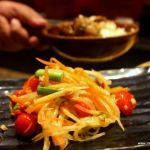 As the food festival was formally opened and the guests were lead to the food counters; we were glad to see a live Som Tam counter. Chef Tavornaroonrat himself manned the counter and made Som Tam for the guests. We started with Som Tam and requested him to make it spicy for us. He did and we loved that. Then I had a bowl of Tom Yum Goong / Spicy Shrimp Soup. I loved the taste of Kaffir lime in the soup. It was refreshing. I took a walk around the Thai food section and decided to help myself with little of everything. So I had little noodles with stir fried vegetables, Gang kiew wan puck / mixed vegetables in green curry , little jasmine rice with Chu Chee Pla / fish in red curry and Thai chicken stir fry. Now here I wanted the Green curry to be greener and lighter and the coconut milk not this over powering. I know I am talking about the taste of a Thai green curry cooked by a Thai chef! Blame it on my memory of Thai curries in the streets of Bangkok. I can still close my eyes and take a deep breath and that mesmerizing aroma of Thai curries float right home. The Red Curry fish made it up for this. It was just perfect with the fragrant Jasmine rice. It was time for dessert. How happy we were when we saw sticky rice with mango for dessert. It felt just like home. Bora sawool or Sticky rice is a staple breakfast ( we call it Jolpan) in Assam. Both of us wiped the bowls clean.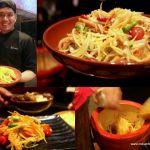 This food festival aims at bringing the authentic Thai food to the people in Mumbai. During the course of the festival the menu will feature Gang Phed Ped Yang ( Roasted Duck curry), Phad Thai Goong (Shrimp Phad Thai noodles), Yum Woon Sen ( Glass noodle salad) and Woon Ma Prao orn (Coconut Jelly) to name a few. This Thai spread is a part of the regular spread at the Pondichery café.
How can a Thai experience, whether food or otherwise, be complete without a Tuktuk. So while coming out I had to stop and click a photograph near the Tuktuk cut out. That completed my experience of "tastes of Thailand"!
Buffet for Two : Rs. 3500 (approx) with taxes | Alcohol: Yes | Credit Card: Yes|
Timing: 7 am - 10 am; 12 pm - 3 pm ; 7 pm - 11.30 pm | Wheelchair Access : Yes
Address Sofitel Hotel, C 57, Bandra Kurla Complex, Bandra Kurla Complex, Mumbai
Telephone :022 6117 5000
Disclaimer : This review was done on an invitation from the restaurant. Due judgment and care has been applied by the author to remain objective and unbiased in the review; however readers may exercise their own discretion.