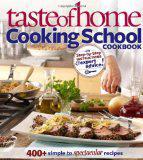 Title: Taste of Home Cooking School Cookbook Author: Taste of Home Publication Date: March 2012 Publisher: Reader's Digest Source: FSB Associates

The Taste of Home Cooking School Cookbook is my favorite kind of cookbook. Not only does it have pictures, it has full color pictures of every single recipe! Every page of this cookbook uses color brilliantly from the recipe photos to color coded page borders to informational boxes to the layout of the actual recipe text.
The introductory section with kitchen basics is fairly short but not to worry as there are lots of informational boxes with techniques and cooking tips scattered throughout the various chapters. The layout of the book is easy to follow moving through Appetizers, Drinks, Better Than Takeout, Soups, Beef & Pork, Poultry, Seafood, Vegetarian, Side Dishes, Breakfast, Baking, and Desserts. The References section in the back of the book provides more cooking basics such as cooking terms and substitutions. Three Indexes make it easy to find recipes and the various cooking tips.
The cookbook includes recipes submitted by Taste of Home readers as well as ones created in the Taste of Home test kitchen. I think having recipes from both chefs and home cooks gives a great variety to the book and the skill level needed to prepare the dishes. All of the recipe photos look so delicious, it is difficult to choose which recipe to try first.
One thing that surprised me about the cookbook is the "Cheat It" symbol used on some of the recipes. This is supposed to indicate "low-effort recipes with big rewards." I generally found it to mean that a already prepared product, such as purchased pie crust or canned biscuits, was used to speed the recipe along. I have no objection to using prepared products but I was surprised they were included in a book where the title implies (at least to me) learning to cook from scratch.
Each recipe clearly indicates the number of servings at the top of the recipe and gives some nutritional information at the bottom. I only wish that there were some indication of how long a recipe takes from start to finish with the number of servings. The time information is included in the steps of the recipe, of course, but it is nice to be able to see that information in a quick glance when you are choosing a recipe.
Overall, I think the Taste of Home Cooking School Cookbook is one that I will pull out often to browse through the pictures and try new recipes. The various tips and techniques presented along the way will translate well for use in other recipes as well.


Note: All opinions provided on this blog are my own. If a product was given to me for review, the source of that product is noted in the post. Bookstore links are generally affiliate links and I do earn a small amount for each purchase. Other affiliate links will be noted in the post.