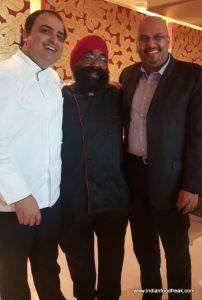 Those of you, who have spent some time with Delhi, would have Heard of Kakke di Hatti in old Delhi. I, for one, have grown with food from this legendary restaurant and revere it as one of the best when it comes to authentic kukkad curry and roti. When I came to know that the man behind the dhaba, Chef Sweety Singh, was in town doing a festival (Rivayat e Punjab) at the Trident BKC, I had to go and attend the preview despite my busy schedule.
With a dearth of authentic Punjabi cuisine in Mumbai, the preview promised a walk down memory lane reviving flavors of a traditional Punjabi cuisine. Food that I grew up to, in my nanihaal, flavors that I could associate with my childhood!
As we sat down for the preview, the sweet pungent aroma of a Shalgam (Turnip) and Carrot achar wafted through the small jars and transmitted me straight into my maternal grandparent's house in Delhi. If this was a predecessor to my meal, I just couldn't wait for what was to follow.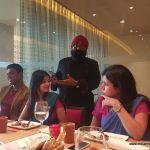 Chef Sweety Singh telling his story
While we waited for the meal to be served, we had a chance to talk with Chef Sweety Singh, who went on to recount the earlier days when they used to sell food from a thela (Hand cart), to the time they established their dhaba called Delite at Asaf Ali Road, to the present. When asked about the secret to his consistently good food, he jovially quipped that his food only contained simple salt, pepper and loads and loads of love.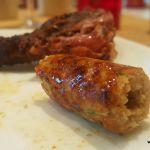 Macchi Diyan Seekhan
As we were enjoying his stories, we were served the starters that consisted of of Chukandar (Beetroot) kee tikki, Bharwaan Paneer Tikka, Bhuna Murg, Bhatti da Murg and Macchi Diyan Seekhan (Fish Seenkh kebab). The beetroot tikki with its cheesy center was nice and subtle, the Bharwaan Paneer had a heady smokey aroma which took it notches above. The bhuna murg was soft and tender with subtle spices that went well but the star of the starters were Bhatti da Murg with simple water based marination and whole spices, and the fish seenkh kebabs. This was the first time ever, that I was trying out fish in a seenkh kebab form and I must say that it was mind blowing. I may not do justice describing the taste of this seenkh, therefore, it would be best if you all go try it out and decide for yourself. It is every bit how you DON'T imagine a fish seenkh kebab to be!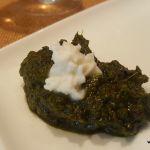 Sarson da Saag with White butter
In true Punjabi style Chef Sweety Singh insisted us to ditch the fork and eat with hands and kept on pushing dishes after dishes on our plate. The main course saw us feasting on Aloo Vadiyan, Chikkad Choley made in simple tomato free masalas, some amazing tandoori kulchas which were crisp on the outside with wholesome filling on the inside, just the way I like it, brain curry, Dahi wala Kukkad and the magnum opus for the afternoon…..makke di roti te sarson da saag!!! This to me, was certainly the highlight of the meal, complete with white butter and jaggery. In the meal´s defense I must add that each dish was a masterpiece in itself and each morsel took me back to the times when we used to sit next to a chulha (clay over) and our mom and mami (Maternal aunt) would lovingly serve these dishes one after the other.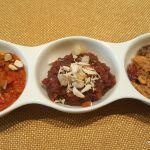 Gajrela, Khajur Halwa and Panjeeri
Desserts were an equally exciting affair with Khajoor (Dates) halwa and Gajar ka halwa (Which interestingly, had elements of oranges in it which added to its flavor) and Desi Ghee Panjeeri. The desi ghee roasted dry fruits, added to the soft powdery Panjeeri with crunch of raw sugar, was every bit the one that I would wait for hours during pujas at home as a kid.
As a half Punjabi, the flavors were surely part of my growing up memories, which over all these years have somehow gone forgotten. The Rivayat fest intends to bring back forgotten traditional Indian dishes at the Trident over the next few months. This fest will be followed by one which will showcase the Royal Lucknawi feast followed by one that will showcase dishes from Old Delhi.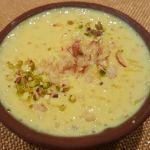 Kesari Kheer
This one runs through from the 12th till the 22nd of January. Do not miss, go give it a dekko and be a part of the flavors that you may not find easily in Mumbai and for those having grown up or having links with Punjab, it is sure to bring back a bit of the Pind to you !!
Address: C-56, G Block, Bandra Kurla Complex, Mumbai, Maharashtra 400051 | Phone: 022 6672 7777
Timings: 12 Noon to 3 PM, 7 PM to 11:45 PM | Credit Card: Yes | Alcohol: ofcourse | Wheelchair Friendly: Yes