The Big Thrill Collection is an Ulta exclusive that would be a great gift for the Holidays.  It has everything a makeup lover needs and the quality is pretty good, too.  The value is great at $48.  You get 16 eyeshadows, 4 blushes and 3 full size lip glosses.
Eyeshadows
This limited edition set comes with 16 full size eyeshadows in a variety of shades.
1.) Shooting Star: shimmery cream
2.) Giant Peach: shimmery medium peach
3.) Totally Taupe: shimmery bronze taupe with silver micro glitter
4.) Brilliant Bronze: shimmery bronze
5.) Cloud 9: matte pale peach
6.) Pop of Pink: shimmery light pink
7.) Amazed by Amethyst: shimmery dark violet
8.) Pumped About Purple: matte plum
9.) Silver Burst: shimmery silver
10.) Next Level Lilac: matte gray purple
11.) Intergalactic Metallic: metallic charcoal
12.) Jump For Juniper: matte pine green
13.) Clay Crush: matte light taupe
14.) Rush of Gold: shimmery gold
15.) Go for the Green: shimmery light olive green
16.) Exquisite Emerald: shimmery dark emerald
For the most part, the texture of these is wonderful.  With the exception of Totally Taupe, the shadows are velvety smooth and are not the least bit powdery.  Due to the microglitter, Totally Taupe has a more rough texture, and the pigment is not as great as the other shades, either.  That being said, the pigment of the shadows is great.  There are a few exceptions to that, two being Totally Taupe and Next Level Lilac.  They are easy to blend and the staying power is good when used with a primer. The shadows lasted 8 hours with minimal fading and no creasing.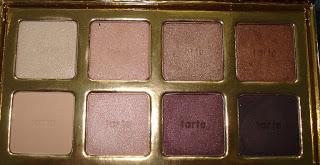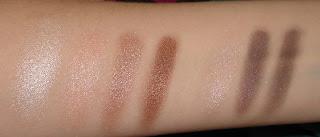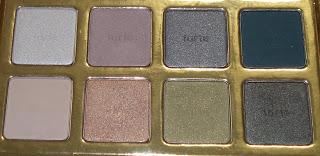 Cheeks
This collection also comes with a bronzer, highlighter and two vibrant blushes.
1.) Park Avenue Princess:bronzer
2.) Angelic: highlighter
3.) Curious: Rosy Pink
4.) Thrilled: Coral Pink
Like the eyeshadows, the texture is great.  They are very smooth and are not powdery.  As far as performance, I cannot say anything about the bronzer because I hate using them.  As far as Angelic goes, I did not see anything amazing about it.  If you want a very subtle highlight, Angelic is the one for you.  The blushes are very pigmented and vibrant.  So much so it is very easy to look like a clown.  Be very careful when using them and blend them out well.  The only thing I dislike about the blushes is the staying power.  They just did not stay on well.  Within 5, I noticed the blush was gone.  But I'm also prone to oily cheeks despite primer and setting power.  Those without oily skin will likely not have an issue.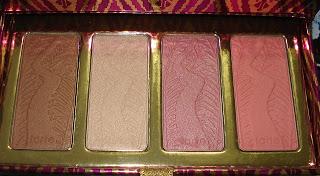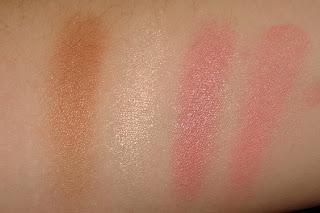 Lips
1.) Strawberry Sensation: sparkling pink
2.) Apple a Day:rosy pink
3.) Abra-cad-apricot:orange-y nude
As you can see from the swatches. the glosses have great pigment and shine.  Strawberry Sensation has a bit too much shimmer for my liking.  I prefer to have my shimmer in eyeshadows, not glosses.  These glosses offer great coverage and color payoff.  They are not too sheer, but not quite opaque.  These are not thick or sticky, either. The only negative thing I have to say about them is in regards to the staying power, which is not that great.  I got around three hours of wear out of these.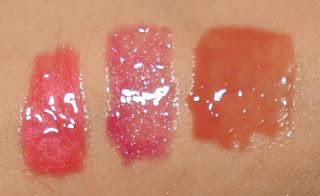 Packaging and Price
The packaging reminds me of a jewelry box.  It is very cute with a pink background with gold.  The top opens up to reveal the 16 eyeshadows.  The second drawer reveals the blushes and the last one contains the lip glosses.  The box it comes in actually has a gift tag printed on it for easy giving.   You get all of this for $48.  Not bad at all, especially considering all of the shadows are full sized.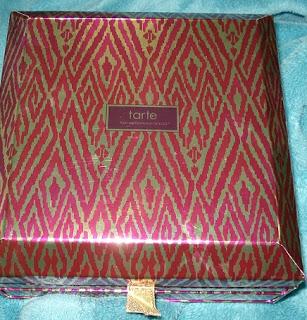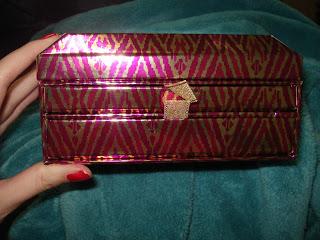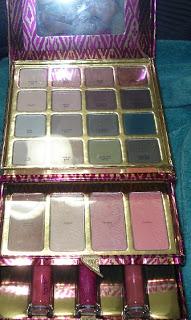 Overall Impression
This is the first time I have ever used any Tarte shadows, blushes or glosses. This set left a positive impression on me.  I really liked the eyeshadows.  The pigment and texture was wonderful.  The blushes and gloss left a little bit to be desired, but overall, they were good products, too.   Other than the Lorac Sweet Temptations Eye Collection and the new Cinderella Storylook palette at Sephora, this is one of my favorite newly released products this month.