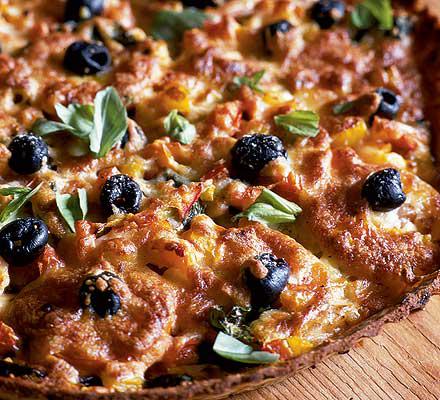 With the Cannes Film Festival taking place this week down on the sublime Cote D'Azur, why not have a go at this French classic yourself? Suitable both hot and cold once you get this recipe right we guarrantee you'll be making one every week, it is the definition of the completely made up word "moreish".
You Need:
Pastry:
225g plain flour , preferably organic (Dove's Farm is good)
100g butter , cut into pieces
1 tsp dried basil
½ tsp dried oregano
1-2 tbsp finely chopped sundried tomatoes
1 tbsp olive oil
1 egg beaten, for brushing (optional)
Sauce:
3 small peppers , preferably different colours
2 tbsp olive oil
2 fat garlic cloves , crushed
½ tsp dried oregano
1 tbsp chopped sundried tomatoes
400g can chopped tomatoes
1 tbsp tomato purée
1 tbsp red wine vinegar
Filling:
100ml/3½ fl oz olive oil
1 medium aubergine , cut into 1cm thick slices
1 tbsp dried basil
4 medium or 3 large tomatoes , sliced
good handful chopped fresh basil leaves
about 18 black olives , preferably unpitted
100g mozzarella , grated
50g cheddar , coarsely grated
What a tart
1. To make the pastry, put the flour in a bowl with the butter, then rub together to resemble breadcrumbs. Stir in the basil, oregano and sundried tomatoes, then pour in the olive oil and about 4 tbsp cold water to make a soft dough (it will be a bit softer than regular pastry). Wrap in cling film and chill for one hour.
2. While the pastry is chilling, make the sauce. Halve, seed, then dice the peppers and reserve half for the filling. Heat the oil in a medium saucepan. Add the garlic, oregano and peppers and cook for 5 minutes, stirring occasionally, until the peppers start to soften. Tip in the rest of the sauce ingredients and simmer over a medium heat, uncovered, for about 10 minutes until reduced to a thick sauce. Stir frequently so it doesn't stick. Season well and set aside to cool completely.
3. Preheat the oven to fan 180C/conventional 200C/ gas 6. For the filling, line a baking sheet with parchment or greaseproof paper, drizzle with 1 tbsp of the oil and lay the aubergines slices over it. Drizzle the rest of the oil over the top – it seems a lot, but it all gets soaked up – then scatter with the dried basil and some salt and pepper. Bake for 20-25 minutes until the slices look golden, and are tender when poked with a knife.
4. Roll out the pastry to a circle, about 40cm, and use to line a 28cm fluted flan tin (preferably loose-bottomed). Bend the pastry over the edges and trim with scissors so you have a 1-2cm overhang. Put the tin on a baking sheet. Prick the pastry base, brush it with egg if you wish to give a crisper crust, and bake blind for 10 minutes (there's no need for baking beans).
5. Spread the sauce evenly over the bottom of the pastry. Lay the aubergines on top, then the sliced tomatoes and a good handful of chopped basil. Season with salt and pepper.
6. Now scatter with the reserved peppers and olives, then the grated cheeses, right up to the edges.
7. Bake for 20-25 minutes until golden. Let the tart cool a little, then trim off the pastry edges with a sharp knife for a neat finish.