This is a rare post without food pictures, but I loved this place so much I had to write about it and the pictures from my recent takeout just didn't do it justice.
   Tacos are one of my favorite thing, and I'm constantly on a quest to find the best and most authentic in Boston. Think the soft corn tortillas with meat, onion, cilantro, hot sauce, and some fresh lime squeezed on top. Aside from a couple of places in East Boston that do these really well, this is an area where Boston is surprisingly lacking.
   I moved to Waltham this past April, and expected to find a lot of places similar to East Boston. I asked just about everyone I knew for recommendations, but until recently was a little bit disappointed by the lack of good Mexican. Until last week, when a coworker who also lived in Waltham told me about Taqueria El Amigo. She said it was a tiny place, hidden in a mostly residential neighborhood. There were about six tables total, and she wasn't even sure there was a sign. But it was some of the best Mexican she'd had. I tried it that night.
          If I hadn't gotten the exact location from her, I would've missed it. The place is visible from a main road I'd been driving down daily, but the side street (Willow) did always appear to be completely residential. From the main road it does kind of look like a house, but there is a small sign.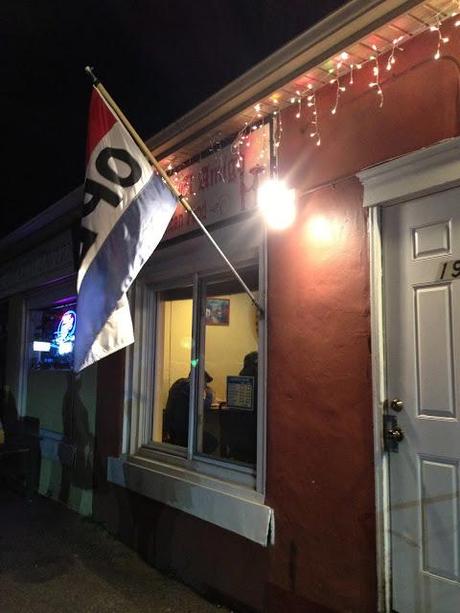 On a Friday night they were packed, so the bf and I ordered takeout. I tried the four mini tacos and asked if I could mix and match. They told me I could do two and two, so I tried the beef cheek and pork carnitas. I also wanted like to try the beef tongue and al pastor, but after having tried the beef cheek, I can't imagine ordering anything else! The bf got a burrito and an order of chorizo nachos (of which I stole half). We both agreed it was some of the best Mexican in Boston.
   The tacos were traditionally done like the description above, with the addition of fresh avocado. I thought this was a great touch, and appreciated that the avocado was included since it's usually extra. The pork was good, but the beef cheek was outstanding - melt in your mouth tender, rich, and flavorful. The nachos were loaded with crumbled chorizo, lettuce, salsa, sour cream, cheese, and jalepenos.
   We barely managed to finish it all, and we were stuffed (all for about $20). This could easily become my go-to spot in Waltham, and I'm sure I'll be back soon. Check back for updates, as soon as I can get a table I'll include some pics!