Tanghalang Pilipino, the resident drama company of the Cultural Center of the Philippines (CCP), concludes its 25th Theater Season with "Eyeball: New Visions in Philippine Theater," which opens today and runs for four weekends until Feb. 12, 2012 at the CCP Tanghalang Aurelio Tolentino (Little Theater).
This production features four of the best plays from the Virgin Labfest, the yearly festival of new works for the theater. The select plays deal with the theme, "Searching" and tackle people's search for love, for lost family bonds, for noble ideals, for closure, and for missing loved ones.
The plays will be shown as two sets of twinbills. Set A includes Carlo Pacolor Garcia's hilarious "Bakit Wala Nang Nagtatagpo sa Philcoa Oberpas," directed by Riki Benedicto, and starring TP Actors Company members Jonathan Tadioan, Jelson Bay, Martha Comia, Marco Viaña and Gino Ramirez; and guest artists Pam Hundana and Carmina Capile.
In "Doc Resureccion: Gagamutin ang Bayan", by Layeta Bucoy (directed by Tuxqs Rutaquio), features the performances of Riki Benedicto, Jonathan Tadioan, Rayna Reyes and Sherry Lara.
Set B is composed of plays directed by the exceptional director Chris Millado. In Reuel Molina Aguila's bittersweet "Maliw," showcases brilliant acting by Sherry Lara, Spanky Manikan and TP Actors Company scholar Regina de Vera.
"Isang Araw sa Karnabal" is Nick Pichay's funny but poignant play about two former activists attempting to mend broken ties, played by Sheenly Gener and Yul Servo.
The creative team includes Eric Cruz for the new set designs, Katsch Catoy for the lighting design, and TJ Ramos for the soundscape.
Regular ticket price is P600, with student and senior citizen discounts. For ticket reservation, booking of special performances and other information, call the TP office 8323661, 0920-9535381 or 0928-5518645. Contact the CCP Box Office at 8323704 and Ticketworld at 8919999 for ticket inquiries.
PLUS: What I thought of three of the four plays during their original Virgin Labfest runs--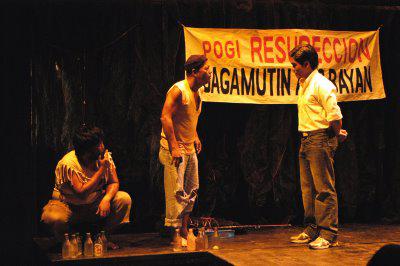 Jonathan Tadioan, Crispin Pineda and Riki Benedicto in the 2009 VL production of Layeta Bucoy's "Doc Resureccion, Gagamutin ang Bayan," directed by Tuxqs Rutaquio


Doc Resureccion: Gagamutin ang Bayan. Layeta Bucoy's "Doc Resureccion, Gagamutin ang Bayan," was the Labfest standout, and, incidentally, the latest noteworthy collaboration between Bucoy as playwright and Tuxqs Rutaquio as director...
A well-off doctor is running for town mayor; his ne'er-do-well fisherman cousin, bearing the same surname, is paid by the incumbent in a cynical move to game the system by confusing voters and stealing votes away from the appealing upstart.
Now the doctor is back in the dump he had fled long ago, begging the cousin and his family to withdraw from the race. By implication, his starched good intentions, fancy catchphrases and improved station in life give him a greater right to the town's seat of power than his cousin's more dubious motivations.
That, in any case, appeared to be the scheme. Until the play, with its increasingly savage dialogue, took a shocking turn near the end, involving a fish hook and a ripped-out eyeball.
It was a blindsiding, nightmarish punctuation to Bucoy's incrementally constructed image of a body politic corroded to the core by lifelong class inequalities and hatreds, stoked in turn for Machiavellian ends by shadowy puppeteers.
An unsparing vision, "Doc Resureccion" had the searing smell of truth—helped along by the strongest cast assembled for a Labfest entry this year, led by young actors Jonathan Tadioan and Riki Benedicto.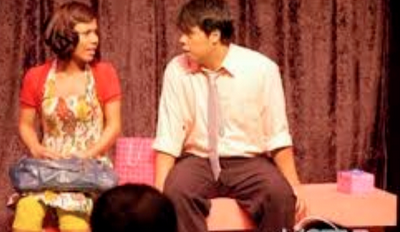 Skyzx Labastilla and Paolo O'Hara in "Isang Araw sa Karnabal," directed by Chris Millado


Isang Araw sa Karnabal. Another festering political flashpoint, the unresolved disappearances of activists, got a sympathetic ear in two plays, Nicolas Pichay's superb "Isang Araw sa Karnabal" and Reuel Molina Aguila's affecting if talky "Maliw."
Like "Doc Resureccion," these plays were a reproach—subtle but unmistakable—of the poisonous political air that has seeped into and warped many lives and families in this country. There were no speeches to that effect, though. Only anguish, pained laughter, choked-back memories.
In "Isang Araw sa Karnabal," expertly directed by Chris Millado and marvelously played by Skyzx Labastilla and Paolo O'Hara, Pichay sketched in precise, tragicomic strokes the dysfunctional interaction of two people scarred for good by their desaparecido experiences (the girl her father, the boy a brother).
General Palparan's name was mentioned; he was never seen, but like a malevolent ghost, he and what he stood for was the inevitable ghoul at the end of the carnival tunnel, forever haunting the lives of these two characters.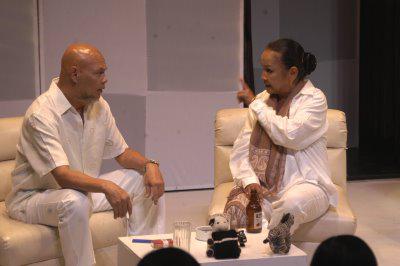 Bembol Roco and Gigi Escalante in the 2009 VL production of Reuel Molina Aguila's "Maliw,"

directed by Edna Vida Froilan


Maliw. A similar spectral presence spooked the otherwise placid household in "Maliw," directed by Edna Vida Froilan. In the aftermath of a lost daughter's 30th birthday, a husband and wife (Bembol Roco and Gigi Escalante) would finally confront, through tears and bitter hand-wringing, the void left by their daughter's abduction years ago.
"Araw-araw may darating na sirena," rued the mother, refusing to forget. By the play's cathartic end, she would take the first tentative steps toward letting go and rejoining the land of the living.