Tanghalang Pilipino, the resident drama company of the Cultural Center of the Philippines (CCP), concludes its 25th Theater Season with "Eyeball: New Visions in Philippine Theater," opening on Jan. 13, 2012 and running for four weekends until Feb. 12, 2012 at the CCP Tanghalang Aurelio Tolentino (Little Theater).
This production features four of the best plays from the Virgin Labfest, the yearly festival of new works for the theater. The select plays deal with the theme, "Searching" and tackle people's search for love, for lost family bonds, for noble ideals, for closure, and for missing loved ones.
The plays will be shown as two sets of twinbills. Set A includes Carlo Pacolor Garcia's hilarious "Bakit Wala Nang Nagtatagpo sa Philcoa Oberpas," directed by Riki Benedicto, which tells the story of a man and a woman who decide to meet at the Philcoa Overpass after months of flirting online. The cast of this riotous play includes TP Actors Company members Jonathan Tadioan, Jelson Bay, Martha Comia, Marco Viaña and Gino Ramirez; and guest artists Pam Hundana and Carmina Capile.
In "Doc Resureccion: Gagamutin ang Bayan" by Layeta Bucoy (directed by Tuxqs Rutaquio), a well-meaning doctor runs for Mayor only to find out that the community he so wants to help desires a different path for itself. This intriguing work features the performances of Riki Benedicto, Jonathan Tadioan, Rayna Reyes and Sherry Lara.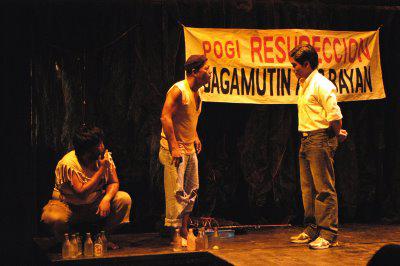 Jonathan Tadioan, Crispin Pineda and Riki Benedicto in in the 2009 VL production of Layeta Bucoy's "Doc Resureccion, Gagamutin ang Bayan," directed by Tuxqs Rutaquio

Set B is composed of plays directed by the exceptional director Chris Millado. In Reuel Molina Aguila's "Maliw," five years after the forced disappearance of her eldest daughter, a mother confronts the question: How does one close a chapter still to be written? The play is set after her family celebrates her eldest daughter's 30th birthday. This bittersweet play showcases brilliant acting by Sherry Lara, Spanky Manikan and TP Actors Company scholar Regina de Vera.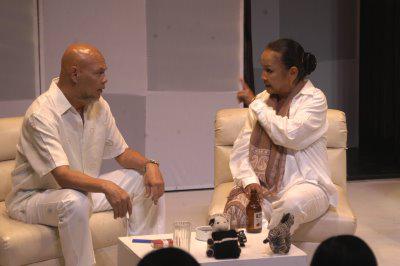 Bembol Roco and Gigi Escalante in the 2009 VL production of Reuel Molina Aguila's "Maliw,"
directed by Edna Vida Froilan

"Isang Araw sa Karnabal" is Nick Pichay's funny but poignant play about two former activists, both with missing loved ones, meeting again after a long time and attempting to mend broken ties. Sheenly Gener leads the cast, which includes Marco Viaña and Martha Comia.
The creative team includes Eric Cruz for the new set designs, Katsch Catoy for the lighting design, and TJ Ramos for the soundscape.
Regular ticket price is P600, with student and senior citizen discounts. For ticket reservation, booking of special performances and other information, call the TP office 8323661, 0920-9535381 or 0928-5518645. Contact the CCP Box Office at 8323704 and Ticketworld at 8919999 for ticket inquiries.