By Walter Ang in the Philippine Daily Inquirer:
Tanghalang Ateneo opens its 34th season in August with a restaging of "Sintang Dalisay," an "awit" (metrical romance poetry using dodesyllabic or 12-syllable verse) version of William Shakespeare's "Romeo and Juliet" using translations by G.D. Roke and National Artist for Literature Rolando Tinio.
Romeo and Juliet are now Rashiddin and Jamila, star-crossed lovers living in Sempurna, a fictional Islamic community, and fleeing from family and the law to keep their love alive.
Directed by TA artistic director Ricky Abad, the production uses igal, a traditional dance of the indigenous Sama-Bajau people of Mindanao, as its movement and choreography motif.
Sets and costumes designed by National Artist for Theater Design Salvador Bernal, with this production being one of the last works completed by Bernal before his demise last year.

[Remaining playdates: August 4, 7-11, 14-17 (7 p.m.), August 4 and 11 (2 p.m.), August 11 (10 a.m.), Rizal Mini Theater, Ateneo de Manila University. For tickets/details, call Regina Aquitaña 0915-1129301.]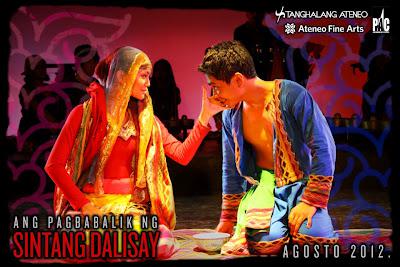 By Mara D. Cepeda in The Guidon: Tanghalang Ateneo's production "Sintang Dalisay" received a standing ovation on the last day of the 9th Teatralny Koufar International Student Theater Festival and the IX World Congress of the International University Theater Association (IUTA) held from July 2 to 7 at the Trade Union Palace in Minsk, Belarus.
"Sintang Dalisay", which was first shown in the Loyola Schools in July 2011, is a Filipino adaptation of William Shakespeare's Romeo and Juliet using an "awit" written by G. D. Roke in 1903.
The Belarus show was a condensed version of the original production, as festival rules required that no more than 10 persons per production perform and that the show last no longer than 60 minutes... Members of the IUTA saw the original production during their regional conference in the Philippines last July 2011, and were greatly impressed by the show.
Abad worked with TA's Guelan Varela-Luarca in devising the text used for the Belarus show, which was performed by five Atenean actors and three musicians. The cast included Brian Sy, Dam Liamco, Joe-Nel Garcia, Cindy Lopez, Tasha Tañada and Kalil Almonte...

What I thought of the original show last year: That "Romeo and Juliet" is a "Christian" play, specifically a Catholic one, in the surface sense that its characters and original medieval Verona milieu are all embedded in a Roman Christian culture, is something already universally taken for granted.
The play cues this inference, of course, with the presence of the Franciscan friars Laurence and John, as well as invocations of saints and shrines, pilgrims and purgatory in the text. In modern versions, the protagonists remain of staunch Catholic stock--Puerto Rican and Italian-American in "West Side Story," for instance; or natives of a Verona Beach in Miami drenched in Catholic iconography, in Baz Luhrmann's MTV-flavored 1995 movie adaptation.
Would the Bard's story of star-cross'd lovers work as well in a Muslim environment? The answer, based on Tanghalang Ateneo's recent production "Sintang Dalisay," is an emphatic yes.
Transposing the play to the world of the indigenous Sama-Badjao people of Mindanao by employing the tribe's traditional dance, the igal, as its movement motif, "Sintang Dalisay" succeeded in reimagining "Romeo and Juliet" as an integral universe of ancient rido (family feuds), religious rigor and unbending custom, vivified by splendid finery (costumes by National Artist Salvador Bernal), atmospheric kulintang harmonies and undulating ululations, even the kris ably nudging its Western counterpart aside in those indispensable Shakespearean sword fights.
The transposition had help from two other sources--the 1901 awit (Filipino narrative poetry) "Ang Sintang Dalisay ni Julieta at Romeo" by one G.D. Roke--the earliest Tagalog version, according to UP professor Judy Ick in the program notes, the lovers' tale contextualized within turn-of-the-century Tagalog culture--and the more classically faithful translation by National Artist for Theater and Literature Rolando Tinio.
However, director Ricky Abad and co-performance text creator Guelan Valera-Luarca appeared to have settled on a broadly pruned iteration (no soliloquies, for one), with rather deflated poetry but one that also gave this "Sintang Dalisay" swift narrative flow and sharp compactness.
Its life force came not from the verses but from the rich, sensuous allure of the igal. On a stage bereft of scenery, with only the live neo-ethnic band led by Edru Abraham as backdrop and aural anchor, the play unfolded as one seamless movement piece, each line-italicizing pose and gesture charging the play with a textured ardency.
Adding to the fine-grained theatricality were the ingenious use of native mats to mark off spaces and scene changes.
To its credit, the cast of mostly student or TA alumni actors, which had trained with four master igal teachers from Tawi-Tawi brought in by Ateneo during the summer, performed their paces with exactness and brio.
The leads--Kalil Almonte and Tasha Tañada in the show we caught--were well-cast, though Almonte (now Rashiddin to Tañada's Jamila in the Islamic city of Semporna), while looking the part and evincing sensitive playing, could use a bit more assured flourish in his movements.
That unity of expressive dance and articulate verse-acting was achieved most impressively by one cast member--Brian Sy as the imam, this version's Friar Laurence.
"Sintang Dalisay's" honorable, thoughtfully stylized retelling of those "poor sacrifices of our enmity"--a Romeo and Juliet of a culture and consciousness now so near our own--felt just about right. It represented the ideal kind of reimagining: old tale made convincingly new.