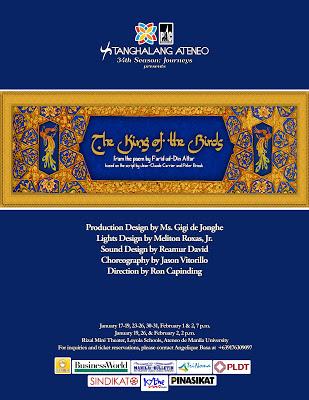 "The King of the Birds", a philosophical fable turned theater piece about humanity's search for salvation and meaning, closes Tanghalang Ateneo's 34th season, with shows slated on January 17-19, 23-26, and January 30 to February 2 at 7 p.m., with 2 p.m. Saturday matinees on January 19 and 26 and February 2, at the Rizal Mini Theater, Ateneo de Manila University.
Drawn from a Persian poem by Farid ud-Din Attar and a performance text by Jean Claude Carriere and Peter Brook, the play tells the story of a nation of birds embarking on a difficult journey to meet their one true King, only to discover an unexpected truth about themselves.
Domileo Espejo and Tarek El Tayech alternate as Hoopoe, the leader of the flock. The rest of the cast are a mix of Tanghalang Ateneo alumni and student actors.
Ronan Capinding, Gawad Buhay 2012's Outstanding Original Script awardee for PETA's "William", adapts and directs the play. Set and costumes by Gigi De Jonghe, choreography by Jason Vitorillo, and music design by Reamur David.
The central insight of "The King of the Birds", about a new kind of spirituality that binds all people, stems from Sufism, a worldview that antedates Islamic teachings. The birds' perilous journey becomes a metaphor for people's quest for meaning and the discovery of truth at the end of the play, and redemption from ignorance, fear and bitter conflict.
For inquiries and ticket reservations, contact Angelique Basa 0917-6309097.