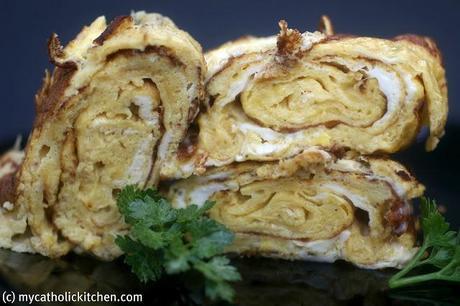 Elizabeth Andoh was born in America. However, she has lived in Japan since  1967. 
She is a graduate of the Yanagihara school of classical Japanese Cuisine. Andoh has written many cookbooks and won many awards. She is a contributor to the New York Times, and she has been writing for Gourmet Magazine for over thirty years.  Perhaps that is why they made her Game Changer #41. In the English speaking world she is the authority on Japanese cuisine. After the devastating earthquake in Japan, she wrote a cookbook to raise money to help with the recovery efforts. She named the book Kibo translated means Brimming with Hope.  You can purchase it here. I decided to make her Tamagoyaki.  It is a Japanese sweet omelet.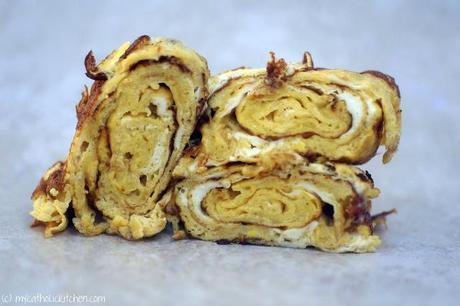 Tamagoyaki or Atsuyaki tamago
adapted by Elizabeth Andoh
4 large eggs
1 tablespoon sugar 1 teaspoon mirin 1/4 teaspoon salt 1/2 teaspoon soy sauce oil for cooking Directions Heat a small nonstick pan to medium low heat. Oil the pan. Beat the eggs sugar, mirin,salt and soy with a fork. Put 2-3 tablespoons of egg mixture into the pan. Cook gently until it is not quite set. Roll it up with a fork or chopsticks. Set it to one side of the pan.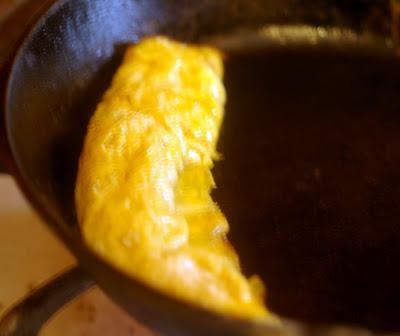 Brush the exposed part of the pan with oil and put another couple of tablespoons of the mixture in the pan. Spread it around. Cook until that layer is almost set. Then roll everything to the opposite end of the pan. 
Keep repeating this procedure until all the egg is used up.
Put the egg roll on a sushi mat an roll it up tightly. Serve hot or at room temperature.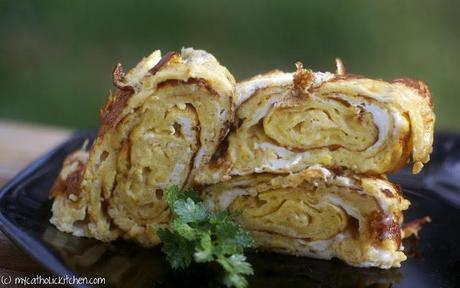 The following bloggers are also featuring the recipes of Elizabeth Andoh today. I hope you'll pay them all a visit. I love to see what they bring to the table.
Val - More Than Burnt Toast, Taryn - Have Kitchen Will Feed, Susan - The Spice Garden
Heather - girlichef, Miranda - Mangoes and Chutney, Amrita - Beetles Kitchen Escapades
Mary - One Perfect Bite, Sue - The View from Great Island, Barbara - Movable Feasts
Linda A - There and Back Again, Nancy - Picadillo, Mireya - My Healthy Eating Habits
 Annie - Most Lovely Things, Jeanette - Healthy Living Claudia - Journey of an Italian Cook
 Alyce - More Time at the Table, Kathy - Bakeaway with Me, Martha - Simple Nourished Living
Jill - Saucy Cooks
Please join us next week when we highlight Harumi Kurihara. If you would like to join us please contact Mary at One Perfect Bite, to get additional information.