It's been three weeks since we went to Suffolk on that hot and sunny glorious April afternoon and secured Ryman Premier League football for another season.  The fans celebrated, the players celebrated and we celebrated, albeit in on a slow train back to London.  Since then football should have taken a back-seat.  It should have been a time to re-acquaint ourselves with our families, bring the garden out of its winter slumber and even cook Sunday lunch.  But we had the small matter of a cup final on our minds.
At the start of each season all Non-League teams plan their objectives for the nine months ahead.  Promotion push, consolidation, maybe the play-offs, survival and so on.  But rarely will they say "some silverware" like you hear in the Premier League.  It is very rare these days for there to be a surprise pairing in a final of any major competition.  Last season's League Cup Final between Bradford City and Swansea City was probably the first, and maybe last genuinely surprising final in respect of the two sides that got to the final.  Whilst the neutrals all wanted to see the third-tier side win (bar Leeds and Huddersfield fans), Swansea rarely got out of second gear to record a 5-0 win.

We know that our greatest hope in the FA Cup is a spot in the First Round Proper.  We've achieved that three times in our 130 year history. It takes the luck of the draw and the luck on the day for clubs at our level to get that far.  Likewise, the FA Trophy has only been won twice in twenty years by a team outside the Conference Premier – the last of whom North Ferriby United did so this season thanks to some significant funding from the family that also owns Hull City.  Take the funding away (as it appears will now happen) and the club are considering their position in the Conference North.
So that leaves the Isthmian League Cup and the County Cups.  The former is seen by many as an unnecessary burden, played at the wrong time of the season.  Many clubs would like this seen scrapped altogether – in fact it is optional as to whether a club actually takes part at all.  This season we made the decision to use it for our more promising youngsters.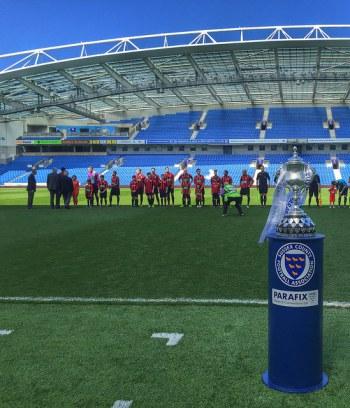 And then there is the County Cup, which represents our best chance of glory.  It is not unfair to say that we should be in the top five clubs in the County.  Brighton & Hove Albion, Crawley Town, Whitehawk and Eastbourne Borough all play at a higher level with Bognor Regis Town, Peacehaven & Telscombe and ourselves at the next level down (of course that will change with Burgess Hill Town replacing Peacehaven next season).  It would take some warm balls to avoid meeting one, let alone three of those four higher placed clubs and thus win the trophy, but recent finals where both Peacehaven and Whitehawk have won the Sussex Senior Cup show that the underdog can still claim the silverware.
Our run to the final had its ups and downs.  We were taken to extra-time by Brighton & Hove Albion and Eastbourne Borough, arguably our two greatest rivals, before we beat them by the odd goal in three.  Sandwiched in between those two ties was a last kick of the game victory against county league Horsham YMCA before a convincing win against another county league side, Loxwood in the semi-final.  Nine years is a long time in football, but that's how long it has been since The Rooks were last in the final.
Four years ago when the American Express Community Stadium opened, it was announced that the premier tournament in the county would be hosted there.  For clubs like Lewes and Whitehawk an opportunity to play at a superb stadium like the Amex doesn't come around very often.  In fact, checking the record books (Club Sec Kev's Non-League brain) this would be the biggest stadium that The Rooks had ever played in.  We knew we were massive underdogs coming into the game.  If results in the last few weeks had been different, it could have been a Conference Premier team playing a Ryman League South side.  But, ninety minutes of football wouldn't spoil the day out for most of the 1,500 or so Lewes fans.
Arrangements for such events are fraught with issues whether it be ticketing arrangements, hospitality or player availability.  With the final taking place three weeks after the end of the season we had to find a solution as to how we would play the players – our budget runs for 37 weeks, so an additional few weeks meant the re-jigging of finances.  How about players who had already booked holidays? (Fortunately, Chris Breach's trip to Vegas didn't overrun and he arrived back in time).  Our hands are tied on arrangements and facilities on the day.  The stadium belongs to Brighton & Hove Albion and is leased to the Sussex FA.  We have very little say in what happens apart from on the pitch.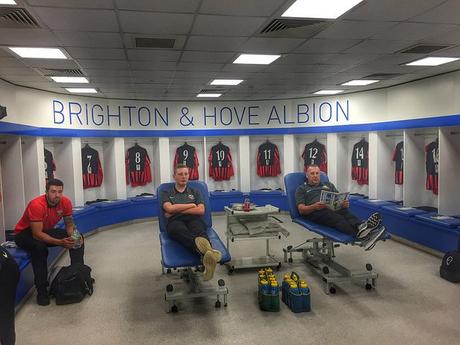 As Chairman I was expected to give a speech before the game in the hospitality area.  Around 600 people would be present, split roughly 1/3rd Lewes, 1/3rd Whitehawk and 1/3rd invited guests by the Sussex FA.  I was more concerned about having to wear a tie (normally the reserves of funerals and court appearances) than what to say.  A couple of Harvey's did the trick though, and despite the heckling of the Whitehawk guests, it seem to go down very well.  A quick good luck speech to the players and it was show-time.
Lewes 0 Whitehawk 5 – The Amex Stadium – Saturday 16th May 2015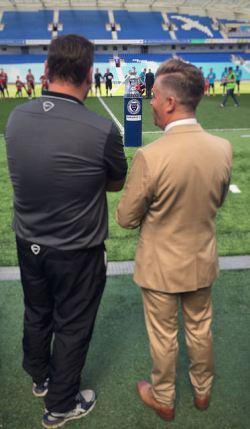 The subplot here of course was the Return of the King.  Steve King, arguably Lewes's most successful manager was in charge of our opponents and no doubt an element of revenge was in his mind.  Which manager doesn't want to beat their old clubs, especially in a high-profile game.  Pre-match King and Steve Brown were in a relaxed mood, no doubt discussing the merits of their respective owners rather than the gleaming silver trophy in front of them.
The game went according to form.  By the end it had the feel of a testimonial game, with Lewes defending with every last ounce of energy whilst Whitehawk picked their attacks.  Part of me felt that at any moment King would strip off and come on himself.  Three weeks without a game certainly showed on the Lewes side, although you have to admire the style of play that Whitehawk adopted – crisp passing and always looking for the ball behind the centre-backs.
Both sets of fans made themselves heard, with Lewes outnumbering the Whitehawk fans 2:1.  Some strange stewarding decisions saw some unnecessary chaos at kick off, with one set tells fans "sit where you want" and others rigidly saying fans had to sit in allocated seating which led to some tense moments, likewise the decision to only open one refreshment window on the concourse led to unnecessary overcrowding and ridiculous queues – it's hardly as if the stadium doesn't know how to handle crowds.
Nobody from Lewes begrudged Whitehawk's moment in the sunshine, celebrating with the cup.  Of course we all looked on and wished it was us, but the day had given us all a taste of what it would be like to play at the top table.  Was it fun?  Well, I'd hate to have to dress and act so formal at every game that's for sure.  Football for me is about enjoying the whole day and not just 90 minutes.  Of course an event such as the cup final is one to enjoy, but give me a beer in one hand, my PA mic in the other standing on the Jungle any day of the week.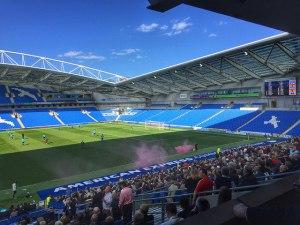 So the curtain comes down on a mixed bag of a season.  I would say that most fans will class this one as "must do better".  I agree to an extent – after all I am a fan and I had hoped we would do better.  But did we set out at the start of the season to finish it here at the Amex?  Nope, so there's a bonus, as too is the progress the club has made off the pitch.  Six years ago it was touch and go whether we would have a club to watch at all – that is the context we need to remember.  Whilst the players headed off after the game, planning their summer holidays, the hard work for those behind the scenes at the club are only just about to start. About these ads