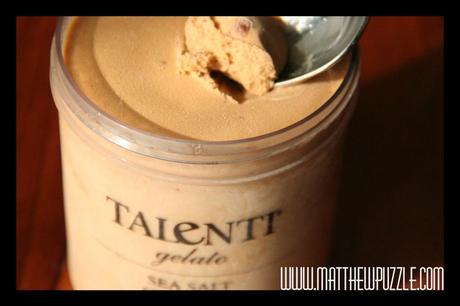 I don't know about you but cold weather has never stopped me from wanting ice cream. As a matter of fact give me a good snow storm and I can pretty much guarantee I will want to go to the store for a pint (or 3).
The first time I saw Talenti Gelato at the store, I was actually perusing another brand of ice cream, but there it was subtly tempting me with it's clear container and seductive name. I had to purchase the Sea Salt Caramel flavor for myself and the Banana Chocolate Swirl for my husband. When I got home I tempted my hubby with his new flavor and we both decided to dig into our pints.
I really like how easy it is to open a pint of Talenti because they use a convenient screw on top. But that ease of use may make it a little too easy to get in there, and consume that whole pint in one sitting. Nooo, I have never done that before. Honest.
The Sea Salt Caramel was even more than I expected. The ice cream is so soft and velvety that is feels and tastes as if you really are eating a spoonful of the softest caramel dusted with the palate brightener, sea salt. But it doesn't end there, although it very successfully could. Instead Talenti has studded this ice cream with tiny caramel filled chocolates. It is magical. I adore this ice cream and although it isn't dairy free, it is gluten free, and would make a delicious and satisfying holiday dessert.
I have also enjoyed, sometimes a little too much, the Mediterranean Mint which is a cool green mint spiked with chunks of dark chocolate. Again it is super creamy and just perfectly minty. My husband loves the Banana Chocolate Swirl and Caramel Cookie Crunch.  Recently we found Caribbean Coconut at another store and I have been on the lookout for the Blood Orange because I adore real blood oranges which are typically available around Christmastime.
Talenti Gelato has fast become our favorite ice cream. Now if they only make me  a Tiramisu or Egg Nog flavor I may never fit into my skinny jeans again. Bliss.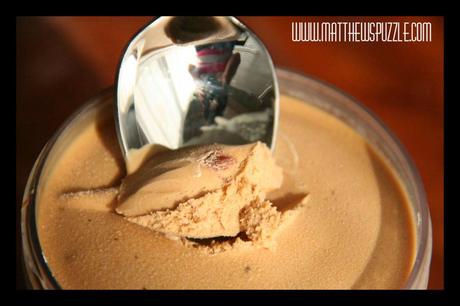 I was given coupons to experience four pints of Talenti Gelato at no expense to myself. All opinions are my own.