New to little Indiana? Subscribe for free to my RSS feed. Thanks for stopping by!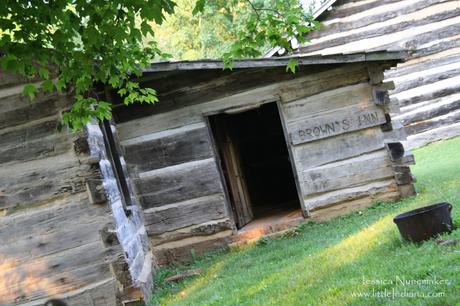 Lincoln Pioneer Village in Rockport, Indiana
The subject of Rockport, Indiana popped up on the little Indiana Facebook Page. That reminded me that I've got to tell you about what lies outside of the Lincoln Pioneer Museum: the village!
Lincoln Pioneer Village in Rockport, Indiana
little Indiana has  already mentioned the interesting and unique items on display inside the Lincoln Pioneer Village Museum, but it's what is outside that makes this unusual.
First, I didn't know what to expect. We had already had a very full day of wandering. The kids were getting restless when–lo and behold, we walk out the door of the museum and into a giant green-space full of period cabins!
Stretching across the span lie 14 cabins in perfect period style, these are the days when Spencer County was wild frontier and Abe Lincoln was only a boy.
Abe Lincoln's Formative Years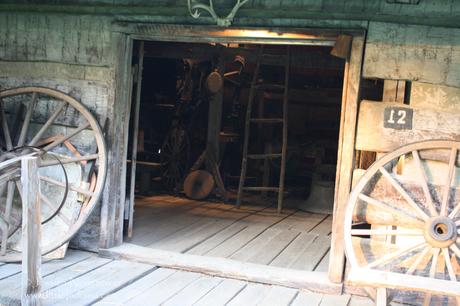 Lincoln Pioneer Village in Rockport, Indiana
Designed by George Honig (he was a well-known artist and sculptor don't'cha know), these cabins strive to highlight the early years of Abraham Lincoln.
They show how he lived for the 14 years he resided in Spencer County (1816-1830), when he arrived with his family at the age of 7.
A Works Project Administration (WPA), these cabins were constructed from 1937-1939 using government funding.
They have tried to recreate how life as young Abe Lincoln would have looked.
Who Are The People in Your Neighborhood
Everyone is here or, rather, their cabin is represented.
From the lawyer's office to the schoolhouse to the general store, these 14 cabins are the people and places of Abraham Lincoln's childhood.
Abe walked 20 miles (if I remember correctly) to John Pitchard's law office so he could borrow books. There's a pioneer school, with a dirt floor and puncheon benches, and the Pigeon Creek Baptist Church, where Abe and his family worshiped.
It's very well done–in fact, The Kentuckian starring Burt Lancaster was once filmed here!
Lincoln Pioneer Village Fun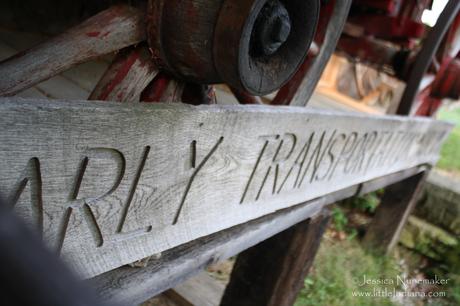 Lincoln Pioneer Village in Rockport, Indiana
Festivals, events, re-enactments, the Lincoln Pioneer Village and Museum usually has something in the works.
Usually open daily, now that the weather has turned you can catch them on the weekend. You can take a peek at the way Abe Lincoln once lived and hear the stories about his life any time of year.
This larger than life replica of Indiana history would be good for any age! Walk in and around the cabins, check out the many and varied species of trees, and if you're lucky, Charlie Finecy will be around and can tell you all about it!
See more of Lincoln Pioneer Village and Museum as well as images in Spencer County and other pictures in Indiana on my Flickr photostream.
Lincoln Pioneer Village and Museum
928 Fairground Drive
Rockport, Indiana 47635
812.649.9147
Open daily: 10 AM – 6 PM CST May 1st through Oct. 31st
Weekends only in Nov. and Dec.

View Larger Map
Special thanks to Paula Werne at Holiday World and Melissa Wilkinson at the Spencer County Tourism Bureau for arranging our visit! Big thanks to Charlie Finecy for sharing his knowledge–and his patience! Opinions are mine and mine alone (as always).
little Indiana: Where to Stay, Play, and Eat in Small Towns in Indiana. Discovering Indiana's best small towns! Now get little Indiana on your Kindle.
Targeted. Relevant. Affordable! little Indiana advertising.