The one experience not to be missed in Japan, for me is the traditional ryokan experience, which is more than just a typical hotel stay, but instead a package of fascinating cultural experiences, all wrapped into one. This typically includes a traditonal hotel suite, with thrills attached, the hot spring baths, complimentary kimono dress, and, more than not, a mulit-course kaiseki dinner. I have said similar with past ryokan stays, but Takaragawa Onsen in winter was more. For me it was the Japanese dream, where other than on-screen, I never thought places like this existed in real life. And what really brings together is the setting as we are situated next to a stream, and mists of the hot water springs, in a mountain forest bound with snow. The setting is just dreamlike and I'm fairly certain that these were the most beautiful and serene scenes I have ever witnessed. And this is not me overexaggerating. I could happily live and die here, and I at least now feel privileged to have experienced such a place, even it was just for one night. But what makes this dream even more unbelievable is it started that morning with gray skies and rain in Tokyo, two hours away. And ten minutes before arriving to Jomo-Goken station we found barely a sign of snow. But, emerging from the last tunnel of the journey we arrive to a winter wonderland.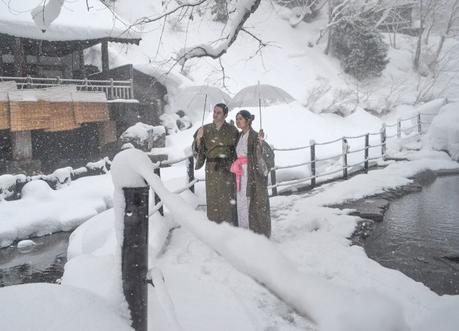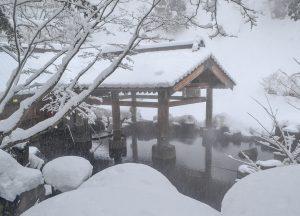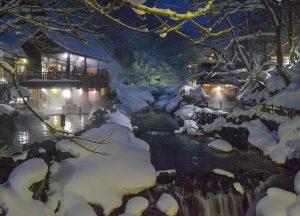 ---
The Ryokan Retreat
During our stay we are in the Jizo Room, located in the main building, built in 1955, which remains very traditional yet still has the modern essentials included such as air-conditioning and washlets (robo-toilets). So we do have the best of both worlds as our guestroom suite is otherwise very traditional with tatami mat flooring, sliding door partitions, and interiors made of old native pine wood. The tatami floors feel soft and spongy, and they are heated from below, so the suite is just ridiculously cosy and hard to leave. In the center of the room is a shin-height table with seats with no legs, which are more like cushions with backrests, so we are sat at floor height which again is surprisingly comfortable. Our suite is located on the corner of the building and a second small seating area is partitioned by the corner windows to allow for incredible views over the passing Takarawaga river and suspension rope bridge, which marks the start of the forest walk to the hot spring onsens. The layout of the room does change in the evening, after a Japanese turndown service, where we return from our kaiseki meal to find two futon beds have been spread across the tatami flooring.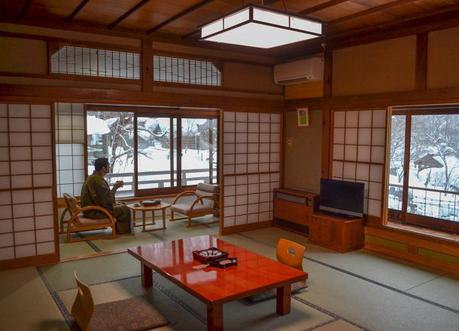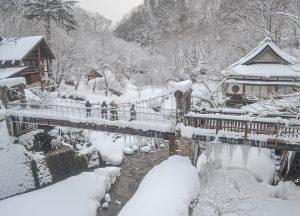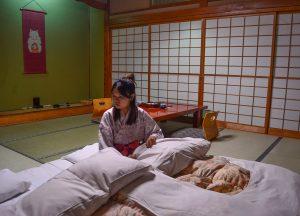 ---
Traditional Attire 
Our shoes were taken on entering the ryokan and we don't see them again until we leave. Until then they have been placed in safe keeping. In return with have been given indoor shoes, which are a bit like slippers, for the ryokan along with a choice of yukata for our stay. There are also expectations to wear the casual yukata in and around the ryokan, including in bed as well, as it's pretty much a dressing gown, only fabulous. When venturing outside we also find a suitable overcoat in our wardrobe, which more or less wraps over the inner yukata. This will depend on the weather however and, being winter,  and given the snow outside is as tall as I am, we find tanzen jackets for outside wear. Although this will change through seasons where a lighter hanten is offered during spring and autumn. We also wear these jackets inside to allow us to leave the windows open for the sounds of snow fall and the passing torrents of stream. When visiting the onsens we must again change shoes and options of welly boots or traditional geta shoes, which are a bit like a combination of clogs and flip-flops, are found next to the doors of gateway bridge. To be honest I expected to freeze outside, given our attire, and the minus temperatures, and the snow, so I was surprised to remain comfotable and warm even without the wellies. To shelter from snowfall and the mini avalanches from roofs and branches above, there are transparent umbrellas which are found throughout the resort, so it's not necessary to bring one around as a precaution. Just grab one instead at the nearest building or onsen.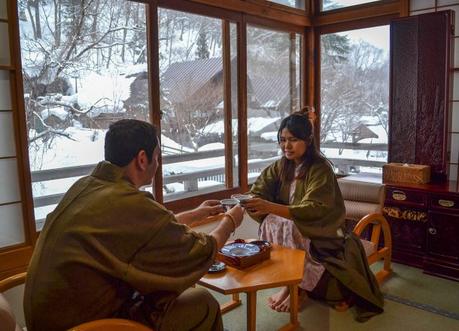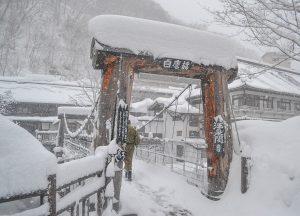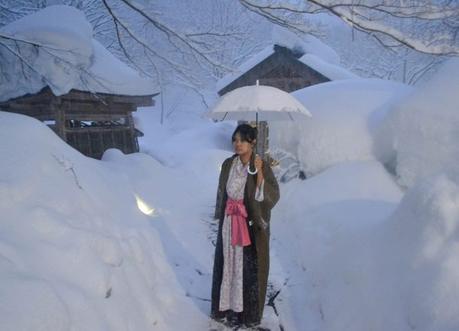 ---
Rules of the Onsen
In the cupboard we also find towels and hand towels for our visits the hot spring onsens, along with bathing clothes for the women. We then follow a short suspension rope bridge which leads us to the beginning of the forest walk to the hot spring onsens. The outdoor onsens, or roten-buro as they are known, are dotted through the surrounding forests and connect neatly along the passing river, where we follow downstream. They are all of course natural onsens, with hot spring waters sourced from the surrounding grounds and mountains. There are four baths in total, three shared for men and women, and then a further bath specific for women only. Next to each onsen will be changing rooms, indicated  by a blue curtain for men and red for woman, to leave clothes and belongings during time in the onsens. There is also a towel bin next to them to leave wet towels. Men are of course expected to bath completely naked, no clothes whatsoever, although there is the small handtowel for the shy. Photograph is okay through the grounds of the onsens, but technically it's not allowed in the onsens, obviously. But if the onsen is empty there should be no problem and, despite the ryokan being fully booked through our stay, we found ourselves alone for most of the time. We spent more time in the furthest mixed bath, called Kodakara, which is better sheltered and quitier than the first. And waking ridiculously early, before sunrise, we found that the onsens were empty through much of the morning and we were able to photograph throughout. Otherwsie the baths are open 24 hours so there will be many opportunities to explore and photograph if you really want.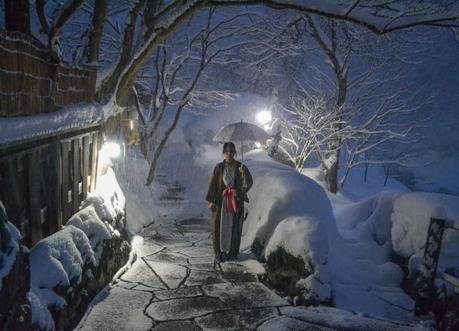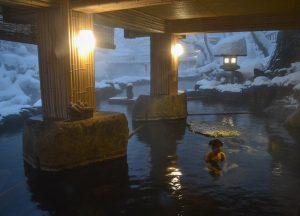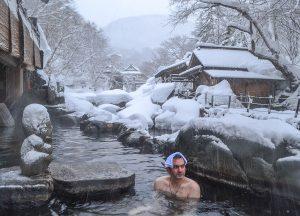 ---
Traditional Kaiseki Dinner
We eat at the Chikutei restaurant which is located in the same pine wood building and is similarly designed in a traditional Japanese style with bamboo and cloth partitions, tatami flooring and soft light lanterns. The kaiseki here is prepared from foods sourced from surrounding forests including wild mushrooms, freshwater fish and bear, apparently. Bear soup is one of the more famous dining options here although I really am not certain if we ate any. And with pretty much every kaiseki there was all sorts of weirdness but, to name some of the more obvious, there was sashimi, tempura, a table barbecue, and a suki-yaki hot pot. And as someone who to date has been underwhelmed by almost every suki-yaki, I can say here it was phenomenal, which is a word I have never used ever before. But it is deserved here. Having smuggled in wine earlier, before our first onsen dips, we did otherwise skip on alcohol during our stay although there was an exciting list of hot sakes and hi-ball mixes on the restaurant menu. And, which seems to be the norm in Japan, there was minimal markup.