Spring has officially sprung! I never understood why people would get so jazzed about spring until these floral Tacori engagement rings changed my mind. Kidding. I never understood spring because I grew up in Florida, land of perpetual 80 degree temperatures. Flowers? Yeah, they're everywhere. Birds chirping? Those stupid parrots that escaped from the zoo during Andrew wake me up every morning. "Sundress weather?" Uh, what else would I wear? Then I moved to Chicago. Mea Culpa, Northerners. I get it now. And so please, join me in shouting SPRING HAS SPRUNG!
But back to #TacoriTuesday. These floral Tacori engagement rings are perfect for any botanical-minded bride, and gorgeous year round. They just happen to be at the top of my mind right now! With the world boosting into bloom, my thoughts turn to Blooming Beauties and Full Bloom gorgeousness, thanks to Tacori. Their California-flora-inspired rings create a stunning feminine impression on any hand, and hold their own against any bouquet.
The Blooming Beauties line features a center stone permanently on the brink of exploding into full, gorgeous bloom. Two rows of pave set accent diamonds are arranged in a tiered frame to give the look of unfurling petals. The higher layer gives bold sparkle to the ring, while the lower layer creates a solid foundation of diamonds. Think a night-blooming jasmine at sunset, getting ready to burst into lush beauty.
Tacori engagement rings in the Full Bloom collection, on the other hand, feature just one row of blooming diamonds, but jumbo-sized. They create the look of a mature blossom in all its radiant beauty. Think a full peach peony you can't pass by without admiring.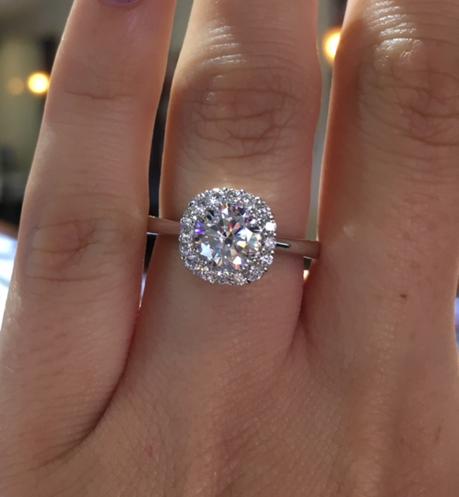 Click here to shop this ring
This beauty from the Full Bloom collection features approximately .31 carats of pavé set round brilliant diamonds, G in color and VS in clarity (aka Gorgeous, Very Sexy diamonds!) The band was left untouched on the aerial view, to shine in bright white gold, platinum, yellow or rose. From the side perspective, you can see Tacori's signature crescent design, but the top-up look is all about that full halo and your gorgeous center stone. This setting can accommodate round or princess diamonds half a carat and up, but all the Tacori engagement rings at DBRL include free modifications if a cushion cut is the name of your game.
Related: Diamond Shapes by Personality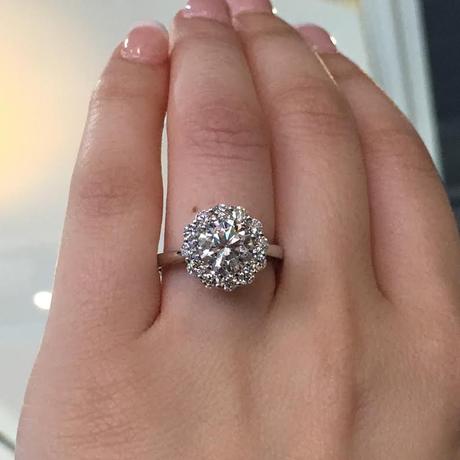 Click here to shop this ring
This setting is another Full Bloom specialty, with slight larger spotlight diamonds and a different setting style. The shared prong halo makes the diamonds look even more like daisy petals, and these babies add up to approximately .69 carats total of round brilliant diamonds that are – you guessed it – Gorgeous G color and Very Sexy VS clarity. Again, the setting comes in all three gold alloys, plus platinum, and works best with round and princess cut diamonds. Again, it can be modified to your heart's content.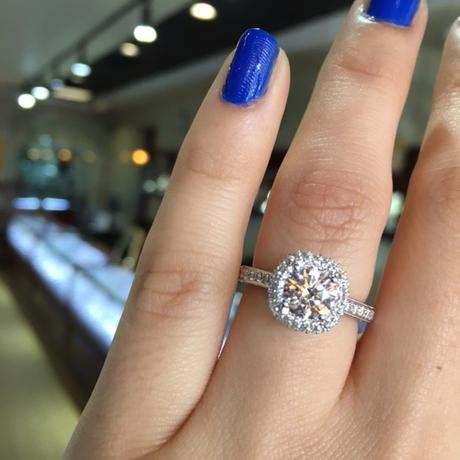 Click here to shop this ring
This ring comes from the Blooming Beauties line, note the smaller spotlight diamonds and more delicate setting style. The two-tiered diamond halo is "pointier" giving it a more sculpted look, which I think is a nice way to stand out. While the soft square shape of this halo is familiar, the unique setting style of the spotlight diamonds freshens up the look. I also like that Tacori mixed setting styles with some channel set round brilliants on the band. All told, the accent diamonds add .61 carats total to this ring.
Related: Top 10 Soft Square Halo Engagement Rings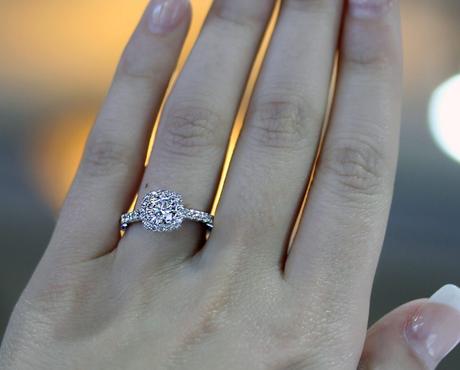 Click here to shop this ring
This lovely halo also comes in that familiar cushion-like silhouette, but with a very different setting style. It's Full Bloom, so the main halo is a single layer, with beautiful round brilliants arranges in a chunky halo. The band though is a string of diamonds with minimal metal, so it looks like the focal point of your ring rests only on bling, like the whole center diamond and halo are supported by diamonds alone. This setting holds a half carat diamond or larger, round or princess shaped, and gets a boost from a whopping .74 carats total of accent diamonds (Gorgeous, Very Sexy.)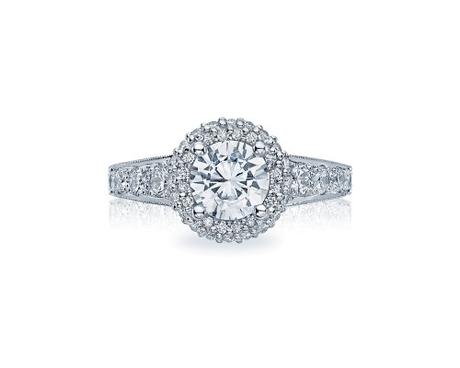 Click here to shop this ring
I don't have a hand shot of this one yet, and for that I will never forgive myself. Until I take one on Monday (and I will update this post ASAP.) But I couldn't wait until next week to tell you about this Blooming Beauty. This stock image also shows you a more in-detail look at that double layered halo. What I'm crazy about here though, are the shanks. Tacori mixes and matches setting styles so well, it always creates the highly textured, handcrafted look that brought them fame and acclaim. This ring serves as a perfect example. Not only did the designer choose graduated round brilliant diamonds for the band, he or she channel set them, but in a way that looks like they're GIANT pavé. It's so cool, and something I haven't seen before in designer engagement rings. If you got excited about the last ring's .74ctw, please sit down before you read on. This setting holds over a carat(!!) of accent diamonds alone. 1.03ctw to be precise. It accommodates a .65 carat stone or larger, and looks best with a round or princess. And yes, it comes in all three gold alloy colors, and platinum if that's your style. Wowza.
Are you ready for a floral arrangement with one of these Tacori engagement rings? Let me know which is your favorite, and follow me on Instagram for even more #TacoriTuesday goodness.