Did you know that Tacori engagement rings were the O.G. bling for the Bachelor franchise? It's what helped launch the brand into the international spotlight. In Bachelor history, the leads gifted 11 engagement rings and 4 promise rings to their "lucky" final rose recipient. And while we all know one halo-loving Mr. Neil Lane makes his appearance in every finale episode now, things once were different. No tanned, poker-faced diamond mastermind arrived in Jamaica/Bahamas/Bermuda/St. Lucia, offering micropave galore. No no, there once was variety. An element of surprise. Chopard. Family heirlooms. Harry freakin' Winston.
Related: #TacoriTuesday
Before the premiere of Jojo's season, which I am SO excited about, we travel back in Bachelor franchise time, to the era when Tacori engagement rings ruled Chris Harrison's power-clashing, romance-loving, spray-tanned heart.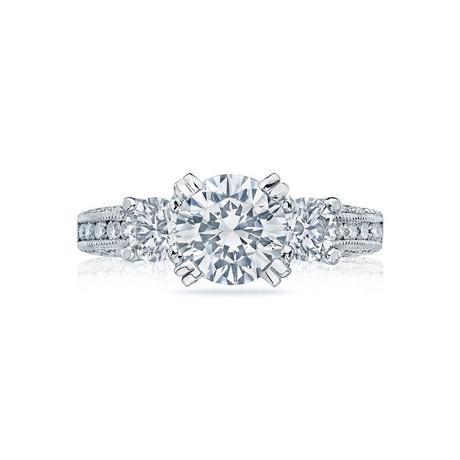 Shayne Lamas & Matt Grant – Lorenzo Lamas' daughter, currently married to Nik Richie, the worst, once won the heart of some British guy on The Bachelor. Yes, the franchise was doing UnReal style Cormac McLaggen British Bachelors long before Lifetime. Anyway, he proposed with this Tacori Classic Crescent set with a modest (by today's Bachelor standards) 2.85 carats of round brilliant diamonds. it's unclear whether that includes the accent diamonds or if that's the total weight for the three main diamonds. The couple made it four months past the proposal. This is style HT2326, which we can special order free of charge.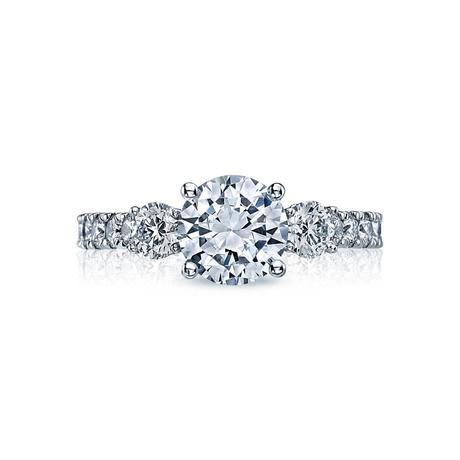 Click here to shop
Byron Velvick & Mary Delgado –  This Tacori engagement ring probably wants to distance itself from this hot mess. Delgado was arrested in 2007 on Domestic Violence charges after she punched Velvick in the face with her left hand. The 3.5 carat rock split his lip to make a statement. The ring shown above is similar, untainted by domestic violence, and actually shoppable.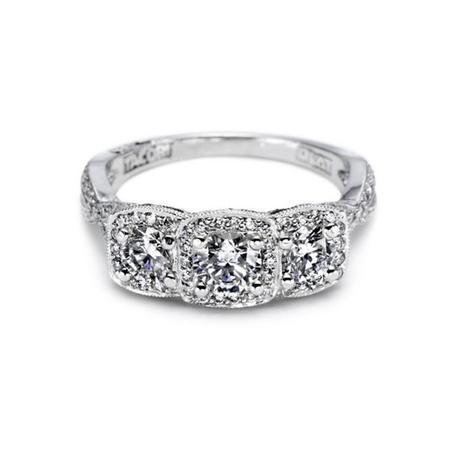 Shop a similar Tacori ring here
Charlie O'Connell & Sarah Brice – Yes, that Charlie O'Connell. He didn't propose, but he did give one hell of a promise ring, representing "Past, Present and Future." Tacori doesn't make this style anymore, but I linked to a similar Dantela three stone ring. If you want this exact style, Diamonds by Raymond Lee actually has a Simon G. ring twin.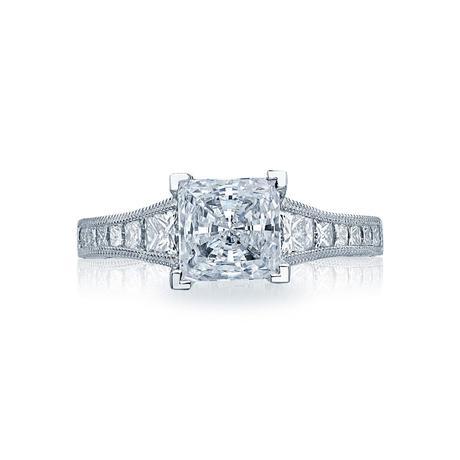 Shop This ring here
DeAnna Pappas & Jesse Csincsak – She said no to Jason, but said "Yes!" to this 2.30 carat diamond Tacori engagement ring.  The princess cut center stone is surrounded by invisibly & channel set diamonds with pavé accents. I linked to the round version, but as you loyal blog readers know, Tacori offers free modifications!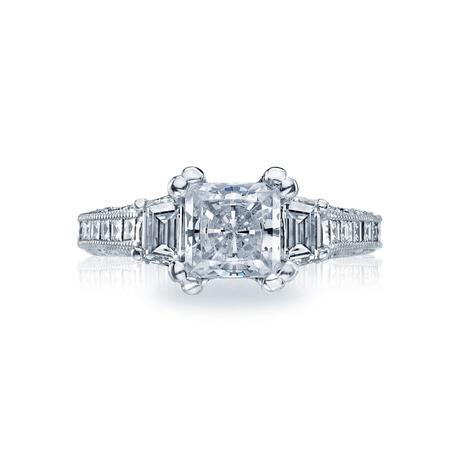 Click here to shop similar
Meredith Phillips & Ian Mckee – Throwing it back all the way to season 2 of The Bachelorette! Ian got Meredith's final rose and proposed with Tacori's Reverse Crescent Engagement Ring. The two ended their relationship a year later. This three stone beauty features step cut trapezoid diamonds on either side of the center stone, plus channel set baguettes. The one I linked to is similar, but if you want this exact ring we can order it, free of charge.
Bonus material – get the inside scoop on more recent rings from Neil Lane & listen to him lie through his teeth while reading whatever propaganda the Iowa tourism bureau gave him.
Now, about THIS season! Are you following me on Twitter yet? I'll be on a flight during the premier (devastated) but starting next Monday, get your wine and tell me who your front runners are! #TeamAlex (I reserve the right to change loyalties.)
Related articles across the web
Tacori Gold Engagement Rings for #TacoriTuesday

Rose Gold Engagement Rings Tacori Beautifully Designed