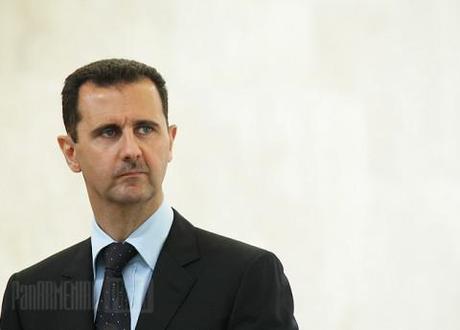 Syrian President Bashar al-Assad. Photo credit: PanArmenian Photo
Syrian President Bashar al-Assad latest ruthless suppression of anti-government protests, which saw 50 people killed by the regime on Sunday as the tanks rolled into Deir al-Zour and Houleh, has motivated the Arab League and the Gulf Cooperation Council economic bloc to voice significant criticism of the Assad regime for the first time in five months of unrest. The continued repression also prompted Saudi Arabia and Kuwait to withdraw their ambassadors from Damascus. And hactivist collective Anonymous has shown its support for the Syrian opposition by hacking Syrian government websites.
Syrian unrest has left 1,600 Syrian civilians dead according to human rights activists. But Arab state condemnation has been relatively muted until this weekend. "Any sane Arab, Muslim or anyone else knows that this has nothing to do with religion, or ethics or morals," Saudi Arabia's King Abdullah said in a statement, which called for an end to the Assad regime's violence.
Assad defended the weekend crack-down by saying that government strikes were aimed at safeguarding its citizens against "outlaws." "To deal with outlaws who cut off roads, seal towns and terrorise residents is a duty of the state which must defend security and protect the lives of civilians," he said.

Arab League expresses 'growing concern.' Arab League chief Nabil Elaraby said on Monday the pan-Arab body would use persuasion rather than "drastic measures" to press for an end to violence in Syria, reported Reuters, which noted that the "muted Arab response on Syria has contrasted with the League's backing for a 'no-fly zone' over Libya after an uprising began there." "What is happening in Syria worries the League and the world. Dialogue and ending violence are the only options. Handling protests and calls for change cannot be through violence. The Arab League is hopeful and expects a positive response from Syria to the League's statement," said Elaraby.
Coalition of neighbours ganging up against Assad? The Daily Telegraph suggested that Syria's neighbours are now building a coalition against Assad. "It is very likely that these various (weekend) statements were coordinated, and that they form part of a process aimed at building a coalition against Syria's government." The paper suggested the role of Turkey is key, given it is the "only country with the military capability, national security interests and favourable geographic location that can intervene in Syria." The paper forecast that Turkey may receive international support, from Nato and the Arab League and possibly from the UN Security Council, to send troops into northern Syria.
The Saudi Arabian position is key. Ariel Zirulnick at The Christian Science Monitor played up the importance of the Saudi Arabian condemnation. He noted that "Saudi Arabia is largely aligned against Syria, which has close ties with Saudi rival Iran," and, as one of the most powerful nations in the Middle East, "the kingdom wields significant influence. Saudi Arabia's condemnation is also noteworthy because it has largely stayed quiet in the face of other uprisings."